Growing up in Minnesota, it is impossible to not be familiar with the Land O Lakes®  brand. From milk to sour cream, we always seem to have something in the fridge from Land O Lakes.  I remember the first time I was introduced to Land O Lakes® Butter with Canola Oil. It has been a staple at my in-laws for many years and a product that I often purchase to compliment regular stick butter. I'm a huge butter fan but I appreciate the spreadable consistency right from the fridge.
Did you know that Butter with Canola Oil is made with only three simple ingredients: sweet cream, canola oil and salt?  And with no artificial ingredients, I can feel good serving it to my family.
Other spread products contain up to 15 ingredients. Butter with Canola Oil only contains three simple ingredients, which results in a creamy, delicious, spreadable texture.
I was recently sent some "kitchen simplifiers" to make my time in the kitchen even easier, including a spreader and of course a coupon for some Land O Lakes Butter with Canola Oil.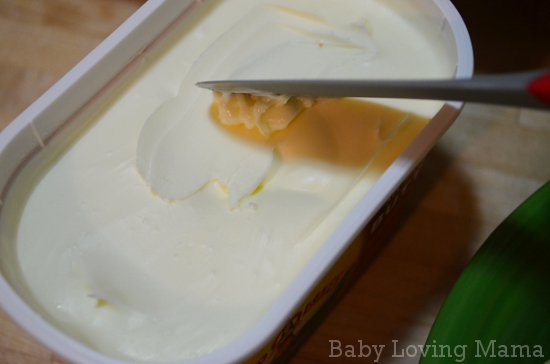 The spreader and spreadable butter worked great for my easy herb and cheese drop biscuits! The butter almost instantly melted and was so good! We love using it on almost anything and everything from our french toast to our steamed veggies to our bagels. This large tub was gone in a week with our family of five so we definitely put it to good use!
Would you like to simplify your kitchen as well? Here is your chance to win this prize package!
BUY IT:
Look for Land O Lakes® Butter with Canola Oil at retailers nationwide. Be sure to follow them on Facebook, Twitter, Pinterest and Instagram to stay up to date on the latest promotions and recipes!
WIN IT:
I have a Kitchen Simplifiers gift pack worth $75.00 for one lucky reader. This will include multi-purpose spreaders, a cutting board with built in colander from Crate and Barrel, multi-tier oven rack from Williams-Sonoma and a free product coupon for Land O Lakes® Butter with Canola Oil!
a Rafflecopter giveaway

Disclosure: I received product samples and a gift package from Land O'Lakes, including multi-purpose spreaders, a cutting board, and multi-tier oven rack for Land O Lakes® Butter with Canola Oil, for recipe development and review purposes. All opinions are my own.