*Thank you to Babies "R" Us and Pampers for sponsoring today's discussion. All thoughts are my own.*
Getting outside with a baby or toddler is very difficult in the winter months. Summer opens up opportunities for little ones to explore their world around them. So many of my favorite memories with all my children have been from our warm weather outings!
Whether you are going on a local outing just for the day or taking a long road trip, a lot of planning and preparing goes into it when you have a little one.With each milestone comes a different set of rules whether it is rolling over, starting solids, or walking!   Right now we are working on potty training my youngest so I have to take that into consideration. Sometimes we can't get to a restroom fast so I have to be prepared with extra clothing or Pampers Easy Ups.  Here are my five easy tips for a successful summer outing with little ones!
Be flexible.
If there is one thing I've learned about outings with a baby, you have to be flexible. That means having some ideas of what you want to do, but letting go of anything that isn't necessary.  Be willing to change plans. Consider changing up your activities if you little one is over-stimulated or provide them with a place they can easily nap.
Be considerate.
Before planning an outing , be sure the place you are bringing your child is kid-friendly. A fussy baby in a museum or a play isn't ideal for anyone. Instead consider places like the beach, a park or the zoo.
Be prepared.
Pack light, but be prepared with the necessities. Make sure you have plenty of snacks, a few toys, sunblock, Pampers diapers and wipes and changes of clothing. I like to dress in layers if possible so I can easily transfer from day to night. Choose items that can be used for multiple tasks such as muslin swaddling blankets which can provide shade over a stroller/ car seat besides being used as a blanket, burp cloth and nursing cover up! If you can't leave without bringing a lot, back a smaller bag for the stroller but keep less used items in the car to lighten your load. (You can be prepared by visiting Babies "R" Us for all your necessities!. )
Be creative.
When your little one is fussy, consider interesting ways to make them happy. I'll never forget when my little guy was entertained for a long time with just water bottle while traveling. This goes along with packing light.  You can pack less toys and use items around you to provide stimulation.
(sorry for the video orientation)

Be happy.
Your baby can sense if you are stressed. If you aren't having any fun, those feelings can be transferred to others around you, including your little one.
There are also some amazing in-store offers happening at Babies "R" Us from June 1 – June 30! They include:
$5 OFF LUVS VALUE BOXES OF DIAPERS (REG $35.99)
$9.99 PAMPERS SPLASHERS (PERFECT FOR SUMMER!)
$19.99 PAMPERS VALUE BOXES OF WIPES (REG $23.99)
FREE DREFT STAIN REMOVER 22OZ ($3.99 VALUE) WITH PURCHASE OF ANY DREFT LAUNDRY DETERGENT 100OZ
Twitter Party
Join me in participating in the upcoming Twitter party on Tuesday, June 9, 2015 at 1pm ET. Follow hashtag #BabysBigSummer to join on the fun and be eligible for prizes!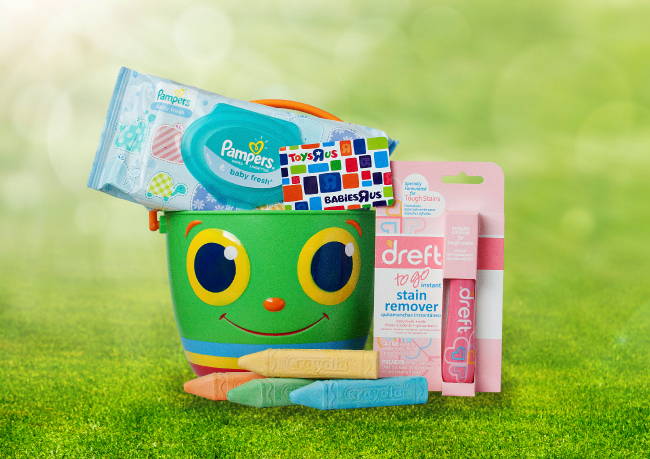 WIN IT:
One lucky ready will with a prize packaging containing the following to have their own fun with baby this summer!
$50 BRU Giftcard
Pampers wipes
Dreft pen
Crayola Chalk
Melissa and Doug Happy Giddy Pail