Thank you to Cameron Hughes for sponsoring today's post! All thoughts are my own.
When my husband and I started our family, our usual weekend dates night were put on hold. Instead of trying to find a babysitter to venture out, we discovered the convenience having date night at home. We still enjoy our date nights in, even as our kids have gotten older. Once children have gone to bed we can uncork a bottle of wine and enjoy a new movie together together on the couch. It is the quality time we enjoy most, not the venue.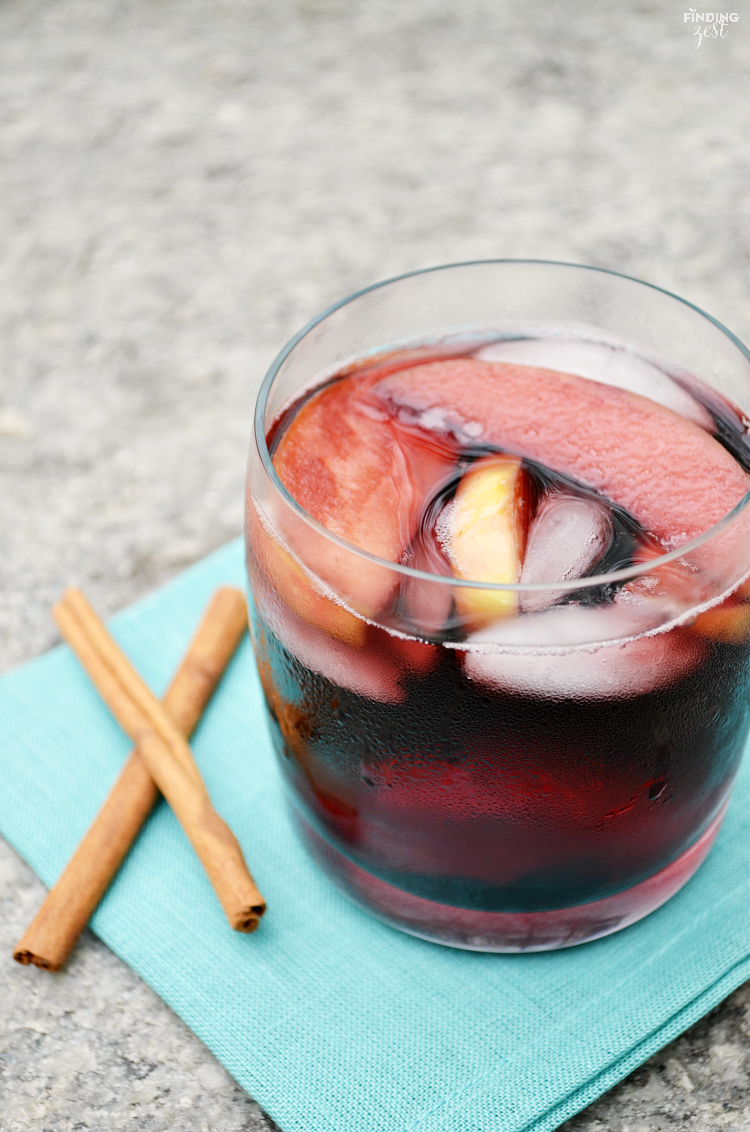 If you like kicking your wine up a notch, you can make a wine cocktail or a sangria like this Apple Cinnamon Sangria my sister-in-law made for us a couple of years ago. Loaded with fresh apples and our favorite spice, it is like fall in a glass.
To make this fall apple sangria, you'll just need a couple of bottles of your favorite red wine, such a Red Mountain Blend or Cabernet Sauvignon from Cameron Hughes Wine. (Scroll down for the full recipe.)
Cameron Hughes Wine meets with the world's foremost growers and producers, and looks into every cellar and barrel room to find some of the best wines in the world. They live by a simple philosophy – great wine doesn't have to be expensive.
Their deals are made discreetly and are typically protected by an agreement to keep the source producer or winery's name secret – that's how they can offer a $100 Napa Cab for $30 a bottle, or a $60 bottle of Pinot for under $20.
And Cameron Hughes would like to help you get your own night in with your favorite wine and a free movie with their new Wine Movie Win Sweepstakes!
Cameron Hughes Wine Movie Win Instant Win Game
They are giving you the chance to win one of 5000 movie downloads from FandangoNow. In less than 60 seconds you could be a winner! All you have to do is click here between November 1, 2017 and January 2, 2018.
I played already today and I won! Give it a try for yourself and see if you are a lucky winner, too.
Cameron Hughes Wine Special Discount:
If you'd like to try Cameron Hughes Wine they've created a special discount code, click here to access 15% off + free shipping. Offer only valid until January 3rd 2017.

Apple Cinnamon Sangria
Ingredients
2 bottles (750 ml) red wine from Cameron Hughes
½ cup brandy (optional)
½ cup white sugar
3 crisp apples, sliced
2 cinnamon sticks
1 and ½ liters club soda (or lemon-lime soda)
Instructions
Mix together all ingredients in a large pitcher, except for club soda to let all of the flavors blend.
The longer the apples have a chance to soak up the wine, the better so let it rest for several hours.
Stir in club soda just before serving.
Notes
If you don't like your sangria overly sweet you can reduce the amount of sugar. Lemon lime soda also adds to the sweetness so if you opt for that over the club soda, I'd recommend lowering the sugar or skipping the sugar altogether.