If you need an easy fall dessert recipe, look no further than this delicious apple dump cake. Made with fresh apples, this dump cake recipe is so simple and yet loaded with flavor! My apple tree is currently loaded with cortland apples and so I'm currently on the hunt for apple recipes to use up some of my fall harvest. I will of course be making some applesauce and apple butter but there are so many other great ways to use fresh apples. Right now I have apples coming out of my ears so I really appreciate any and all easy apple recipes, especially recipes like this quick apple dump cake recipe.
How to Make a Dump Cake
Not sure how to make a dump cake? They are actually ridiculously easy as their name implies. All you really need is some fruit, a cake mix and some butter to make a dump cake. But I really like to add extra flavor so I tossed my apples with brown sugar and cinnamon to really bring out those fall flavors we all know and love.

Because this dessert is a bit sweet, I like to add fresh pecans for more texture and a break from the sweetness. It adds so much flavor to this apple dump cake! But if you don't like nuts or just don't have them on hand, you can definitely leave them out.
The key to any recipe for dump cake is to sprinkle a cake mix over your fruit and add butter. This recipe uses melted butter and since there is no mixing of the batter, you'll want to make sure you drizzle your butter slowly over the top to get as much of the cake mix covered as possible. Otherwise you can end up with little powered spots of cake mix on the top of your cake.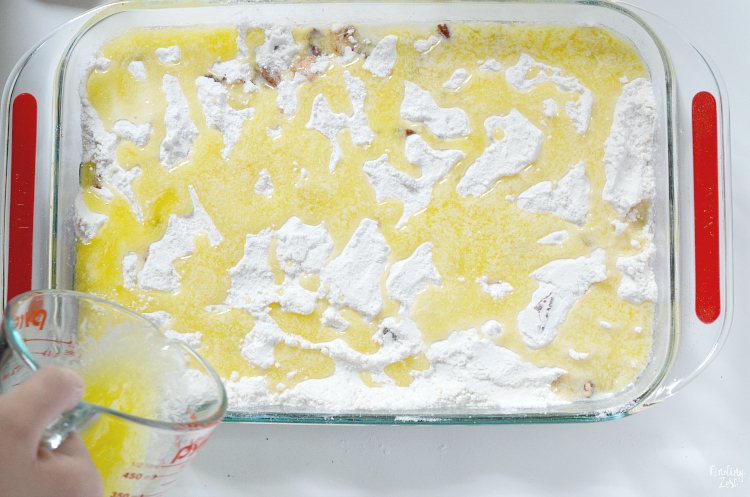 A dump cake might not be the prettiest dessert when it comes out of the oven, but it sure tastes great!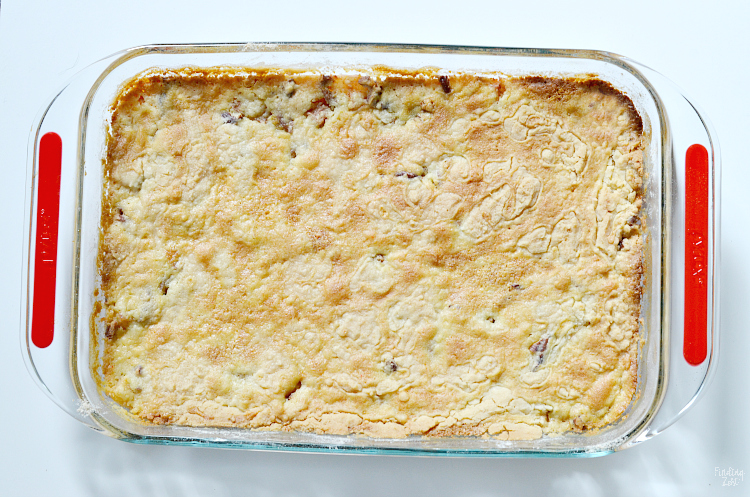 Apple Dump Cake Tip:
Extra short on time? Skip the fresh apples, brown sugar and cinnamon and instead add a can of apple pie filling to the bottom of your cake! You can also substitute that with any pie filling you like as well.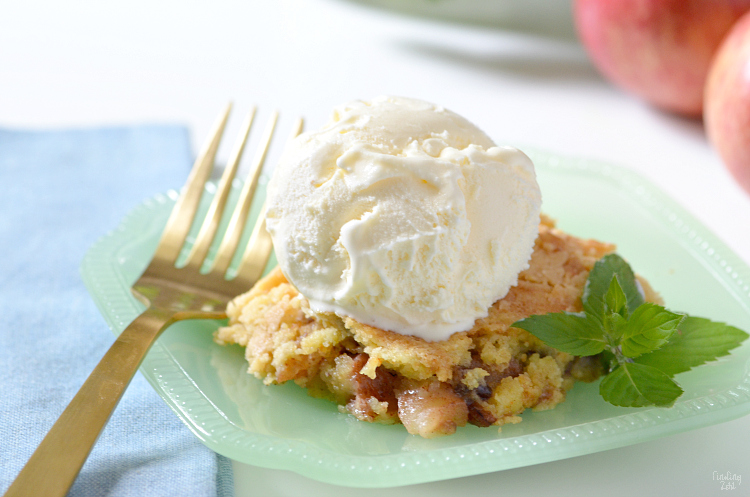 This apple dump cake is meant to be served warm out of the oven and tastes amazing with a scoop of vanilla ice cream. You can either cut it into pieces like I did if your cake can hold up, or you can simply scoop it out with a spoon.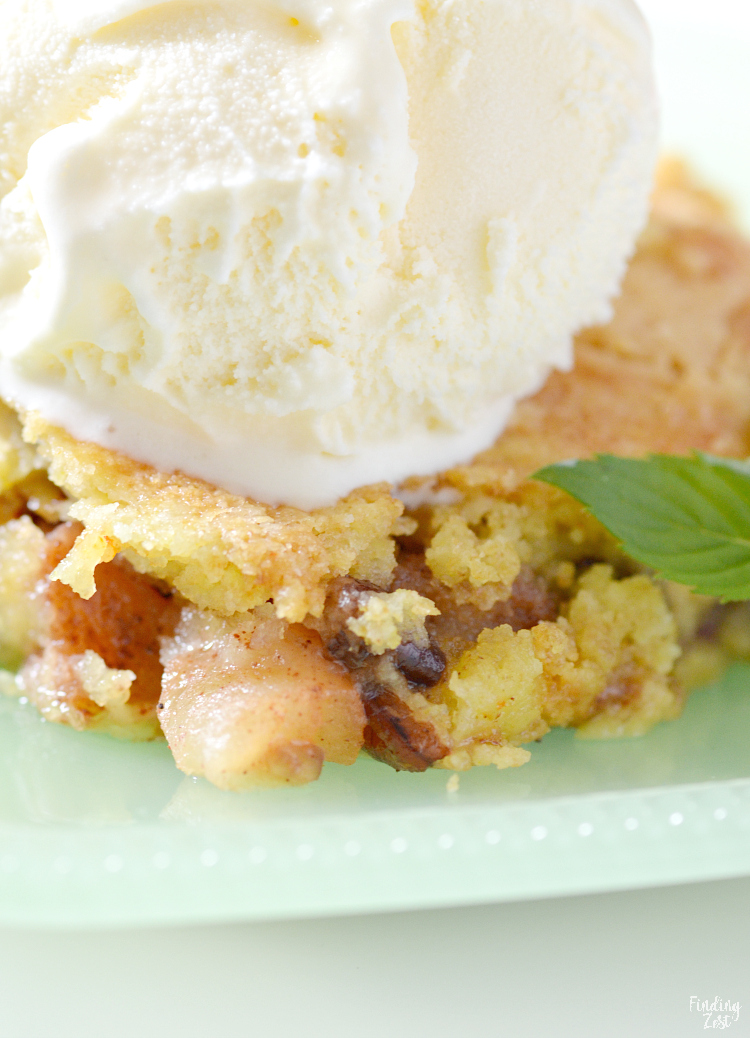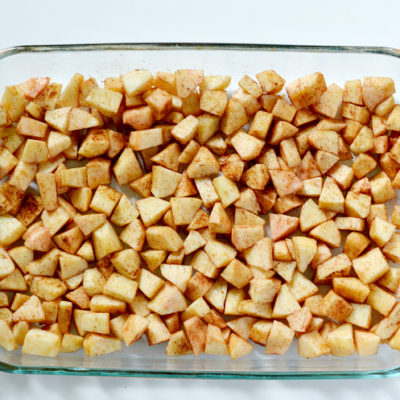 Apple Dump Cake
Servings
12
to 15 servings
Ingredients
5

cups

chopped apples

peeled

2

tablespoons

brown sugar

1

teaspoon

cinnamon

3/4

cup

chopped pecans

1

box yellow cake mix

I used Betty Crocker™ Super Moist™ yellow cake mix

1

cup

butter

melted (two sticks)
Instructions
Preheat oven to 350°F. Spray bottom of 13x9-inch pan with cooking spray. Set aside.

Stir together chopped apples, brown sugar and cinnamon. Spread over bottom of pan.

Top with layer of pecans, then sprinkle dry cake mix over apples.

Slowly drizzle melted butter over top to cover as much as possible.

Bake 42 to 46 minutes or until golden brown.

Serve warm with vanilla ice cream or whipped cream.
Dump Cake Recipe Tip:
Your dump cake will taste best shortly after being baked. Just out of the oven the top will have a flaky, more firm texture. As it sits the apples with break that down and within just a few hours of being covered, the top will become very soft and moist. We had it both ways and while I prefer it fresh out of the oven, my kids liked it a bit more after it became more soft and cake-like later in the day. Both were great but something to keep in mind. I would try to polish this cake off within 24 hours avoid mushiness.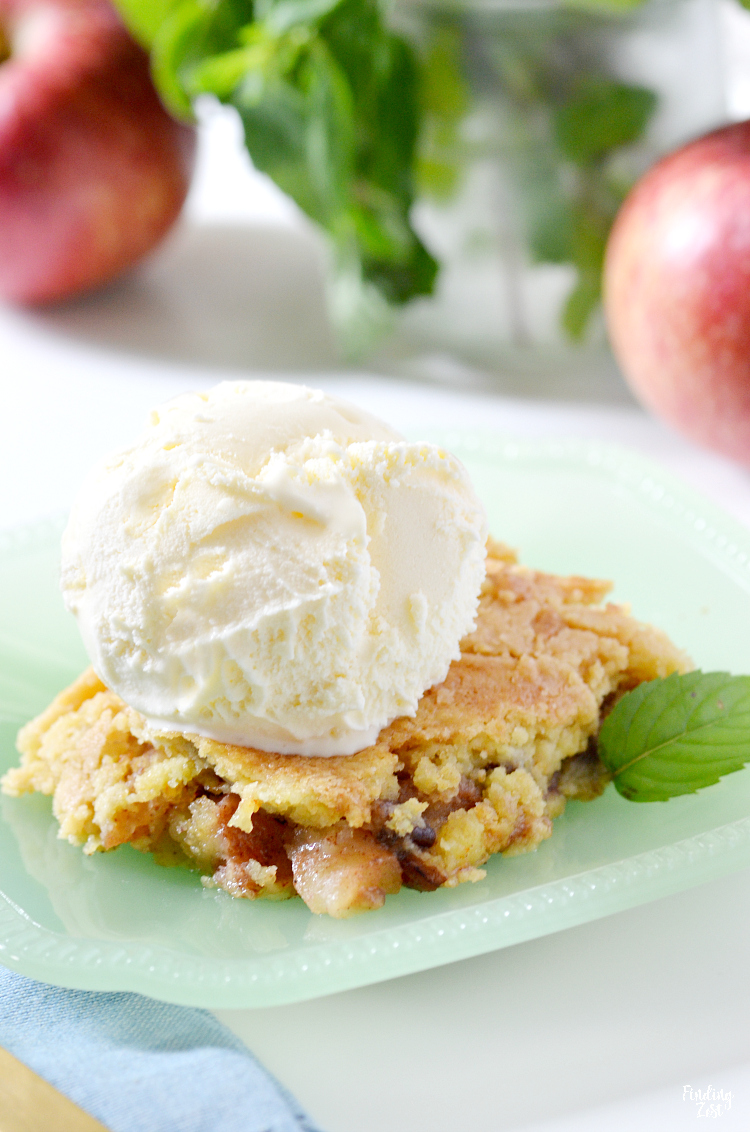 Hope you love this apple dump cake recipe as much as we do! Makes a great addition to any Sunday dinner or even a super simple Thanksgiving dessert!
Easy Apple Recipes
On the hunt for more easy apple recipes for fall? Try these fried apples, instant pot apple cinnamon oatmeal, apple streusel muffins, pull apart apple bread or these campfire baked apples!