I received a complimentary gift card from The Children's Place in exchange for this post. All thoughts remain my own.
Here in Minnesota we have about one month left until the kids go back to school.  I am suddenly going into panic mode as I realize I have to go shopping for school supplies and all that it entails.  One thing I am not panicking about is buying school clothes for my kids.  One trip to The Children's Place and all of my clothes shopping was complete.
This year I will have 3 children in elementary school as my five year old Keegan now enters kindergarten.  That means one more to buy for.  I was thrilled with the prices I found on jeans and t shirts for my boys (which is really all they want to wear anyway.)  They always have the best prices on jeans for back to school and I love the adjustable waistband which is absolutely necessary for Keegan.
Kurtis immediately fell in love with the Short Sleeve Underwater Sharks glow-in-the-dark graphic tee.  My boys have been recently obsessed with anything that glows so this shirt was right up his alley.  Keegan on the other hand picked an adorable dinosaur tee.
Shopping for my almost 10 year old Danica has gotten harder in the past year.  She has moved into a size 12-14 and finding clothes in her size that I feel are appropriate for her age is often a challenge.  I absolutely LOVE that The Children's Place carries up to a size 16 so Danica can still wear their adorable (and always appropriate) styles.
New this season is the Emojis line of clothing.  Kids are all too familiar with all things digital, and Emojis are no exception.  We found an adorable Emoji shirt and Emoji Earrings and a BFF necklace to match.
Danica and I both loved the strong message that so many of the girls shirts expressed such as this "Strong Like A Girl" shirt.  I love that it is long sleeves so she can wear it this winter.
We also fell in love with the many printed leggings with coordinating tees.  These Leopard leggings were perfect for Danica and the "Be Your Selfie" zebra tee conveys a great message for girls.
This was by far one of Danica's favorites. "Excuse me, I have to go be Awesome".   Seriously what a great message of confidence.  I hear from many friends that their children have a hard time with 4th grade, both academically and socially.  I love that I am sending my daughter in with shirts that make her feel confident.
There are so many wonderful tees for boys and girls to choose from and they are priced so unbelievably reasonably that I may have to go get some more.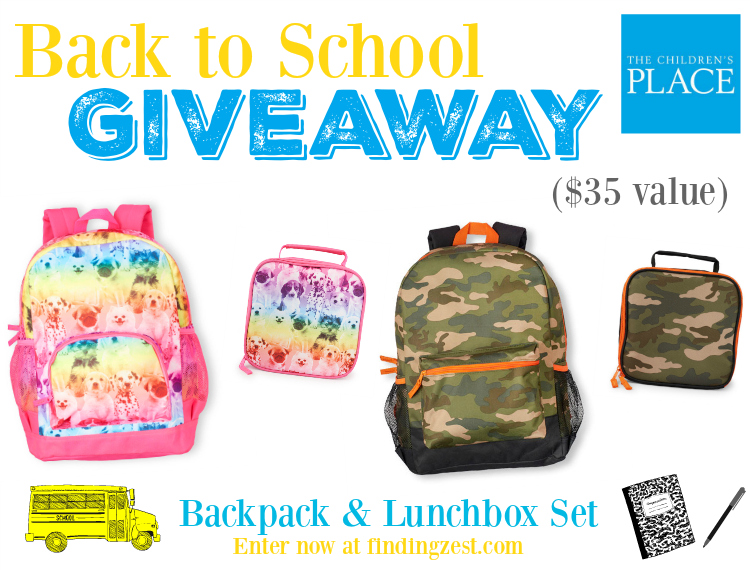 Giveaway
I have a backpack and lunchbox set from The Children's Place to give away to one lucky reader to get ready for back to school! (Your choice of boys or girls style. Other girl options are available.)