This post is sponsored by Kohl's. I received the included back to school clothes and essentials as compensation.
School is coming up fast! How does it always sneak up on me? I'm trying to get the best deals while still getting great quality apparel. For that I know I can always count on going back to school with Kohl's! For many years I've been a loyal Kohl's customer and love shopping there for my entire family. The prices really can't be beat, especially when you know about all the great offers above and beyond the sale prices. I recently headed to my local store with my three boys to be prepared with our "A" game this school season.
Now that my boys are getting older they have more particular tastes when it comes to their clothing. Bringing them in store with me allows them to pick out some of their own clothes. This is especially important for shoes. I've learned the hard way how fast their feet can grow and the differences in fit between brands. Kohl's has a great selection of shoes with all the hottest brands right in store.
My kids are required to wear uniforms to school but I always let them pick out clothing for free dress days and the weekend. The number one thing they look for is comfort.  The Dry Tek line is a favorite with athletic pants and moisture-wicking tops. My 9 year old Warren made a b-line for that section at Kohl's as it is his favorite. He picked out a new Tek Gear® Core Performance Tee and Tek Gear® Piped Tricot Pants. Warren loves the "cool" prints for these tops and I love the prices at under $10 each.
Since we live in a cold weather climate layers are extra important. This Tek Gear® Jersey Space-Dyed Hoodie in Tech Red is a great layering piece without being overly thick. His older brother loved this combo too so we picked up the same three pieces in other colors for him.
Since shoes are one of the few ways that my boys can show their personality at school, they are extra important. Warren gravitated to these FILA® Faction Boys' Athletic Shoes right away. He thought they looked super cool and his favorite color is red with black a close second. (Can you tell?) I was shocked on how affordable they were, especially compared to other name brands.
Since they typically wear uniforms I definitely needed to stock up on uniform pants and polos. I was so happy to see that Kohl's had performance uniform polos at the same price as their regular uniform polos. In the past I have opted to save money and just get the standard knit. But I love these features and my kids really like the fit.
Chaps Performance Polos Features
Moisture-wicking fabric
UPF 50+ sun-blocking protection
Anti-pilling design
Snag- and fade-resistant construction
Our school started allowing cargo pants a couple of years ago and it was such an awesome addition for them. We picked up several pairs of these Urban Pipeline® Pull-On Cargo Pants. They are super comfortable with their drawstring elastic band and don't look like typical uniform pants which my two older boys really appreciate.
My little Wesley is entering kindergarten this year. He is definitely ready, but I'm not sure I am! He is between sizes but by ordering up I know these will fit him through the whole school year.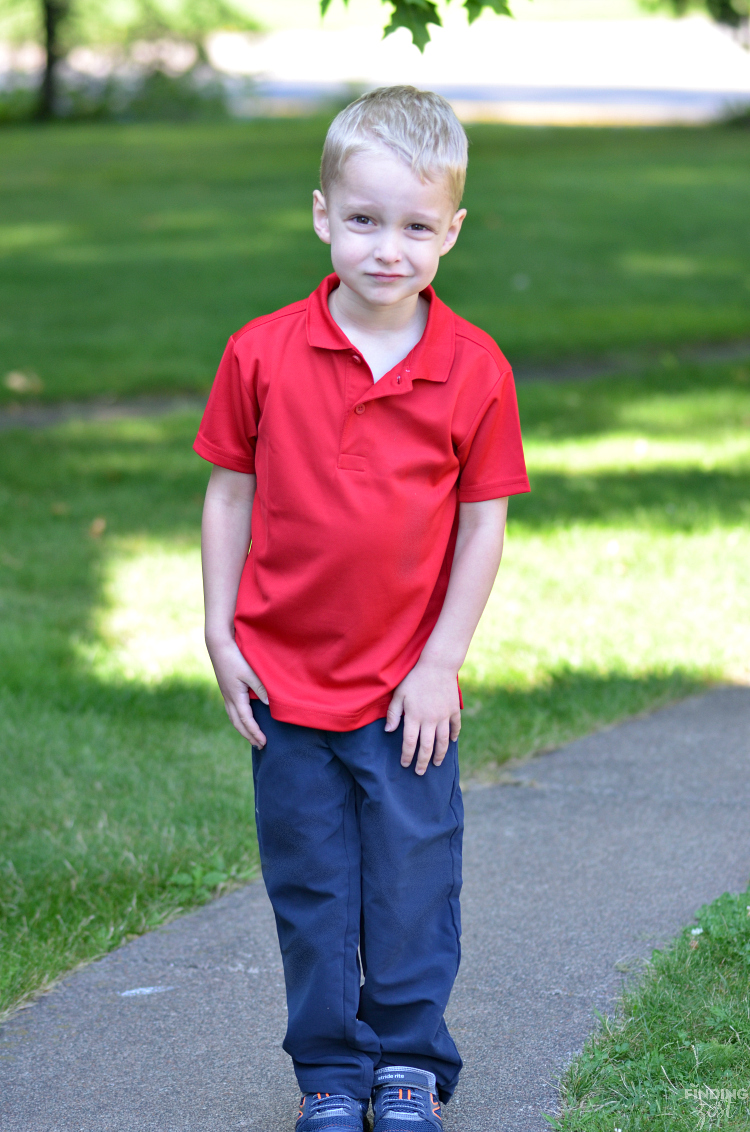 Besides the performance uniform polos like his older brothers, I purchased Chaps Performance School Uniform Pants. They have an adjustable waistband and soft polyester fabric. It feels like any water would just roll off these pants!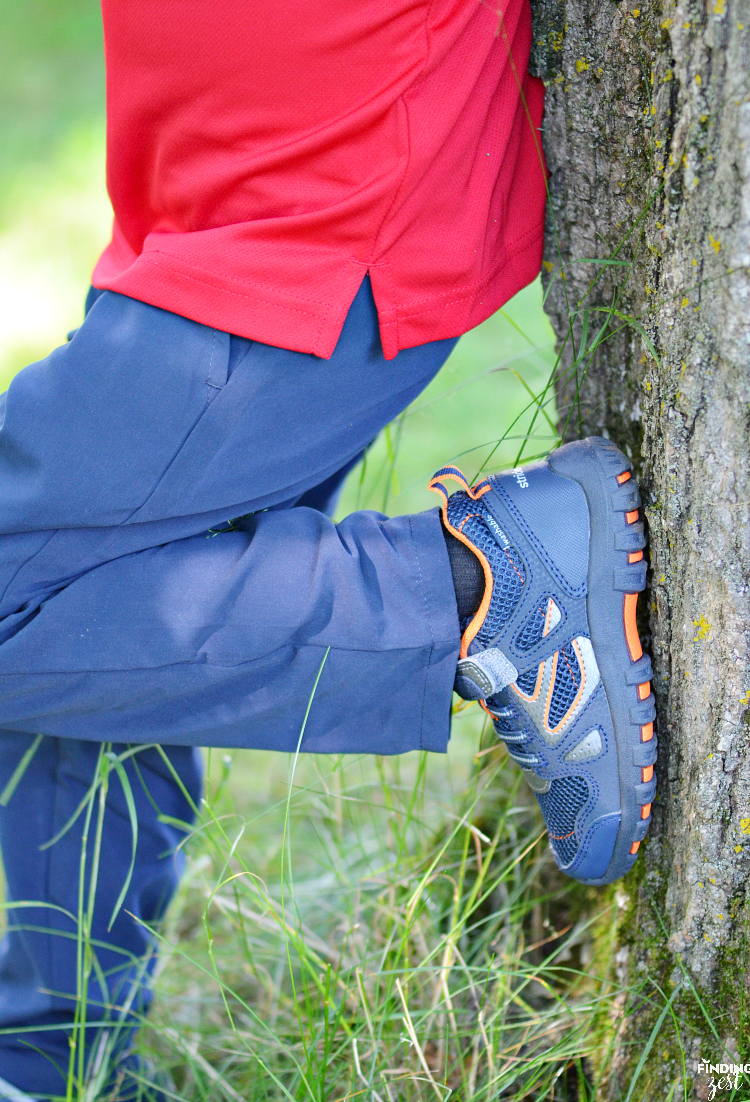 I also let Wesley pick out his shoes. His favorite color is blue and he really liked these Stride Rite Made 2 Play Artin Shoes. They work great with his uniform pants.
I let the boys pick out some tees, underwear and socks to stock up. These Tek Gear Active Basics Socks are a great value!
I've feeling in a better position for my kids to start school but I know I'll be making some more stops at Kohl's. If you aren't as familiar with the awesome ways to save at Kohl's, here is a quick breakdown.
Five Ways to Save at Kohl's
Awesome Sales: This feels like a no-brainer. Everyone can benefit from the sales at Kohl's. The savings are significant and come often, especially on Friday and Saturday.
Special Savings: Kohl's often offers special savings coupons such as $10 off a $50 purchase from a specific department or 20% off all your purchases during their Friends & Family Events. See below for the current offer! If you shop online they offer free shipping with a $75 purchase or more and occasional free shipping on any purchase. See all the current coupons and deals.
Kohl's Cash: When offered you can get $10 off purchases for every $50 spent in store, online, at a Kohl's Kiosk or with the Kohl's App on all sale-, regular- and clearance-priced merchandise!  Kohl's cash isn't offered all the time but it is available often. Note: Kohl's Cash must be redeemed within specific time periods.
Yes2Rewards: Earn rewards every time you shop at Kohl's! Get 1 point for every dollar you spend and get a $5 reward for every 100 points. That means you earn $5 off a future purchase for every $100 spent. Note: Rewards are awarded on the 1st of every month and must be redeemed by the end of the month. 
Kohl's Credit Card: Get 12 special offers in the mail ranging from 15% to 30% off your purchase when you use your Kohl's Charge Card. If you you charge at least $600 in a year you become a Most Valued Customer. That means you get a whopping 18 offers in the mail each year. I've been a MVC for several years now and love the extra savings.
Current Offers:
The current special savings offer is the Kohl's Friends and Family Sale from August 17th-20th. Get 20% off with code: SAVER. Check out their coupons and deals page for more info.
Get $10 off $50 kids clothes August 4th-20th with promo code: BTS10
Categories: Kid's Clothes, Junior's Clothes, Young Men's Clothes, Footwear, Juniors' Accessories and Character Backpacks Purchase
So what are you waiting for?
With all these ways to save, now is the perfect time to head over to Kohl's for back to school so you can get your game on for this back to school season!
My blog may contain links to other websites. I am not responsible for the privacy policies of those other websites. When you click on a link, your information may be collected by those websites so I encourage you to read their privacy policies. 
Affiliate links are not associated with Kohl's.