Mini Chef Mondays is back in 2016! If haven't see it before, this  is our chance to share a recipe we've made with our  kids each week. See all my Mini Chef Monday posts for more great ideas! This weekend Wesley and I made this amazing baked oatmeal for our family. In fact, I've dubbed it the best baked oatmeal recipe! It features delicious apples, pears, raisins and walnuts which an awesome combination. This breakfast will fill you up on a cold winter day and stick with you.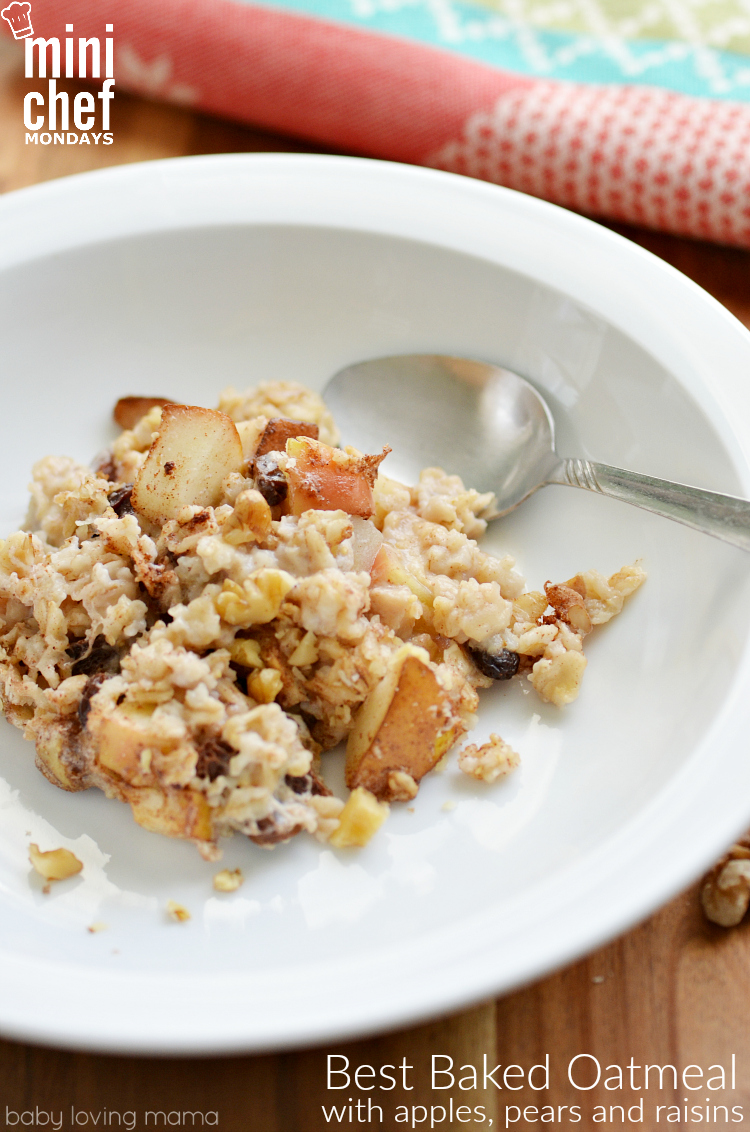 We discovered this baked apple oatmeal recipe and decided to tweak it a bit to suite our tastes. This recipe has plenty of opportunities for kids to get involved.
I chopped up the apples, pears and nuts while my three year old spooned the oatmeal and raisins in the measuring cups I laid out for him.
We added all the ingredients (except the milk) in the baking dish, and mixed them up well before pouring over the milk.
The result was a delicious treat for a holiday weekend but one that made me feel good. With minimal sugar, protein and plenty of fruit and oats, this is one recipe that feels special without guilt.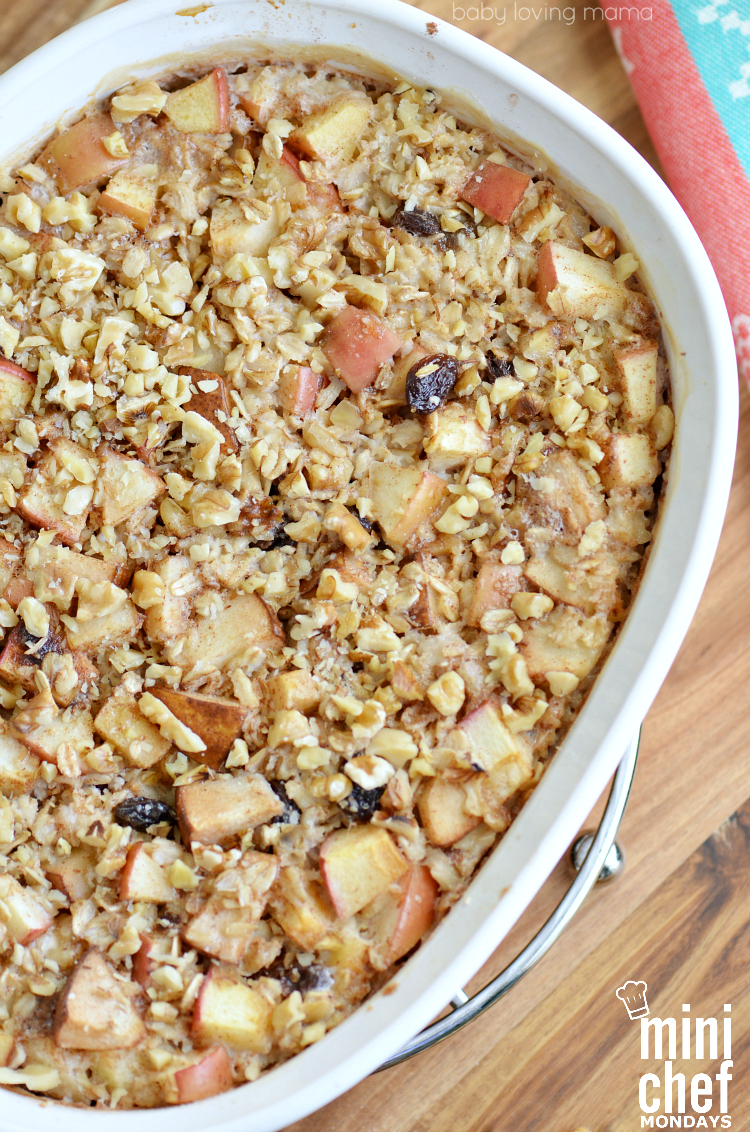 The best part was watching my older kids absolutely devour this oatmeal. Serve it will some additional milk or yogurt if you prefer. My husband had some honey greek yogurt with his but my kids and I enjoyed it plain.
Best Baked Oatmeal Recipe
Ingredients
2⅔ cups old-fashioned oats
1 medium apples, chopped (approx. 1 to 1½ cups)
1 medium pear, chopped (approx. 1 to 1 1½ cups)
½ cup raisins
¼ cup packed brown sugar
2 tablespoons butter, melted
1½ teaspoons ground cinnamon
¼ teaspoon salt
1 teaspoon vanilla
½ cup chopped walnuts, divided
4 cups milk
Instructions
Heat oven to 350°F. In 2 to 3 quart casserole, mix together oats, ¼ cup walnuts, raisins, brown sugar, butter, cinnamon, salt, vanilla, apples and pears.
Pour milk over mixture.
Bake uncovered 40 to 48 minutes or until most liquid is absorbed.
Top with remaining walnuts.
Serve warm with additional milk or yogurt if desired.
I was able to warm up the leftovers with some extra milk to make it nice and soft. I even added a little sprinkle of brown sugar on the top which my son said was awesome!

Give this best baked oatmeal recipe a try with your family. Perfect to feed a crowd for brunch, during the holidays or just because!

I am hosting Mini Chef Mondays along with 11 fabulous bloggers!
Be sure to check out each of their Mini Chef posts as well. We would love it if you would share your Mini Chef posts with us each week, too! Follow along socially and join in on the fun by using our hashtag #MiniChefMondays to share creations your mini chef created in the kitchen. Additionally, if you have a kid-friendly recipe that kids can easily recreate link up! Don't have a blog? Share the URL of your instagram photo in our linky below.