Black Bear Ornament Craft Inspired by Santa Bruce
Thank you to Disney Book Group for sponsoring this bear ornament craft. All thoughts are my own!
Who else loves black bears for their holiday decorating? Bears fit in so well with that "cozy cabin in the middle of winter" feeling. This black bear ornament is a fun DIY that not only celebrates one of our favorite children's book characters, but also fits in well with our Christmas decorating. If you haven't yet discovered the joys of grumpy Bruce the bear, you've been missing out! Read on to see just how easy it is to create this fun bear ornament craft.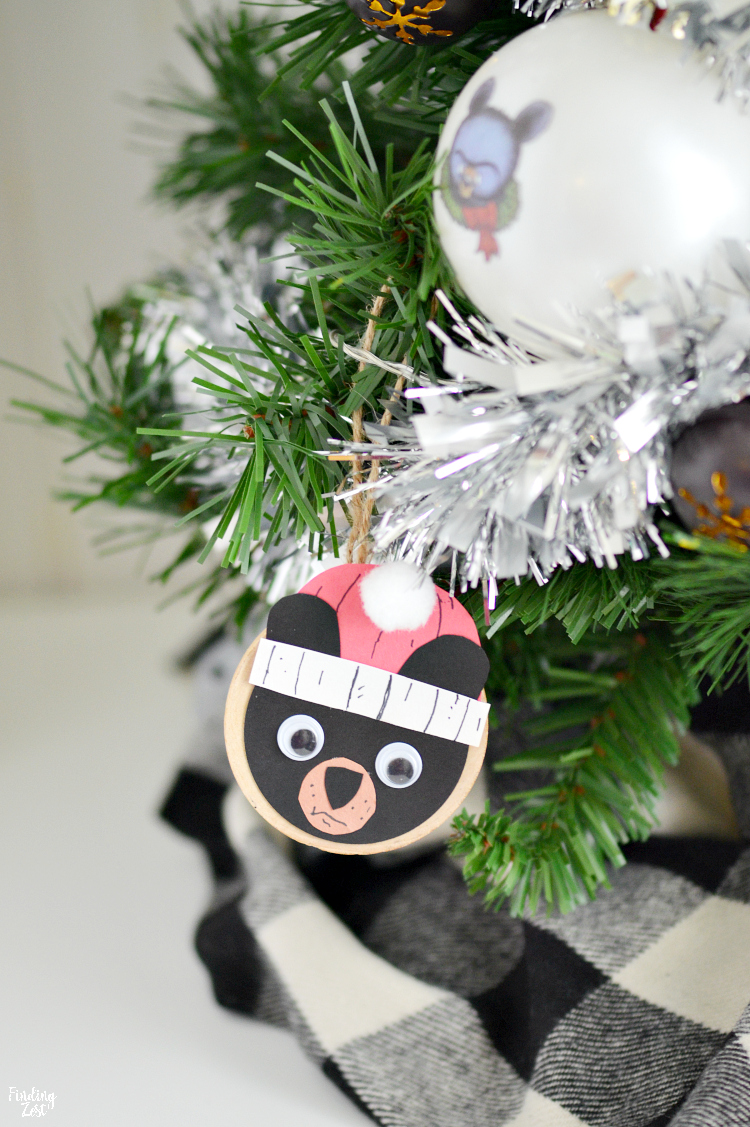 We were first introduced to children's book author, Ryan T. Higgins with Mother Bruce almost three years ago. Since then, Bruce has become one of my son's favorite children's book characters. While he may be a grump, he is a super fun character!
The newest addition to the series is Santa Bruce, just in time for the holidays (or anytime)!
Bruce is a lot of things. He is a bear. He is a grump. He is a pretty decent cook. And he is a mother. One thing Bruce is not? Santa Claus. But that doesn't stop the whole forest from lining up to give him their Christmas wishes when he becomes the victim of mistaken identity—again. Kids will howl with laughter as award-winning author-illustrator Ryan T. Higgins delivers another hilarious story about this bear who just can't catch a break.
This is the perfect new addition to our bookshelf, especially for our holiday collection. Wesley once again enjoyed the silly antics of the vibrant characters that surround Bruce in this title. Poor Bruce just wants to be left alone but that isn't going to happen when he is confused with Santa Claus. And while he might be crabby about it, he does his best to fill in to make the holidays more magical.
Celebrating our favorite book characters is just one of the many ways we encourage reading in our house. This Bruce the bear ornament craft is a great rainy day DIY or homemade Christmas gift. He is easier to make than you might think!
Bear Ornament Supplies
wooden slice ornaments ( 2 1/4 inch to 2 1/2 inches)
black, white, red and brown card stock or construction paper
school stick or glue gun
For this project I was able to raid our craft supplies and find everything I needed. Exact dimensions will really depend on the size of your wood slice. I cut everything out to fit my 2 inch circle punch for Bruce's face and hat.
How to Make a Bear Christmas Ornament
Step 1: Cut the bear's head out using the black paper and the 2 inch punch (or by hand if you don't have a punch). Cut out an ear, approximately 3/4 of an inch wide and use the first as a template to cut out the second to match. Lastly, you'll need a wide nose that that forms a triangle at the base, just under 1/2 inches long.
Step 2: Using the red paper, cut out a short hat, rounded at the top that is just slightly wider than your circle and approximately 1 and 1/2 inches tall. Cut out a white strip approximately 2 inches long and 1/2 inch wide for the bottom of his hat, adding lines with your fine tip sharpie for the red hat and white band for a more sweater look.  Using the brown paper, cut out a smaller circle, around 3/4 of an inch for the face. Glue your nose to the top part of the circle and draw in a mouth.
Step 3: Glue all items to your wooden slice using a glue stick or glue gun. Glue the ears tucked behind the white strip at the bottom of the hat before. After gluing your nose and mouth section, add two googly eyes. Glue a white pom pom to the top of the hat.
That is all there is to it! You can make your bear a bit grumpy like Bruce or you can put a smile on his face to cheer him up. Either way, he'll be a great addition to any tree or attached to a gift this holiday season!
Be sure to look for Santa Bruce at retailers nationwide, including Amazon!