You may remember a couple of weeks ago I asked for your advice on paint colors for my son Warren's new bedroom. We wanted to give him the bedroom he deserves and since he is in love with comic book heroes it was easy to decide his theme. His favorite color is red but that was always a color I was afraid of trying for all four walls, especially coming from an already dark color that I was starting to hate. So I decided to do a red accent wall only. These were our color choices from the Glidden Brilliance Collection available at Walmart.
After seeing the colors on the wall using Glidden paint testers (only $2.94 at Walmart) I was more than ever convinced that I like my original choice of Candy Apple Red and Pearl Gray. It seems that Warren and the majority you (my readers) felt the same way so we decided to go with those colors.
My husband Joe went to Walmart with our boys to purchase the paint and supplies. He mentioned when he got home that the Walmart associate was kind enough to explain the process in detail to the boys since they were fascinated. She even gave them each a Glidden button which they showed off to me when they got home!
It took two coats of Glidden primer to cover up the purple paint already on the walls and then two coats of gray and three coats of red on our accent wall. Joe did a great job of painting while I taped the room and shopped for all the accessories.
When the final coat of paint went up on the red I couldn't get over just how much I loved the combination of colors. While it maybe be harder to tell through photos, it is the perfect shade of gray. It certainly doesn't look white, especially next to the white trim and yet is leaves the room feeling very bright. And the Candy Apple red was perfect shade of red that I wanted!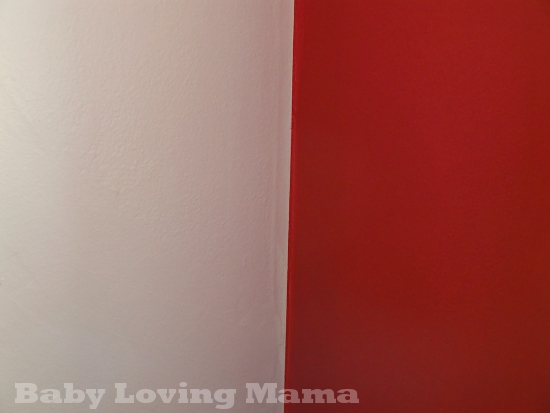 So are you just dying to see what it looks like now? In case you don't remember what the room looked like before, here is a reminder of the bedroom Warren shared with us.
And here is own bedroom now!
What a transformation, right? I wanted some amazing Marvel character pieces on the wall such as a large version of Captain America's shield. After some thought I came to the conclusion that anything I put up there my son would of course want to play with.
So instead of spending a bunch of money on replicas, I instead added black Command hooks from 3M to his wall and hung up some of his own toys to display. I chose these types of hooks as to not damage the paint. And the thought of adding any holes into our newly painted plaster walls made my husband cringe. This was perfect!
For more decoration that would not damage our paint, we opted for some fun Marvel Comics decals available at Walmart for less than $10 and included many smaller decals in his favorite characters! It matched his bedding perfectly.
Because these are easily removable and reusable, it was easy to move them if we didn't like there position on the wall.
I picked up two Marvel posters and poster frames also from Walmart after the one I purchased online arrived damaged. (Darn postal service!) I wish I would have done this to begin with as they had a nice assortment of characters including Thor and this awesome Spiderman print! I also added three hooks to this corner to display some of Warren's much loved costumes.
Warren loves his new bedroom and the excitement as he explored made it certainly worth it. I'm wondering why we hadn't done this earlier!
His very favorite part of the room is his new huge removable Spiderman decal which I got for $19.97 at Walmart. It really does add something special to the room!
We honestly couldn't be more pleased with the quality, affordability and color choices available from Glidden and while we wouldn't have thought to go to Walmart before to purchase paint, we definitely will now! And I'm so happy to know that Warren has a room he can be proud of and one that will grow with him for sure!
Be sure to visit Glidden to get more inspiration, color ideas and where you can purchase the Glidden Brilliance Collection in your area!
Disclosure: This project has been compensated as part of a social shopper insights study for Glidden Testers/Paint #collectivebias. All thoughts and opinions remain 100% my own.