This is sponsored post. All thoughts are my own.
I will admit it. I'm a carb girl. Nothing beats delicious warm bread with some butter on it.  The slightly crusty edges and soft middle paired with butter that has melted is heavenly. I could never give that up. Growing up my mom would make homemade bread in her bread maker and I'd almost always manage to snag the heel. It was the best part. Later I would use this bread to make the most delicious toast.  Homemade bread doesn't have the longest shelf life, but it makes for amazing traditional toast and french toast.
I was recently introduced to Breville's new 2 slice and 4 slice toasters which actually toast the bread all the way to the top. This premium toaster was designed with deeper and wider bread slots to to accommodate the Warburtons® 'Toastie' loaf, the UK's best selling branded loaf. This line is actually called, The Perfect Fit for Warburtons Toasters. Imagine having a perfectly designed toaster for your favorite bread?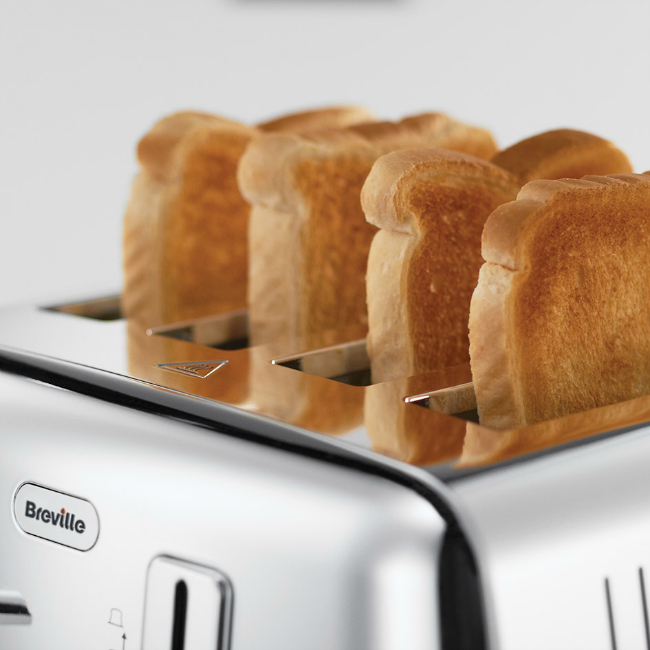 Designed with flawless browning ability, including variable browning control, deep bread carriages and variable width bread slots, I admit I'm jealous. I best it would be perfect to use with a nice and thick slice of homemade bread as well!
I wish I could say that I bake homemade bread all the time, but I don't. I've never really had a good place to store a bread machine and homemade bread has seemed a bit intimating at times. But it doesn't have to be. I found 12 homemade bread recipes from around the web to inspire you. Use them to enjoy a fresh slice right out of the oven and later enjoy them as toast!
If you live in the UK, you can purchase this featured 2 or 4 slot Breville toaster on Breville.co.uk and Amazon.co.uk.