I know, I did it again. I couldn't help myself. I love apple and pumpkin in the fall so I've combined those flavors again this week.  This week for Mini Chef Mondays Wes and I made this Caramel Apple Pumpkin Pie. It has no crust but doesn't need it. Yes, this is a crustless pumpkin pie. Topped with some ice cream and caramel sauce, it is pretty much to die for. Needless to say, it was a huge hit with my family. 

How to Make a Crustless Pumpkin Pie
We altered this awesome recipe from Betty Crocker to suite our tastes and make it even better!
Be careful not to overcook your apples. We went for the minimum recommended time in the original recipe and it was much too long so we had to start over. Since we have an apple tree, we have plenty of apples on hand.
I never thought it would work to have a pie without a bottom crust but this pie filling really sets up nice.
Wesley's favorite part by far was sprinkling the crumb topping over the caramel apple pumpkin pie. He also really enjoyed whisking ingredients.

Caramel Apple Pumpkin Pie
Author:
Emilie Findingzest.com (Altered from Betty Crocker)
Ingredients
1½ cups chopped peeled apples (2 small)
1 cup all-purpose flour
¾ cup packed brown sugar
¼ cup butter, softened
½ teaspoon pumpkin pie spice
⅓ cup chopped walnuts
1 cup canned pumpkin
⅓ cup granulated sugar
¼ cup milk
2 tablespoons all-purpose flour
½ teaspoon pumpkin pie spice
1 egg
ice cream
caramel sauce
Instructions
Heat oven to 350°F.
Add apples to 9-inch ungreased glass pie plate. Spread evenly.
Microwave uncovered on High 3 to 4 minutes. (Apples should be crisp tender, not soggy)
In small bowl add ¾ cup flour, brown sugar, butter and ½ teaspoon pumpkin pie spice. Mix with fork until nice and crumbly.
Stir in walnuts. Set aside.
In medium bowl, whisk remaining ingredients except ice cream and caramel until well blended.
Pour over apples.
Sprinkle crumb mixture over top.
Bake 30 to 35 minutes or until golden brown and fully set.
Cool at least 20 minutes.
Serve warm with ice cream and caramel.(Also tastes great cold.)
Refrigerate leftovers.
You could skip the ice cream and caramel, but why would you want to? Those two ingredients really takes this crustless pumpkin pie recipe to the next level. This pie would be a great addition to your Thanksgiving feast.
What have you been up to with your mini chefs this week?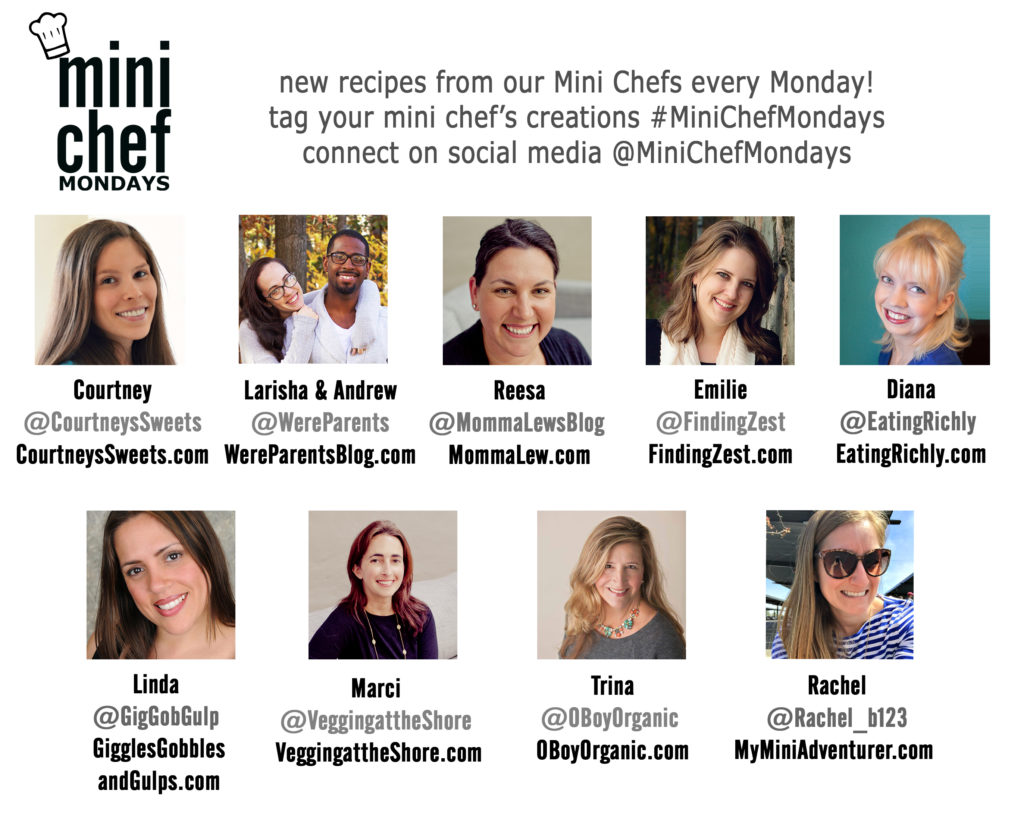 I am hosting Mini Chef Mondays along with 8 fabulous bloggers, find out more about the Mini Chef Mondays Team!
Join our facebook group to find even more recipes and share recipes too!
Join the Mini Chef Mondays newsletter to get the latest recipes delivered to your email each week! Don't worry, we will only use your email for Mini Chef Mondays recipes, pinky promise!
Get featured and follow us too!
Be sure to check out each of their Mini Chef posts as well!