Although National Pasta Day passed us by last month, my family is still celebrating with Classico Pasta Sauce.  We all love pasta and couldn't wait to try out the newest sauce Classico Seasonal Selections Creamy Spinach and Parmesan.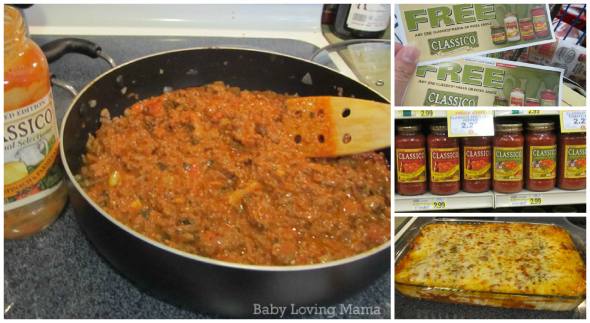 Classico sent me a couple of great recipes to try with the sauce and I decided to go with the Classic Stuffed Shells recipe.  I have never actually made stuffed shells, but it is something I have always wanted to try.  The recipe on the website calls for Classico Four Cheese Pasta Sauce, but I made mine with the new Creamy Spinach and Parmesan Seasonal Sauce.
Classic Stuffed Shells
Author:
Classico (altered slightly)
Ingredients
1 jar (24 oz.) Classico® Four Cheese Pasta Sauce
18 jumbo shell pasta
½ pound sweet or hot italian-style bulk sausage or hamburger
⅔ cup chopped onion
1 garlic clove, minced
2½ cups shredded Mozzarella cheese, divided
15 ounces ricotta cheese or two cups cottage cheese
½ cup freshly grated Parmesan cheese
1 egg, lightly beaten
1 tablespoon chopped fresh flat-leaf parsley
Instructions
Preheat oven 350°F. Cook pasta al dente according to package instructions and drain.
Meanwhile, in a large skillet over medium high heat, brown sausage, onions and garlic for 5 to 6 minutes, or until cooked through, stirring until small sausage crumbles form. Add Pasta Sauce and stir until well mixed. Spoon half of sauce mixture evenly into bottom of 13x9 baking dish.
In a medium bowl, mix together 1 cup of mozzarella cheese, ricotta cheese, Parmesan cheese and egg. Stuff each shell with about 2 Tbsp. of cheese mixture. Arrange stuffed shells in baking dish and spoon remaining sauce mixture evenly on top.
Cover tightly with aluminum foil and bake for 30 minutes. Remove foil and sprinkle remaining 1 cup of mozzarella cheese and parsley on top. Bake for additional 5 minutes, or until cheese is melted. Allow to rest for 5 minutes before serving.
I modified my recipe slightly, using ground beef instead of sausage and cottage cheese in place of ricotta cheese.  (I also used more cheese than it called for since my family loves cheese).
The whole family LOVED this dish and Kyle specifically asked what kind and flavor of sauce I used and commented repeatedly about how much he liked the sauce.  I will definitely be buying this sauce again and making this recipe again for the family.
BUY IT:
Classico Pasta Sauces are available at retailers nationwide.  Print a coupon for $1.00 off any 3 jars.
WIN IT:
What is your own "Classico Creation" recipe?  One lucky reader will win 5 VIP coupons for free jars of Classico sauce.
a Rafflecopter giveaway

Diclosure: I received a pasta package for the purpose of this post however all thoughts remain 100% my own.