Kielbasa sausage is a great staple to have in your house since it it inexpensive and keeps for a while in your fridge.  There are so many ways to cook with kielbasa such as kielbasa and rice so don't be afraid to switch things up and try something new. If you are looking for a new kielbasa recipe, this Cheesy Kielbasa Pasta Skillet is for you!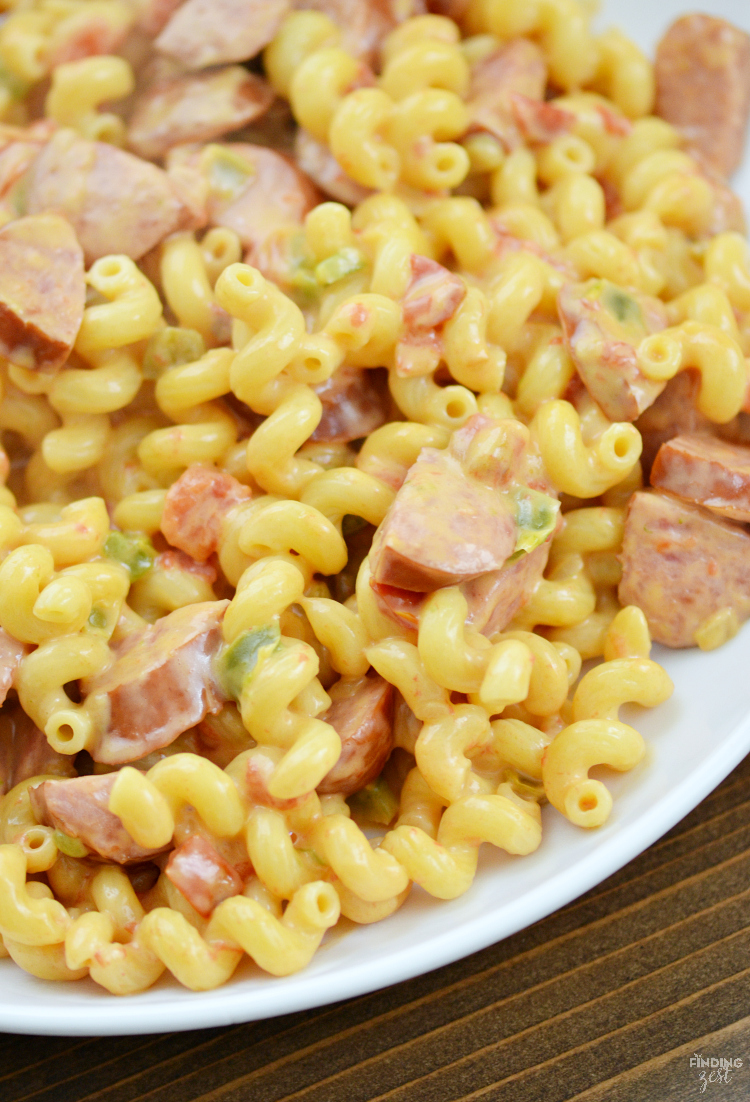 Kielbasa is perfect for when it is almost dinner time and I'm searching around my kitchen for something (anything) that I can put together for dinner that sounds appealing. This is something that happens more often than it should in my house, including last night. I chalk it up right now to my own pregnancy cravings and even though I love food, I am usually craving something I don't have on hand. Last night I spied a block of VELVEETA®, kielbasa and a green pepper in my fridge and I thought they sounded good together but I need more. After digging around I found RO*TEL® and a box of pasta and I knew I had a meal.
How to Cook Kielbasa Pasta
When preparing this recipe, first start your water boiling to cook your pasta according to package directions. Meanwhile, you can start chopping up your onion and green pepper.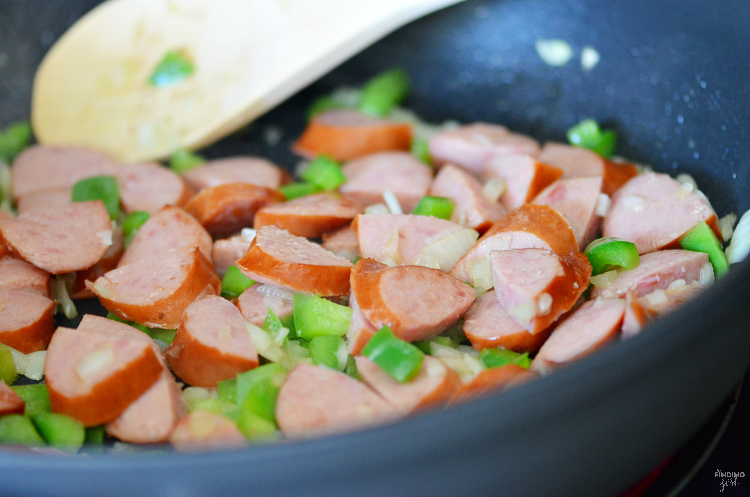 While we often just cook our kielbasa in water over the stove, kielbasa really works well in recipes.  I like having bite size pieces so I sliced up the kielbasa sausage and then cut again in half. Once your pan is heated, add a little oil and saute your vegetables and kielbasa.
For the pasta I chose cellentani because I already had it on hand. Any small pasta will do such as macaroni, shells or penne pasta. I do think corkscrew shaped pasta makes this dish more fun!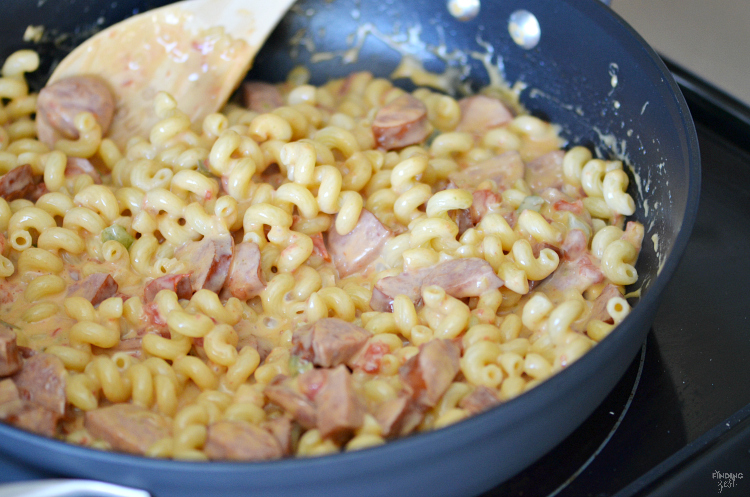 I only had a can of mild RO*TEL and thought that might work better for me anyway considering the amount of heartburn I've been suffering from as of late. Surprisingly it had a lot more zip than I expected. I wouldn't call it mild but rather milder than the original.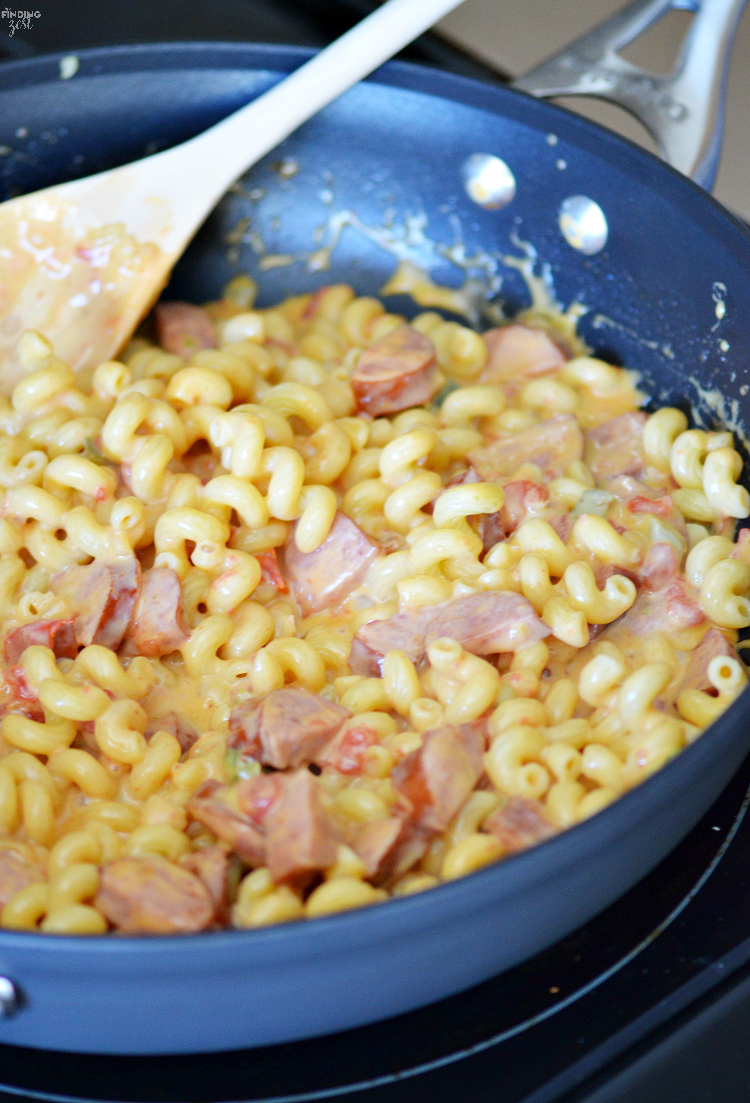 This kielbasa recipe can be on your table in under 30 minutes and is hard to resist, especially if you love the combination of Velveeta and Rotel.
Cheesy Kielbasa Recipe
Cheesy Kielbasa Pasta Skillet
Author:
Emilie at FindingZest
Ingredients
2 cups uncooked pasta such as cellentani, shells, elbow macaroni or penne pasta
1 lb. kielbasa, sliced
½ cup chopped green pepper
1 small onion, chopped
½ lb (8 oz) VELVEETA®, cubed
1 10oz can RO*TEL® Diced Tomatoes in Green Chilies (undrained)
Instructions
Prepare pasta according to package directions for al dente.
Meanwhile, heat one tablespoon oil over medium heat.
Add kielbasa, onion and green pepper and saute until browned.
Stir in RO*TEL® and continue cooking for one minute.
Add in cubed VELVEETA® and continue cooking until completely melted, approximately 3 to 5 minutes.
Stir in pasta until well coated and serve immediately.
This kielbasa pasta works great as a dinner by itself or you can serve it up with a nice salad or other vegetable.
If you like easy kielbasa recipes and pasta dishes with some spice, this dish is certain to be a hit in your house too. If you like dinner recipes that are more mild, check out this smoked sausage pasta or this sausage and rice skillet.
Be sure to let me know what you think if you give this kielbasa recipe a try.