These Construction Birthday Party Cups are a super easy treat to serve at your celebration. Guests will love this no-bake chocolate dessert featuring a quick three-ingredient chocolate mousse that is finished off with crumbled brownie and candy to mimic rocks.  Garnish with construction signs, caution tape and disposable shovel spoons so party goers can really dig in!
These plastic shovel spoons are really the star of this dessert.  When pinning my construction cake on pinterest I got inspired. I wondered if there were any actual shovel spoons because I was inspired to make a dessert cup. After all, I found these awesome mermaid spoons for my mermaid hot chocolate and I had so much fun making this unicorn dessert in a cup. I was delighted to find the perfect shovel spoons for my vision on Amazon!  I struggled with the construction party picks as well. Many of the reviews featuring a wooden pick were not great but then I stumbled upon these shovel spoons and they paired perfectly with the shovels.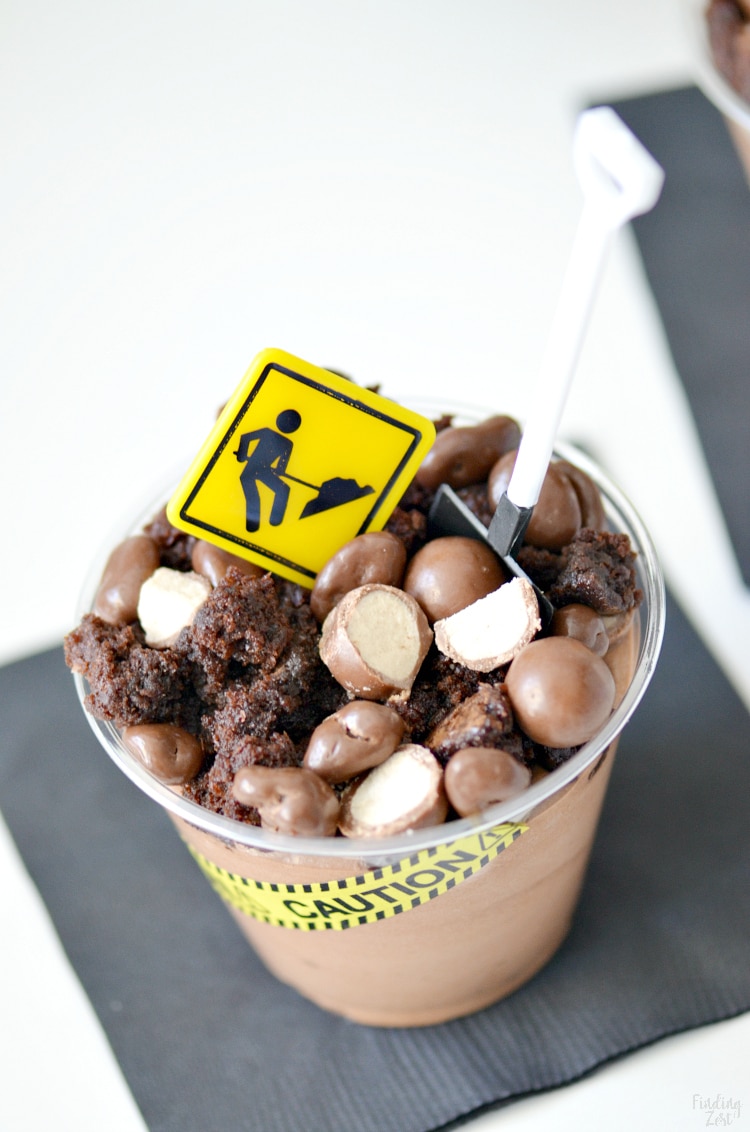 Construction Birthday Party Cups Ingredients
To make these fun chocolate dessert cups you'll need the following ingredients:
chocolate pudding mix*
whipped topping*
milk*
crumbled prepared or purchased brownies
Whoppers candy
chocolate covered raisins
*Note: If you have a favorite chocolate mousse recipe, the chocolate pudding, milk, and whipped topping can be replaced with five cups of prepared chocolate mousse.
Construction Theme Party Supplies:
You'll have plenty of these party supplies left over so you can use them for other aspects of your construction party. The construction signs work great for decorating cupcakes or to put into appetizers, and the shovels could be provided for anything that requires a spoon. The caution tape could be used for invitations or to decorate small signs, bowls or other items on your party table. The leftover plastic cups with washi tape on them would be great for a party punch!
How to Make Construction Party Cups
This construction birthday party cup makes a huge impact on any dessert table but is super quick and easy to make. While you can make a more deluxe chocolate mousse if you like, you can also keep it super simple with a box of chocolate pudding, milk and whipped topping.
To make this 5-minute mousse, whisk your chocolate pudding and milk in a medium bowl for two minutes.
Fold in the whipped topped until fully combined.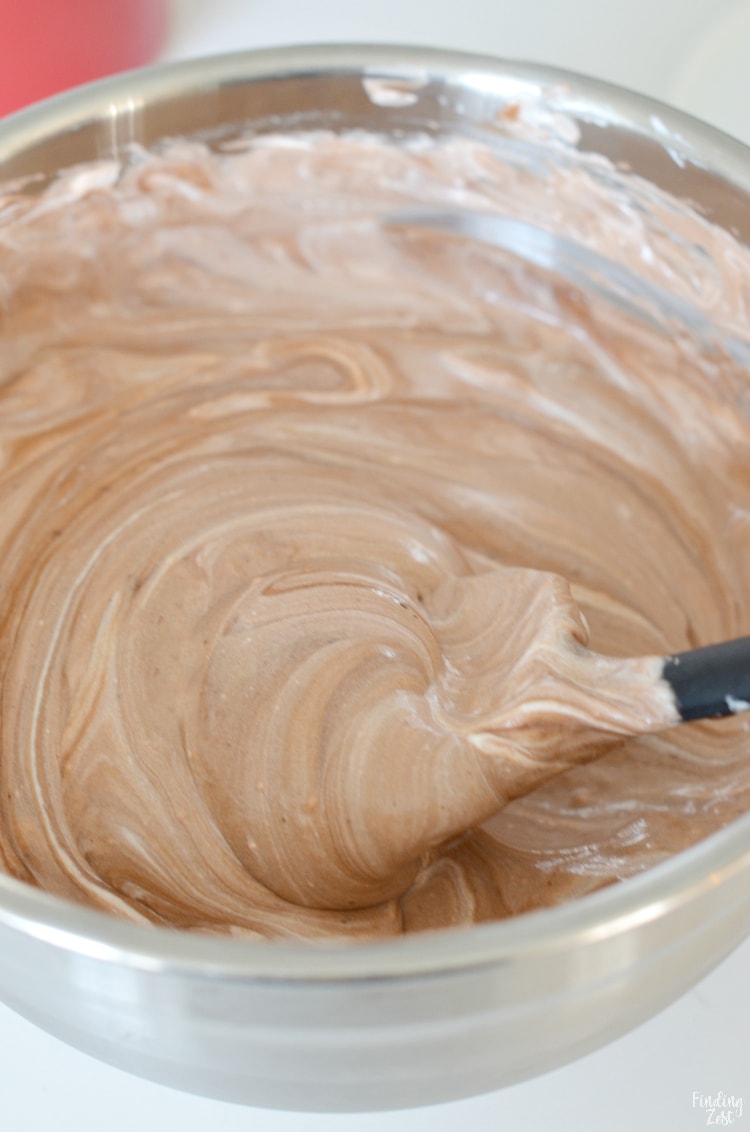 Before your mousse has a chance to set, spoon your mousse evenly into six 9 oz. plastic cups. Fill approximately 3/4 of the way full and chill in the refrigerator at least one hour.
Tip: You can stretch this mousse recipe to make 8 dessert cups by filling your cups just over half full and increasing the amount of brownie used.
Brownie Crumbles
The brownie crumbles to mimic rocks and dirt adds so much flavor and texture to these construction cups. I prepared one 9×13 inch box brownie mix and gave it a chance to cool. For the six cups, I used approximately 2 cups of crumbled brownie which was about half of the pan.  Alternatively, you could make an 8×8 pan of brownies or buy premade brownies.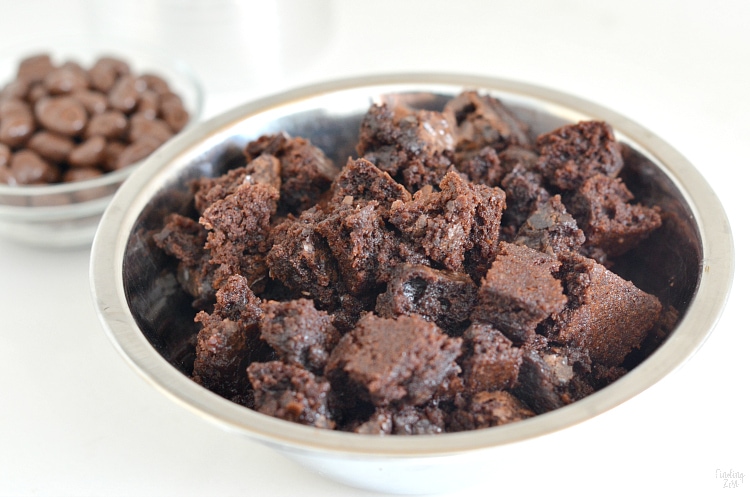 Caution Tape for Dessert Cups
Can I make a confession? I spent a ridiculous amount of time searching for the items to make my vision for this dessert to come life. I wanted a construction theme washi tape to decorate my cups but it was so hard to find any that were in stock using the usual keywords. So I branched out and looked through so much washi tape and discovered this shovel spoons! Isn't it perfect?
While putting washi tape around the cup is almost impossible, placing a smaller piece on a diagonal work great. I found precutting it and starting at the top and smoothing it down as I went to be the easiest method.
Construction Candy Toppings
Once your mousse has chilled you can top with brownies and candy before serving. I covered the whole first layer with the brownie so no mousse was visible.
For the top of this construction-themed party dessert, I added a combination of Whoppers and chocolate covered raisins. I chopped up half of the Whoppers in a variety of sizes to better represent boulders.
To finish off the look, I added the novelty shovel spoons and construction picks.  Pretty easy, right?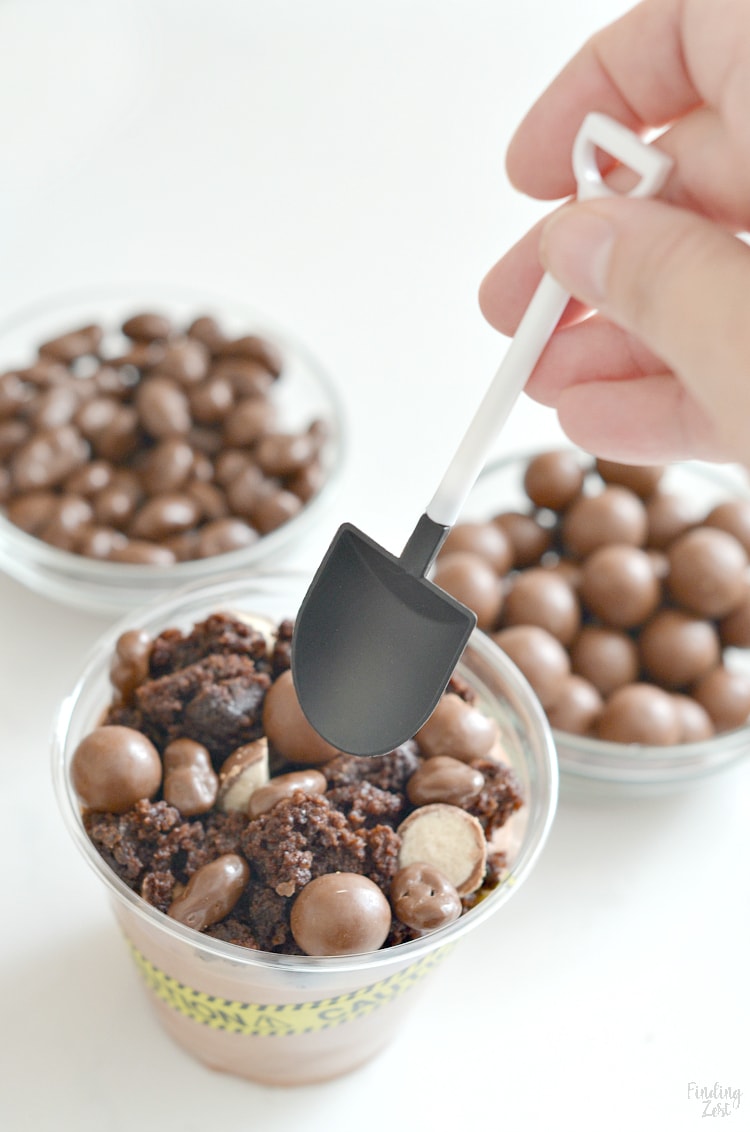 You can leave the construction pics high, like a traditional sign would be, or you can push them down a bit. I chose to push them down only because the shovels were so high and I liked the contrast. While you could skip any one of these three construction design element with this cup, I think they look so great together. Since they can all be reused in other areas for a construction birthday party, I recommend using all three!
These mousse cups can be made one or two days in advance. The brownie and whoppers taste great cold from the fridge but unless your cups will be sitting out at room temperature for a bit, I recommend waiting on the chocolate covered raisins, shovels and party picks until just before serving. Cold chocolate covered raisins are a bit more difficult to chew and you'll want to cover these cups if they will be in the fridge for a while.
Kitchen Tip: Place your construction dessert cups on a small baking tray for easy transporting and to keep them together in the fridge.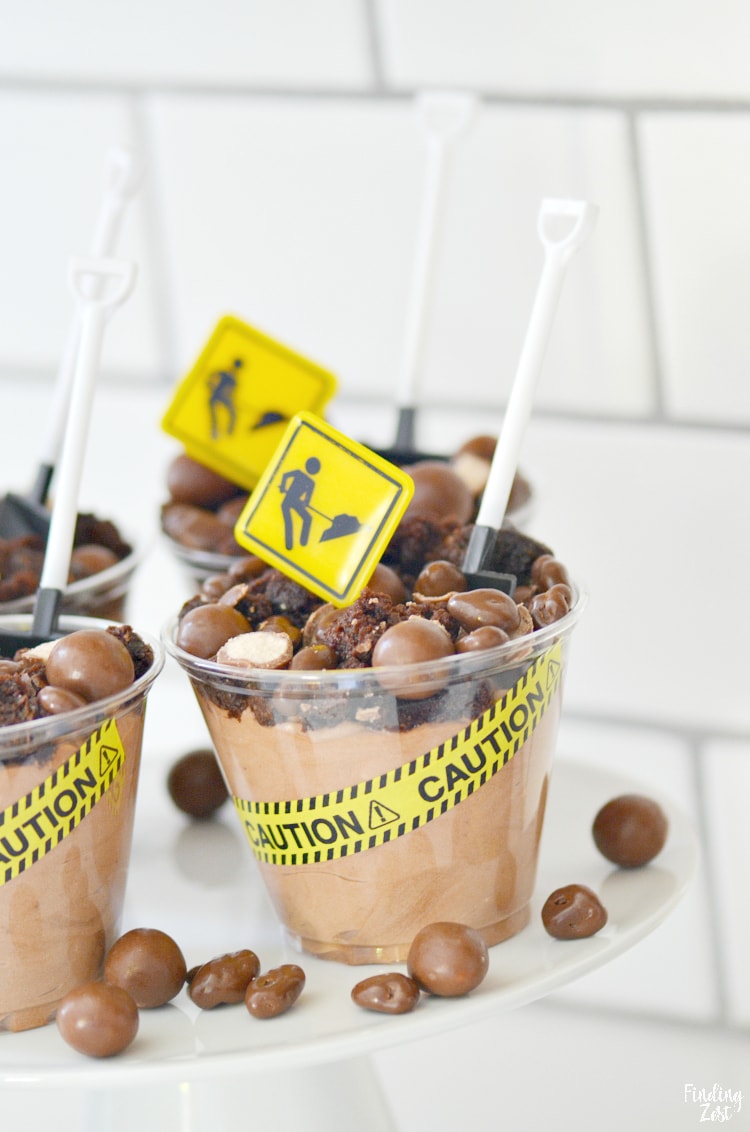 If you have leftover candy they work great as a garnish on your serving tray or food pedestal/cake stand. 
Construction Birthday Party Cups
Let guests dig into these Construction Birthday Party Cups! Guests will love this no-bake chocolate dessert featuring a quick three-ingredient chocolate mousse that is finished off with crumbled brownie and candy!
Ingredients
1

box

instant chocolate pudding

5.9 oz (6 serving size)

3

cups

milk

2

cups

whipped topping

2

cups

crumbled brownie

1/2

cup

Whoppers

divided

1/3

cup

chocolate-covered raisins
Instructions
In medium bowl, whisk chocolate pudding and milk for two minutes.

Fold in whipped topping until combined.

Spoon mixture into six 9 oz cups, filling 3/4 of the way up.

Transfer cups to the refrigerator for at least one hour to set.

Roughly chop 1/4 cup Whoppers.

Top chilled cups with crumbled brownie, whoppers (both chopped and whole), and chocolate-covered raisins.

Decorate cups with themed washi tape, construction picks and shovel spoons, if desired.

Serve immediately or refrigerate until ready to serve.
Recipe Notes
These construction birthday party mousse cups can be prepared a day in advance and stored covered in the refridgerator until ready to serve. 
The plastic party picks and disposable spoons both washed up great in my dishwasher so feel free to use them again and again!
Hope you love this construction birthday party dessert as much as I do!  My kids went nuts when they came home from school to find this treat waiting for them. If you love chocolate, you'll love this construction party idea!! 
Love chocolate mousse? Give this easy chocolate mousse pie from Courtney's Sweets a try!