My husband and I are far from picky eaters. We love a variety of foods but unfortunately the same can not be said (yet anyway) for our three boys. One thing everyone can agree on Hearty Italian Sausage Soup which is why it is a family favorite. But while I love that soup, I like to branch out. I grew up with a mom who loved trying out new recipes all the time so it really makes me a bit depressed when I serve a new recipe that my kids don't like. And since this happens often, I try to pick new recipes that I think they have a chance at liking. On a cool fall day I decided some soup was in order. Thinking about sausage soup, my mind immediately went to Olive Garden's Zuppa Toscana. It is a favorite of my husband who orders it any time we go to Olive Garden. (I always opt for the salad!) Inspired by this awesome recipe on Food.com, I set out hoping to make a soup that my whole family would love.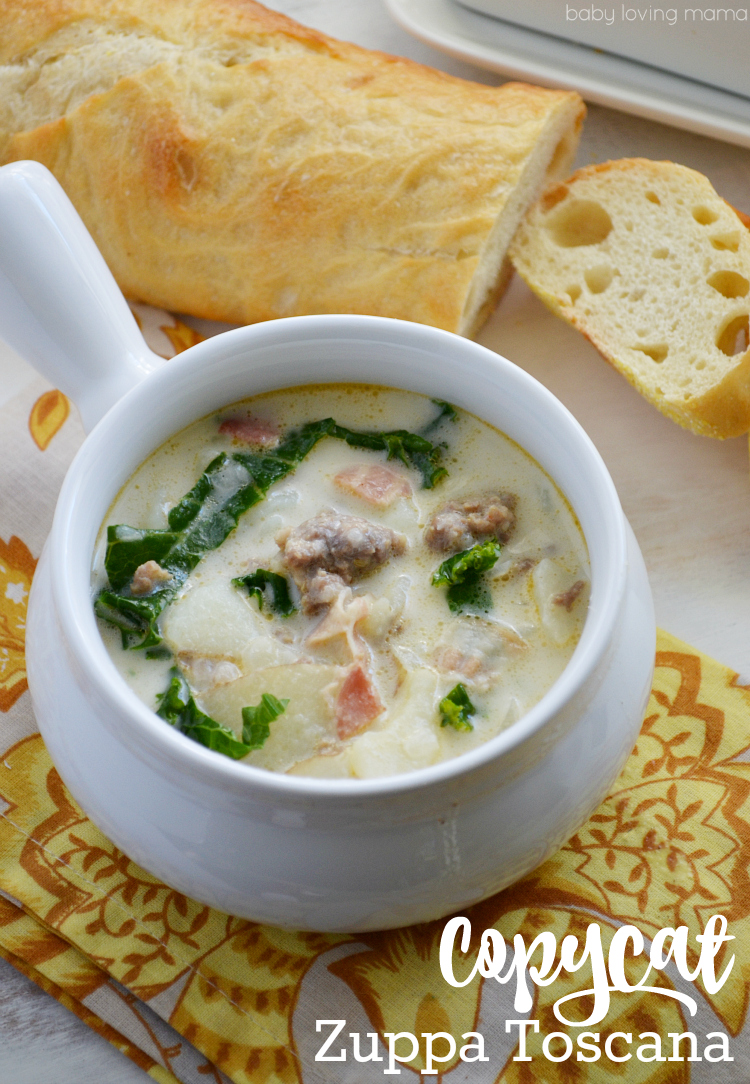 Did I succeed? Yes! All my kids liked it. I thought for sure the kale would turn them off, but they either ate it or picked around the pretty green ribbons.
I like to use sausage links which come in a package with 1 1/4 pounds. (Make sure to remove the casings.) So I increased the other ingredients a bit to stretch it further. I also saw optional bacon bits and decided to kick it up with some real bacon and more of it. It really added some delicious flavor to the soup. You can always buy pre-cooked bacon to make it easier!
I hope you'll give this copycat Zuppa Toscana soup recipe from Olive Garden a try with your family!