Earlier this year I made this simple yet beautiful Berry French Toast Bake. Stuffed with cream cheese and topped with assorted berries,  this french toast can be prepared the night before and then popped in the oven the following morning. This would be perfect for when you have house guests or for a holiday brunch.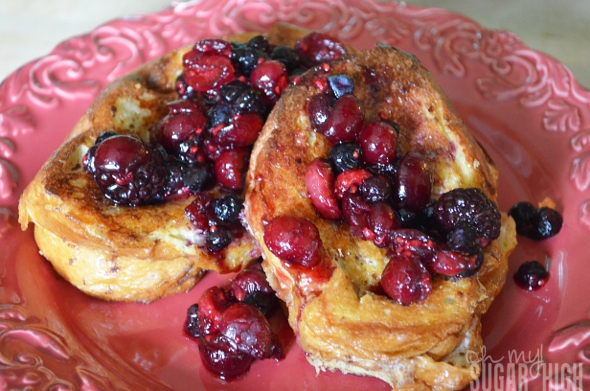 Cream Cheese Stuffed Berry French Toast Bake Recipe and more!
Ingredients
1lb loaf of French bread cut into approximately 16 slices
8 oz brick cream cheese, softened
4 eggs
1 cup milk
¼ cup sugar
¼ teaspoon salt
½ teaspoon cinnamon
2 tablespoons butter, melted
3 cups frozen mixed berries
thawed whipped cream (optional)
Instructions
Spray 13x9 inch baking dish with cooking spray. Spread 1 to 2 tablespoons cream cheese on eight bread slices and top with remaining slice to make eight sandwiches. Place french toast sandwiches in baking dish to cover bottom of pan.
Beat eggs in medium bowl. Add milk, sugar, salt and cinnamon then beat well. Pour over sandwiches in baking dish and let stand at room temperature 5 minutes. Turn sandwiches over.
Cover and refrigerate a minimum of 8 hours or overnight.
Heat oven to 400°F. Uncover baking dish and drizzle with melted butter. Bake 25 to 30 minutes.
Heat oven to broil and cook for additional 1 to 2 minutes or until tops are nicely golden brown.
Serve French toast with thawed mixed berries and whipped cream if desired.
To get the french toast nice and brown, I simply toasted them a bit with my broiler the last couple of minutes. It was definitely not soggy and was a big hit!
If muffins are more your style, try these Oatmeal Chocolate Chip Muffins. They are a great combination of flavors with the chocolate mixed with oatmeal. My boys especially liked the topping!
I've shared both of these recipes with Smart Cooking Guide, a site that I have partnered with to try out different cooking products from Spectrum Brands along with several other bloggers. If you are in the market for some great small appliances and gadgets for the kitchen, be sure to check out their review section while you are there.
Here are just a few of the fabulous recipes shared by some of your favorite bloggers, including Blender Pumpkin Pancakes from Erin at 5 Dollar Dinners and Mexican Salsa from Amy at Mom Spark!
Disclosure: I am part of the Smart Cooking Guide blogger program which includes compensation. However all thoughts remain 100% my own.