You may remember my Mother's Day event in May where I featured a nonstick grill and press pan from Calphalon. I received a sample of the pan and we've been using it mostly for meat, especially steaks the past  couple of months. My husband loves that he can get the grilled look on our stove when it isn't convenient to grill outside. It has been awesome! But this grill & press pan is great for more than just steaks and chicken, it is perfect for sandwiches like panini and even french toast as I discovered over the weekend.
With it I created this amazing Cream Cheese Stuffed Cinnamon French Toast.
Nom, nom.
It turned out so good!
Our local grocery store makes this delicious cinnamon burst bread which is much like a gloriously flavored Texas toast. It works so well for french toast and comes in a 1 1/2 pound loaf. If you don't have something like this you could easily substitute a cinnamon swirl bread or perhaps add a 1/2 teaspoon of cinnamon and a little vanilla in your egg mixture and use a thick Italian loaf or regular Texas toast to get the cinnamon flavor.

Using the grill and press, this was actually fairly easy. Simply preheat your griddle pan and the press. I found it easiest to cook the french toast on one side for just a bit (around 30 seconds) then flip it over and press it down with the hot press. (Be very careful using the press. It is cast iron and heavy. You don't want to drop it on your stove, especially a glass one like mine. You will also need to wear good oven mitts as the handle will get hot!)
I gently pushed the press down on my french toast which sealed the sides. And it came out divine!
Cream Cheese Stuffed Cinnamon French Toast
Recipe Type:
Breakfast/Brunch
Ingredients
1½ pounds cinnamon burst bread (or other thick cinnamon bread)
3 eggs
2 tablespoons milk
4 oz cream cheese, softened
2 tablespoons sugar
powdered sugar (optional)
Instructions
Preheat pan over medium heat.
Beat cream cheese and sugar until well combined.
Spread cream cheese mixture generously on one side of bread and place another slice on top to create a sandwich.
Whisk eggs and milk together in medium bowl.
Dip sandwich in egg mixture, coating tops and sides quickly.
Place sandwich on grill or griddle pan and cook both sides until gold brown. (I used a nonstick cooking spray to prevent sticking)
If using a grill & press, cook for 30 seconds and flip over before placing hot press on top to seal. Cook until golden brown.
Serve immediately.
Notes
If using plain bread, add ½ teaspoon cinnamon and ½ teaspoon vanilla to egg mixture.
I made some traditional french toast too because I didn't know if my picky kids would appreciate the change. It worked great for this as well, although I didn't use the press, just the grill pan.
There were a couple of spots where it didn't seal perfect but seeing a little cream cheese ooze out the side, suits me just fine!
My boys literally begged me for more of the stuffed french toast and I wished I had purchased two loaves of bread.
It tasted perfect with a little butter, powdered sugar and some fresh fruit on the side.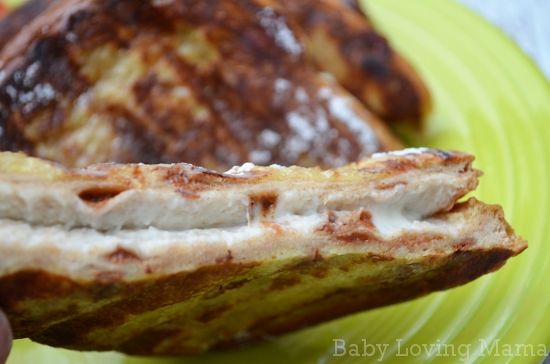 BUY IT:
Besides on the company website, this Calphalon Grill & Press is available at retailers such as Amazon.  It has suggested retail price of $200 but can be found for only $99 at most locations.
_________________________________________________________________
Dislcosure: I received a sample of this griddle pan however all thoughts remain 100% my own.