I love serving coffee cake on a weekend morning. Perhaps it is the idea of serving cake for breakfast and not feeling guilty that gets me, but I really enjoy it with my morning coffee. With pumpkin, one of my favorite fall flavors, calling out to me I went on a hunt for a great pumpkin coffee cake recipe. I found this great recipe from Pillsbury.
I decided to skip the maple flavorings and instead pair with more fall spices like cinnamon and nutmeg instead. It turned out amazing!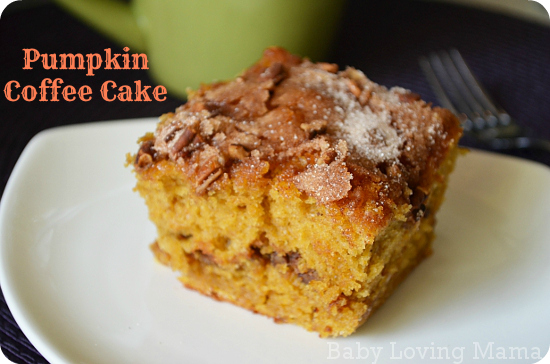 Pumpkin Coffee Cake
Author:
Inspired by Pillsbury
Recipe Type:
Breakfast, Dessert
Ingredients
1½ cups All Purpose Flour
¾ cup firmly packed brown sugar
2 teaspoons baking powder
½ teaspoon salt
¼ teaspoon baking soda
⅔ cup buttermilk
½ cup canned pumpkin
⅓ cup oil
½ teaspoon cinnamon
2 eggs, beaten
Topping
½ cup sugar
1 teaspoon cinnamon
¼ teaspoon nutmeg
⅓ cup chopped pecans
2 tablespoons flour
Instructions
Preheat oven to 350°F. Grease bottom 8x8 or 9x9 -inch square pan with nonstick cooking spray.
In large bowl, combine flour and remaining coffee cake ingredients. Mix just until moistened.
In small bowl, combine ½ cup sugar, cinnamon, nutmeg, pecans and flour.
Spread half of batter in greased baking dish. Sprinkle with half of topping over batter.
Drop remaining batter by spoonfuls over top. Gently spread batter evenly over top.
Sprinkle with remaining topping.
Bake at 350°F. for 25 to 35 minutes or until toothpick inserted in center comes out clean.
Cool 15 minutes. Serve warm if desired.
Tip: If you don't have buttermilk on hand, simply take two teaspoons of white vinegar or lemon juice and pour into a liquid measuring cup. Fill the cup up with regular milk to the 2/3 cup line. Let stand for 5 minutes before adding to ingredients.
I use this trick all the time when I don't have buttermilk. (The standard recipe is 1 tablespoon white vinegar/lemon juice and fill to one cup line with milk.) I honestly can't tell a difference in recipes and it is much cheaper than keeping buttermilk in the fridge.
Enjoy!