Sometimes it is the little things in life that can make this mom happy. It can be small as connecting with an old friend, discovering an extra $20 in an old jacket or being greeted at the door with a picture my son made me at school.  Big and exciting things like vacations are great, but it is the day to day little surprises that get me up in the morning.  Finding out about new products that are a great fit for my family can feel like just another small win.
When I was asked to join the Finish Alliance of Moms, I knew it was a great match. Not only because Finish® Quantum®  dishwasher detergent and Finish® Jet-Dry® were already products I bought regularly, but because I loved the idea behind their latest Power & Free products.
The Finish Power & Free line of dishwasher products became available just last month. They are designed to deliver a sparkling clean and shine with less harsh chemicals than the regular Finish products.
How do they do this?
Hydrogen Peroxide Action.
That means no chlorine bleach, fewer fragrances and dyes versus the regular Finish detergents.

And yet, these powerful three chamber capsules features powerful cleaning to attack the toughest stains and still deliver the shine you've come to know and love with other Finish products. If you've ever used Finish capsules before, you know how quick and easy they are to use. Simply pop this bad boy into your dishwasher's detergent chamber and let it do all the work.
With three little boys, I don't have time to worry about whether or not my dishes will be clean when I unload my dishwasher. This past week my six year old was sick with a stomach bug. My in-laws came in from out-of-state to spend a long weekend at our house. We prepped for Valentines' Day and a birthday celebration at school.  My days are spent multi-tasking, and dishes are always on my to-do list. I want something hassle free.

But having little kids also makes me wary of harsh chemicals. My 23 month old, Wesley, is often in the kitchen with me while I clean up. He loves to be near me and play with the toys on the refrigerator or dishwasher doors.  If I use a product for my dishes that is safer for him but just as effective, I am one happy mama.

How can I not try to keep safety top of mind when I have this little reminder around?

Finish Power & Free line consists of the following products which provide superior residue protection versus detergent alone so that nothing is left behind.
Finish® Quantum® Power & Free™ dishwasher detergent ($.30 per wash)
Finish® Powerball® Power & Free™ dishwasher detergent ($.22 per wash)
Finish® Jet-Dry® Power & Free™ rinse aid ($.05 per wash)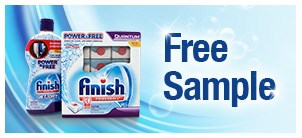 Request a Free Sample:
Fill out the sample request form to try it out yourself! Be sure to like Finish on Facebook to keep up on all the latest product news and offers.
I'll be sharing my own experience using the Finish Power & Free over the next several months. I hope you will also "Clean it Forward" and take the Power & Free challenge with me by replacing your current dishwasher products with this new line! 
Disclosure: I am a member of the Finish Power & Free Alliance of Moms, which is a sponsored. All thoughts remain my own.