Thanks to PureCare for sponsoring today's DIY Alien Nightlight craft and giveaway. All thoughts are my own.
When my family gets a good night sleep, it shows. As parents we have more patience and energy to do fun things.  My kids whine and cry less and get along better when lack of sleep isn't bringing them down. I've been paying closer attention to what makes them fall asleep easier and stay asleep longer to ensure all three of my kids are well rested.  Most recently I purchased black out curtains for their bedroom, switched out their pillows and made this DIY Alien Nightlight from a mason jar. A few changes can really go a long way in helping them feel refreshed in the morning!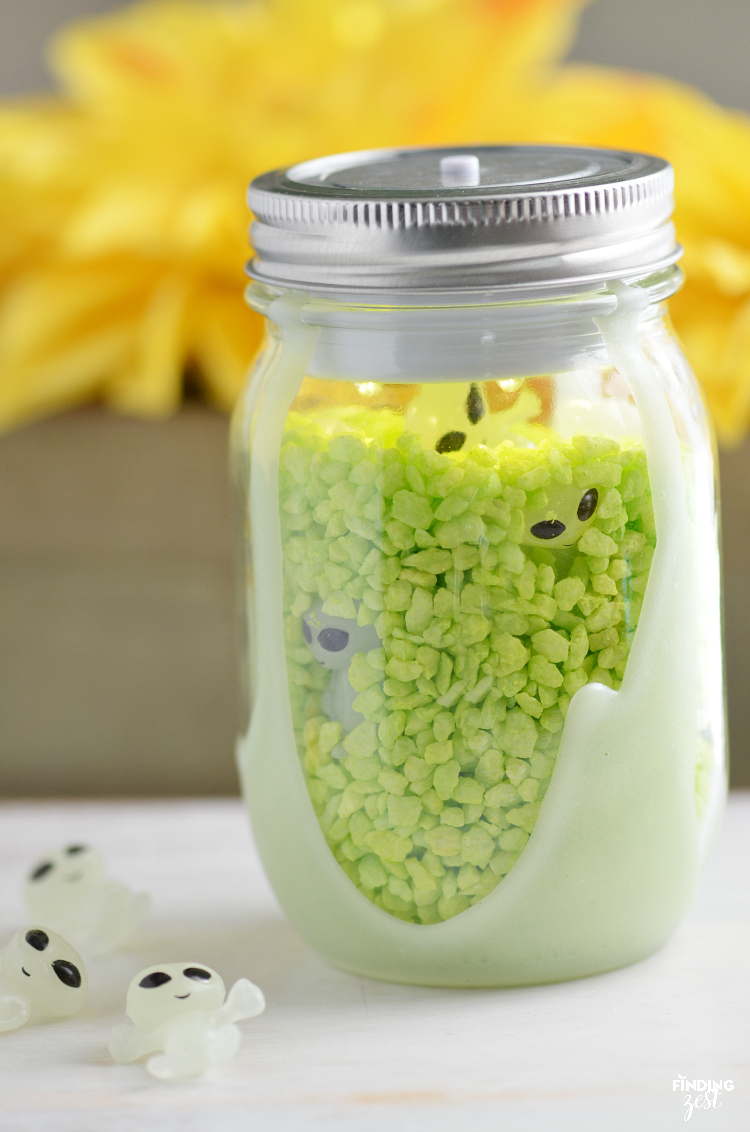 DIY Alien Nightlight Supplies
To make this nightlight, I used a mason jar I already had on hand and picked up some vase filler from my local dollar store. The lime green rock was only a dollar and perfect for this project. I used the entire bag for my nightlight.
For the rest of the supplies I turned to Amazon for these glow-in-the dark aliens and bright green paint. While the glow feature adds a really fun element, you can save on costs by using any space or alien theme small toys you already have on hand. A neon green paint would also work well!
DIY Alien Nightlight Directions
Turn your mason jar over on a piece of cardboard or newspaper. Slowly pour your paint in the center until it starts to slide over the sides. The glow in the dark paint I used was a bit thick so I did have to gently tilt the mason jar.
You can stop as soon as you get the look you want over the sides.  You will want to let this dry a minimum of 24 hours. It may be tempting to touch it earlier than that to see if it is dry but I don't recommend it. (I learned this the hard way.)
Once completely dry, I filled it up with the green rock and aliens and topped it off with a mason jar light.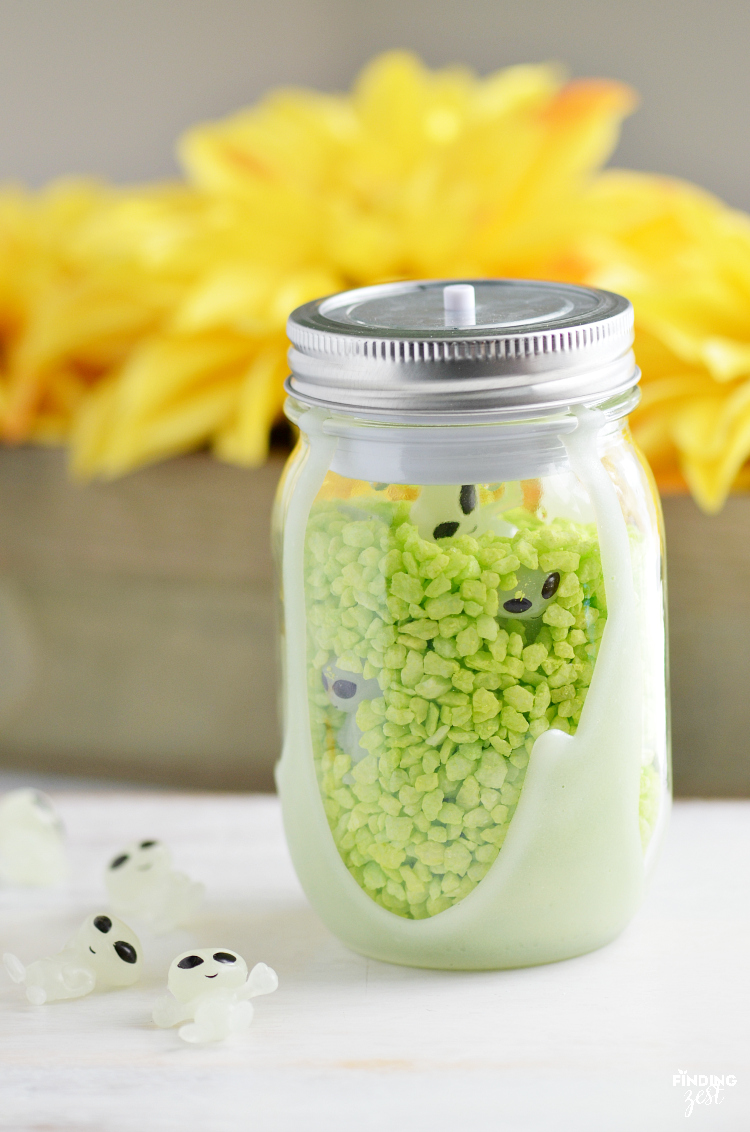 To get the glow-in-the-dark look you'll need to store the nightlight near sunlight. The glow in the dark feature will not last all night, but it is definitely fun.  This is what it looks like with no nightlight on, but only lasts for several minutes.
I love the look with the nightlight on!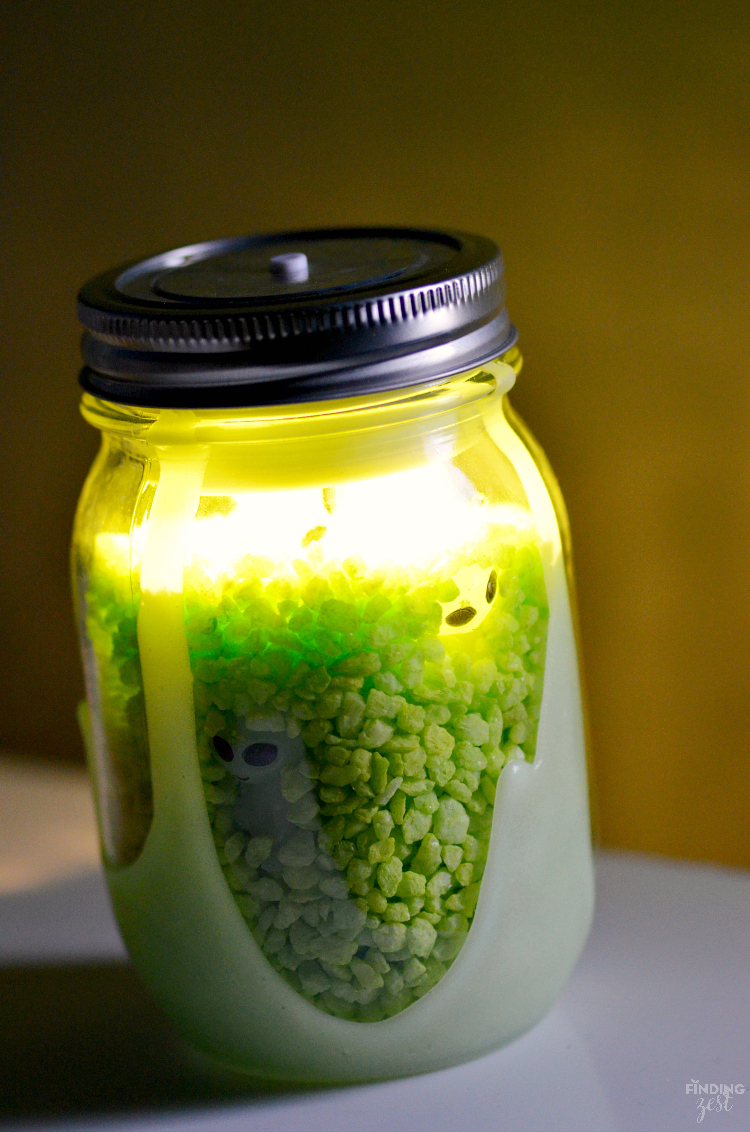 If you want a brighter nightlight you can reduce the amount of filler inside so more of the light is showing.
Another way to help your child enjoy a more restful slumber is with pillows that are designed especially for them!
PureCare Kids Collection
The PureCare Kids collection of premium youth pillows are specially designed for kids ages 3-12 and include their patented pillow constructions and premium materials. These washable pillows provide the proper neck and shoulder support that your little one needs while protecting against allergens, bed bugs and dust mites!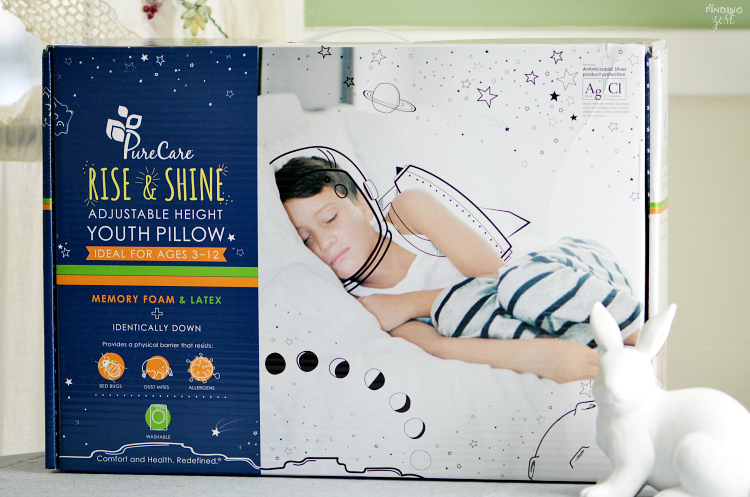 There are four different pillows offered in two different style.  The PureCare Rise & Shine is an adjustable pillow available with special inserts so you can easily alter the height of the pillow by removing one or both of the layers. You can get this pillow with just memory foam inserts or one memory foam and one latex layer. Memory foam adds a cradling support as it forms to the head while a latex insert offers more structured support.
This pillow is perfect for my kids, especially my 5 year old who needs a pillow that is supportive but not super thick. I love that it will grow with him over time!
PureCare also offers the Sihouette Support Youth Pillow in both a single and dual design. This patented three-piece pillow combines a balanced blend of Identically Down™ and memory foam puffs. What exactly does that mean? Your child gets some much needed pressure relief! Want a firmer feel? Just flip it!
This pillow has been perfect for my 10 year old son who has a tendency to load up on pillows. He says he finds is super supportive and loves how it feels on his neck. He also likes the softness of the cover.
All the covers from the kids collection are treated with antimicrobial silver chloride that inhibits bacteria, mold, and mildew that cause deterioration, stains, and odors. How awesome is that?
The packaging on these pillows is also high quality and fun with the option for coloring.
Using the box for storage is also an option! It is encouraged for kids to share their creative collection of items with the PureCare Facebook page.
BUY IT:
Visit PureCare to buy their products online or use their store locator to find a location near you! You can also find a selection of PureCare products on Amazon, including their PureCare Kids line.
Giveaway:
How would you like to win your choice of PureCare Kids pillow for your child? I have two to give away to my readers. This is up to a $59.99 value each!
a Rafflecopter giveaway