Make your table sparkle with these DIY beaded napkin rings! All you need is 15 minutes and $2 worth of supplies to make six beautiful holiday napkin rings. Napkin rings from the dollar store get an upgrade with this fun holiday craft project.  Make extra and give them as a homemade holiday gift!
Last month I was bitten by the crafting bug. After spending some time in the craft store, my mind kept spinning with ideas. When I stopped by the Dollar Tree and spotted a package of six silver napkin rings for only a $1, the wheels started turning on how I could dress them up a bit. It is amazing to me how much a single napkin ring can cost in stores. Last year I used these pretty beaded napkin rings for my Thanksgiving table, and I loved how they sparkled on the table. I already had some beaded wire garland at home so for less than $2 worth of materials, I was able to create these six holiday napkin rings.
Holiday Napkin Rings Supplies
You might be surprised that only a few supplies are needed to make these holiday napkin rings.
plain silver napkin rings (dollar store)
acrylic bead wire garland (or individual beads)
glue gun
scissors
That is all you need for this project. That is it.  I had these completed in less than 15 minutes.
How to Make Christmas Napkin Rings
Cut off a section of the beaded garland so you have approximately 5 or 6 beads. Wrap beaded garland around the center of the napkin ring, making sure to stretch a section with no beads along the back. (I was able to get it to just fit along the back, with one bead on bottom and one on top on the front.) Then wrap the beads around each other with the wire until they form a cluster and are secure on the napkin ring.
The beads will stay together, but they can slide along the front of the napkin ring. I used some hot glue to secure the garland in the center of the ring, but this is optional. Once the napkin ring is on the napkin, they should stay put without the glue, but you may need to adjust them each time.
If you can't find any acrylic beaded garland like the one shown, assorted acrylic beads can be hot glued as a cluster on the front to create a similar look.
You can also create a beautiful napkin ring for year-round or other occasions using different colors of beaded wire garland.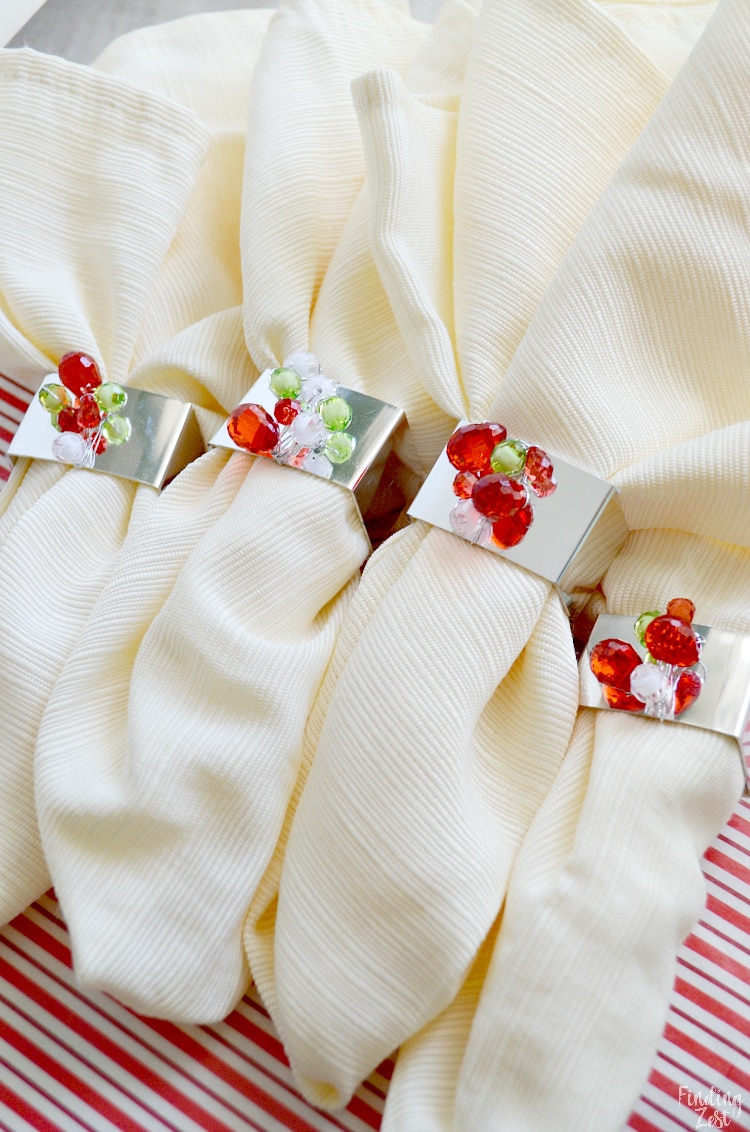 I found a few on Walmart, although they were certainly more expensive than the Christmas wire garland I picked up from Michael's. Look in your favorite craft and fabric stores for more options.
I hope you love these pretty but cheap napkin rings as much as I do!
Looking for more holiday craft ideas? Try this black bear ornament or a DIY snow globe.