White pumpkins for fall decor is currently very popular, and it is easy to see why. While I love a beautiful, traditional orange pumpkin, white pumpkins allow me to switch things up a bit. They also match virtually any decor. With my DIY White Pumpkin Decor with Paper Flowers project, you can really have fun with colors and patterns!
I usually wouldn't call myself very crafty. I would say I'm creative, but I wasn't born with the crafty gene. And yet, while stopping off at Michael's for some gold cupcake liners, I found myself inspired. I spotted these inexpensive cream pumpkins, and I knew I had to make something with them. I had recently pinned a white pumpkin with bats project on pinterest. (Cool, right?) I decided I needed to create something on my pumpkin with paper. But every idea using traditional Halloween images was falling short or felt like a copy. That is, until I remembered that I wanted to try making paper flowers. And that is how this project was born.
The whole project is actually quite simple and took me just under an hour to complete. I had to learn how to make paper flowers during that time, so if you already know how to make them this project will be even faster for you!
Michael's had their scrapbook paper on sale for only $.14 a sheet so I picked up several colors including some black metallic and black and ivory polka dot varieties. I wasn't sure what thickness of paper would work best, but I already had some fall colored card stock at home, including this rusty orange.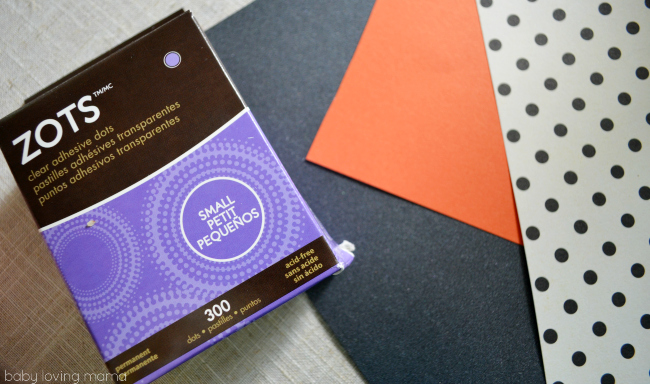 White Pumpkin Decor with Paper Flowers Supplies:
craft pumpkin or real pumpkin in your choice of color
3 sheets of scrapbook paper or card stock in coordinating colors
clear adhesive dots or glue gun and a stick of glue
scissors
Directions:
To create the flowers, I used this awesome paper flower tutorial from Snap! Creativity. I could have recreated it here, but why try to duplicate what is already a strong tutorial?  I hate using a glue gun and will avoid it at all costs. Instead of using tape or a glue gun as recommended in the tutorial, I used clear adhesive dots.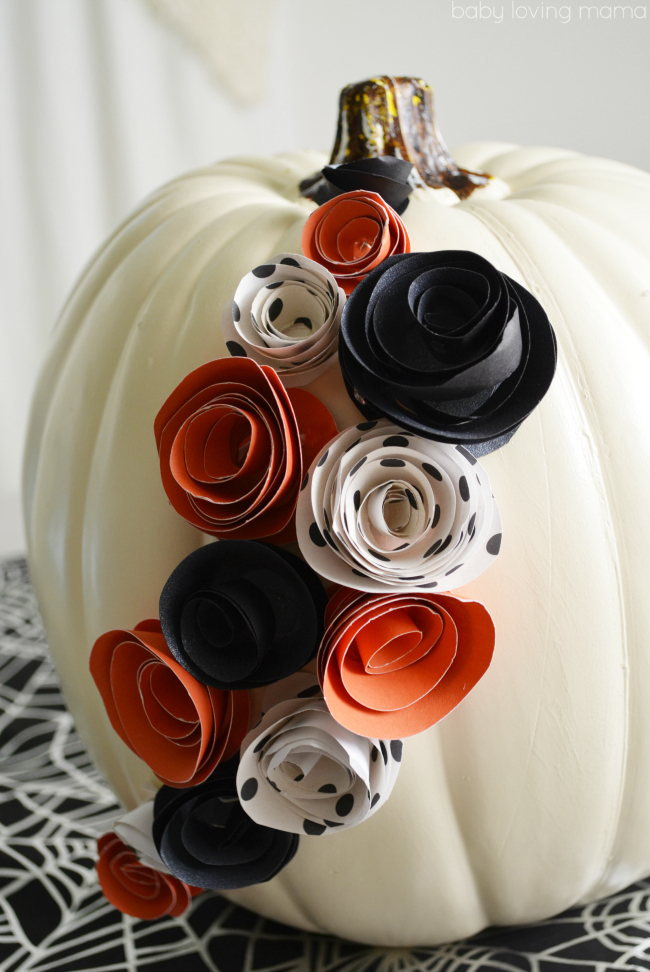 The adhesive dots worked well for holding my flowers together, but don't be stingy in their use if you want it to hold over time. I also placed three dots on the back to attach them to the pumpkin.  This isn't the cheapest option, but it is certainly less messy. I also like that the dots did a great job of really holding them in place, but I could still move a flower around if I really didn't like the placement. (Just be very careful when you remove them so you don't damage the flower or the pumpkin.) Glue feels so much more permanent.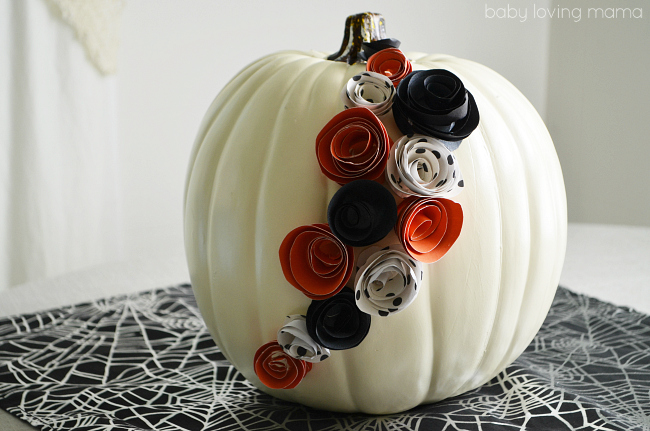 After working with three different types of paper, I liked the look and feel of the regular polka dot scrapbook paper as opposed to the heavier orange card stock. I think card stock is great for projects where the flowers might take more of a beating, or you really want them to stand up. But for this project, the thinner paper created my favorite look with more petals. It also required less glue dots to hold in place.
The beauty of this project is that you don't have to be too concerned with everything looking perfect. As in nature, flowers don't have to be perfect and their placement on the pumpkin doesn't have to be either. Just have fun with it!
I can see creating several pumpkins in this style using various colors. It would work well for fall or Thanksgiving with colors like orange, brown, gold, or yellow. And with so many options available with scrapbook paper, the possibilities are endless!