Thank you to HarperCollins for sponsoring today's dog biscuit recipe post. All thoughts are my own.
The summer has flown by and I've been trying to make the most of these last few weeks with my kids before they go back to school. Wesley will be headed to first grade this year and he is pretty pumped it. It is amazing to watch the progress he made last year, especially with reading. We often read books together and each take turns reading a page or a specific character.
That's why we were so happy to see Biscuit featured in our new collection of I Can Read! brand books! If you aren't already familiar with this line of beginning readers, I Can Read! books are organized into color-coded levels. With the wide variety of titles featuring award-winning authors and illustrators, you can find books at every stage to engage and excite your child.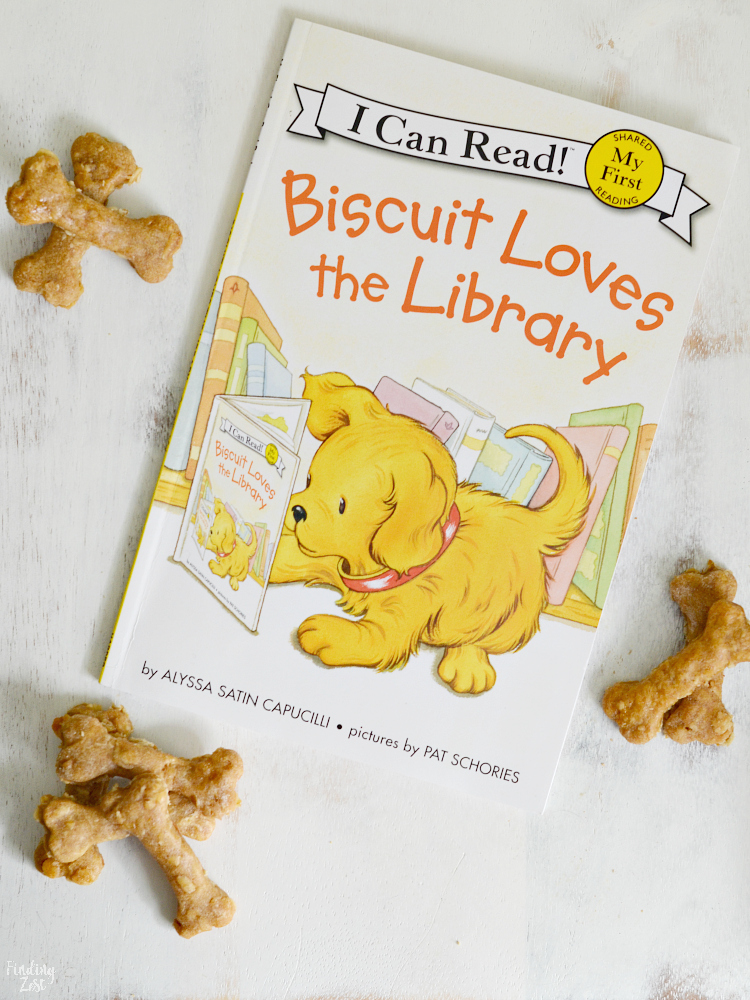 We decided together it would be fun to make a dog biscuit recipe inspired by Biscuit from Biscuit Loves the Library.
For many years Wes and I have enjoyed our kids in the the kitchen series, Mini Chef Mondays but lately we've fallen out of this habit. Making homemade dog treats was a great way to break up our morning spending quality time together doing something we love. Our dog Leo was definitely keen on the idea of a homemade dog biscuit.
How to Make a Homemade Dog Biscuit Recipe
There are many different ways to make dog biscuits. Most dog treat recipes call for either peanut butter, pumpkin or sweet potato. To match the color of Biscuit himself, we went with banana and peanut butter dog treats and kept the ingredients simple with what we already had on hand.
There are ways to make this biscuit even healthier such as with whole wheat flour but we didn't have any. We thought oatmeal would be a nice touch and it made a great filler.
We used a mini bone cookie cutter for this dog biscuit recipe but you could use other shapes or even roll up the dough and cut them with kitchen scissors. Update: The bone cutter used for this post is no longer in stock. Here is another inexpensive bone mini cutter set with three sizes!
The main thing is to keep the thickness the same so your dog biscuits cook evenly.
We baked our dog biscuits on a silicone lined baking sheet. This worked great to create a perfect biscuit bottom and avoid any sticking.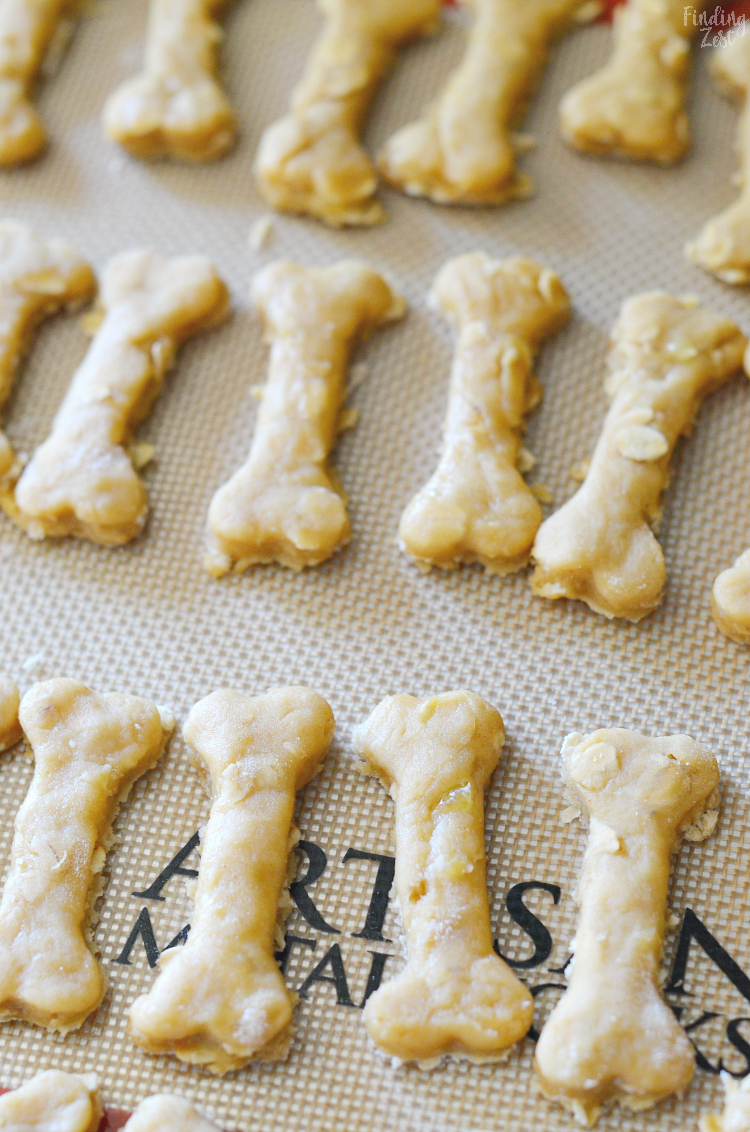 You'll want to cook these on a lower oven temperature for a longer period of time to get that nice biscuit texture. Exactly how long will depend upon the thickness of your biscuits. I tried to keep mine about a quarter of an inch. And that is all there is to making a dog biscuit!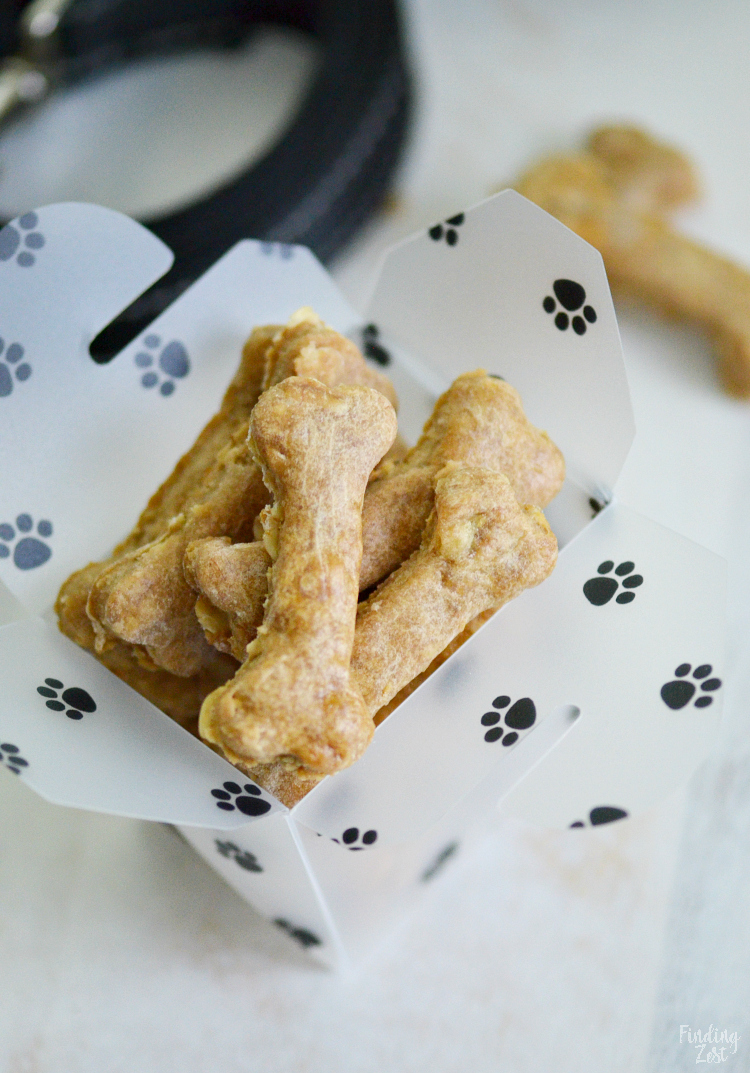 Peanut Butter and Banana Dog Biscuit Recipe
This dog biscuit recipe inspired by Biscuit the Dog is a perfect kids activity! Make these peanut butter and banana homemade dog treats with your child to pamper your furry friend.
Ingredients
1

cup

all purpose or whole wheat flour

1/2

cup

oats

1

egg

1/3

cup

peanut butter

1

medium sized banana

mashed

1

tablespoon

honey

1

egg white

lightly beaten
Instructions
Preheat oven to 300 degrees F (150 degrees C). Line baking sheet with parchment paper or silicone baking sheet. (You can also use a greased baking sheet as well.)

Mix all ingredients except egg white in a medium bowl until well combined.

Roll out dough onto floured surface to 1/4 inch thick.

Cut into desired shape using small cookie cutter.

Place on baking sheet and brush with egg white.

Bake until golden brown and firm, approximately 35 minutes, depending upon shape and thickness.

Cool before serving.

Keep stored in airtight container.
Recipe Notes
Exact number of dog biscuits will depend upon the size of the biscuit cutter.  The one I used was 2 1/2 inch (6cm) (length), 5/8 inch (1.6cm) (depth). 
Wouldn't these make great gifts at the holidays? Leo absolutely loves them and Wesley couldn't wait to give him one once they had a chance to cool.
That afternoon Wesley spent some time reading his new I Can Read! books featuring some of his favorite characters including Splat the Cat and Paddington.
He loves that he needs very little help with this series and can read a book almost entirely on his own. Watching him grow and continue to learn has been fun over this past year, especially with his reading skills.
Besides Biscuit, Wesley was also super excited to see Pete the Cat. We have several Pete the Cat books on our bookshelf so Wesley was happy to add another one.
Click here for more reading tips, fun printable activities and download teacher's guides for I Can Read! books.