If you are like me, you hate seeing your child sick. Just this past weekend our oldest had a 24- hour stomach bug and it wasn't pretty. All I ever want to do when my kids aren't feeling well is take care of them, and that includes helping them feel better. It is hard to get a good night's rest when you are up all night coughing.  Most of the time, a cold simply have to run its course. But that doesn't mean I can't  help to alleviate the symptoms, especially since they can last for a long time.
Unfortunately, cough and cold medicine isn't always easy to convince my kids to drink. If they don't like the flavor they will avoid it, complain or even cry about it.  As a parent, I want to avoid this struggle completely, which is why I'm really intrigued to try Dr. Cocoa™ for Children. This is the first-ever cough and cold medicine for children with patented formulas combining trusted, effective ingredients with 10% real cocoa for great chocolate taste to make giving medicine to kids easier.
And apparently, I'm not alone.
In a new national survey of U.S. parents of school-aged children (ages 4-13), 40% say that they find it isn't always easy to give their child(ren) over-the-counter liquid cough and cold medicine. Of those surveyed, one third of parents believe the taste of the medicine impacts how easy it is to give their child the medicine. Dr. Cocoa™ can help parents fight the cold, not the child.
Dr. Cocoa™ for Children Available in 3 Patented Formulas:
Dr. Cocoa™ Long-Acting Cough Relief* : relieves coughs for up to eight hours without causing drowsiness in children ages 4-13 (active ingredient: Dextromethorphan).
Dr. Cocoa™ Daytime Cough + Cold Relief*: relieves stuffy nose and cough for children ages 4-13. Its non-drowsy formula makes it ideal for daytime use (active ingredients: Dextromethorphan and Phenylephrine). Follow the package label for exact dose by age, or speak to your child's pediatrician.
Dr. Cocoa™ Nighttime Cough + Cold Relief*: Made especially for children ages 6-13 to relieve coughs, along with stuffy nose, runny nose and sneezing at night (active ingredients: Diphenhydramine, Phenylephrine).
*For each of these products, please follow the package label for exact dose by age, or speak to your child's pediatrician.
DR. COCOA PUPPET FACEBOOK GIVEAWAY
Like the adorable owl hand puppet featured in this post? Enter to win a Dr. Cocoa™ hand puppet for a limited time at the Dr. Cocoa Facebook page! Now through October 17th, ten (10) winners will be randomly selected weekly and announced each Friday. Click here to enter. #DrCocoaReliefWithASmile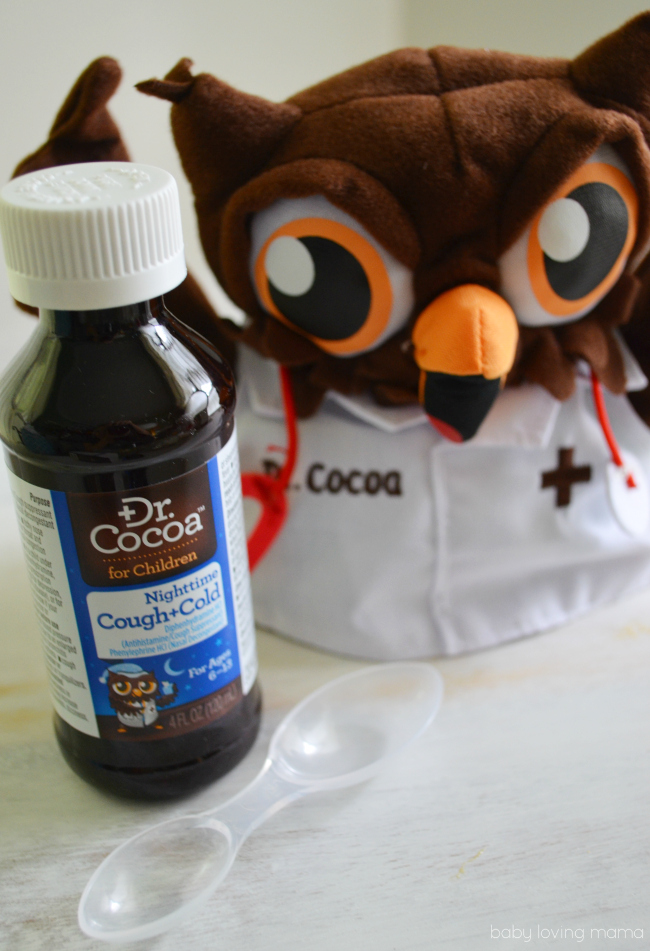 Special Savings:
To save $2 on Dr. Cocoa™, click here for a coupon.
BUY IT:
Dr. Cocoa™ products are available nationwide at stores, as well as online. For more information about Dr. Cocoa™, including where to buy, visit drcocoa.com.
Please note: Dr. Cocoa products are FDA regulated medicines and should be used only as directed and kept safely out of reach of children.
Visit www.drcocoa.com for a $2-off coupon offer.
This is a product-provided, sponsored conversation that contains affiliate links. However, all opinions, text and experiences are my own.