I don't normally follow any particular theme when creating posts for Mini Chef Monday.  But last month I picked up on some marshmallows in various sizes and we've been having so much fun with them! Watch for several ideas using marshmallows. Last week we created mini Irish flag fruit skewers for St. Patrick's Day as part of #PinterestRemakes and this week we've got Easter Bunny Marshmallow Pops. This quick treat was a huge hit with the kids and is easy for kids to make.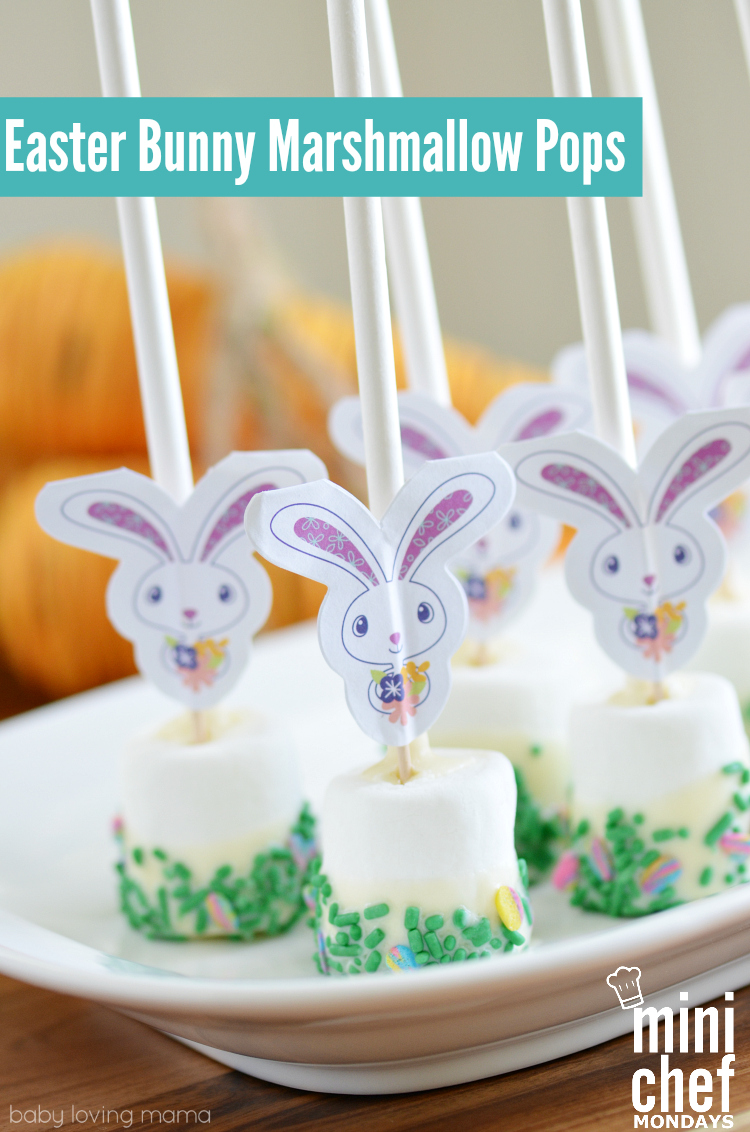 I used Ghiradelli white chocolate chips because I wanted a high quality taste.  We added some melted chocolate to the Wilton Lollipop Sticks
before inserting, just like we would with cake pops to make them more secure.

Wesley made these marshmallow pops from start to finish with just a little direction and demonstration from me.
We like to use a seperate bowl to catch all the sprinkles that fall off so we don't get any excess chocolate into the sprinkles dish.
Easter Bunny Marshmallow Pops
Ingredients
16 marshmallows
½ cup white chocolate chips
1 teaspoon oil or shortening
sprinkles
sticks
cupcake picks
Instructions
Line baking sheet with parchment paper, aluminum foil or silicone baking sheet.
Microwave white chocolate chips and oil in glass measuring cup (for easy dipping) in 30 second intervals, stirring often, just until fully melted.
Dip stick into warm chocolate and press into one end of marshmallow. Continue with all 16 marshmallows.
Using stick, dip marshmallows halfway into chocolate. Gentle shake off excess chocolate.
Sprinkle chocolate with sprinkles and set on baking sheet to dry.
Store in airtight container until serving or wrap with candy bags.
While we used these
Easter Sprinkles
, any spring or pastel sprinkles will do! 
Inserting cupcake picks into the top really make these Easter marshmallow pops stand out. You can use any Easter Cupcake Picks
like these great options from Amazon. I typically use cupcake decorating kits
 from Wilton.
New Facebook Group
What have you made recently with your mini chefs? Be sure to join our Mini Chef Mondays Facebook group to take part in the discussion!

I am hosting Mini Chef Mondays along with 11 fabulous bloggers! Read how Mini Chef Mondays started and how to link up!
Be sure to check out each of their Mini Chef posts as well. We would love it if you would share your Mini Chef posts with us each week, too! Follow along socially and join in on the fun by using our hashtag #MiniChefMondays to share creations your mini chef created in the kitchen. Additionally, if you have a kid-friendly recipe that kids can easily recreate, link up! Don't have a blog? Share the URL of your instagram photo in our linky below.