I admit I'm a sucker for a good bread pudding. Served warm with some vanilla ice cream, it is a favorite of mine to order in a restaurant. I have only made it once before myself with not so great results. (Learn from me. When choosing a pan to bake your bread pudding in, be sure to choose something that allows for even baking.) Handstand Kids recently sent me a complimentary Baking Around the World Cookbook kit. When I spotted a recipe for South African Pumpkin Bread Pudding,  I decided to give it a try as part of our Mini Chef Monday series. My three year old was super excited about having his own cookbook and wanted to make something right away. I happened to have all the ingredients on hand for this easy pumpkin bread pudding recipe.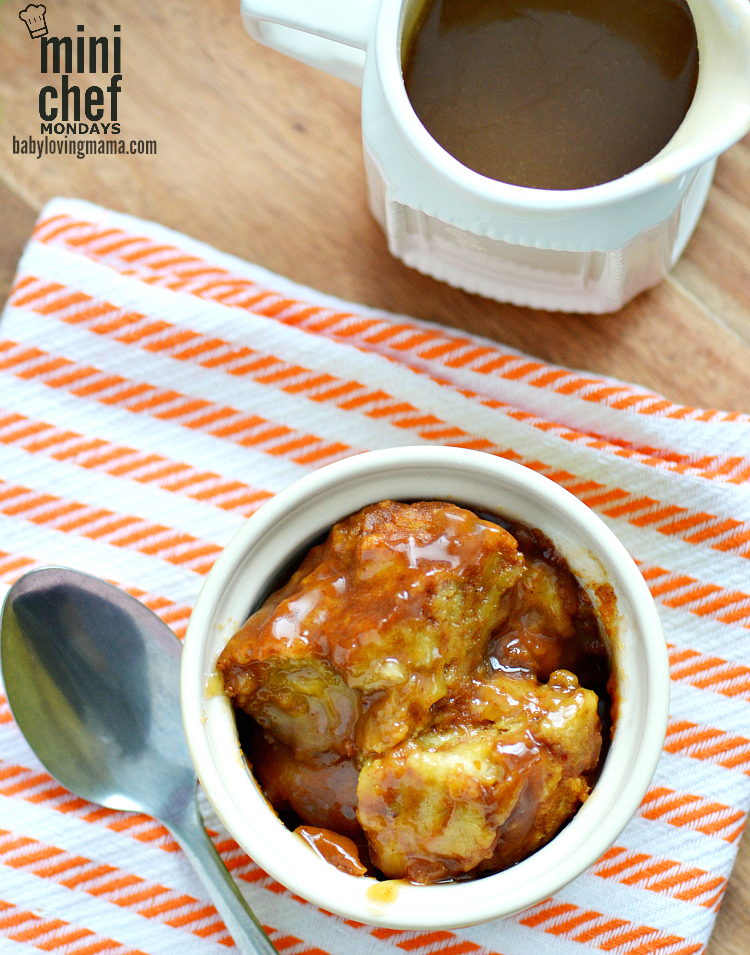 Wesley also received a Stars and Planets Kids Apron Set, complete with his own chef hat, apron and oven mitt.  He loved having his very own apron and I liked having something his size to protect his clothing properly.
He thought the kid sized oven mitt was extra cool. While I wouldn't let Wes pull anything out of the oven yet, I do appreciate having something to protect his hands while hot items are around. I only wish it came with two mitts!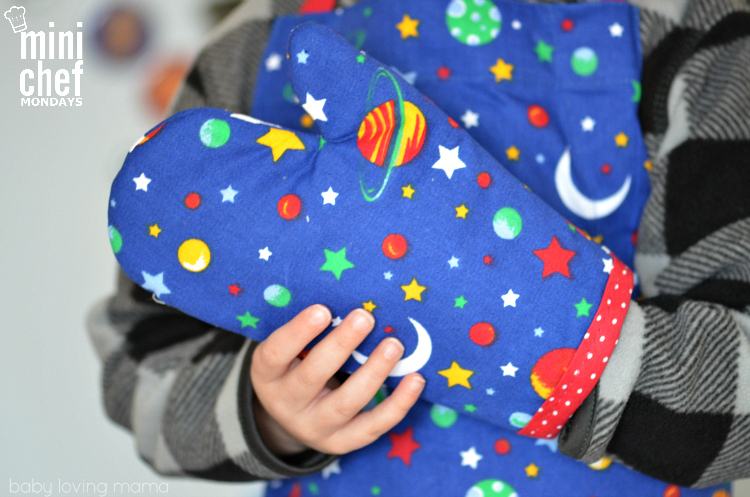 This recipe has plenty of great opportunities for small kids to help in the kitchen. I broke a few pieces of our rolls so I could demonstrate the size we wanted, then Wesley went to work breaking up the remaining pieces while I gathered ingredients.
The whisk that came with this set was also very helpful for this recipe. I liked that Wes had a shorter whisk that was easier for his small hands to maneuver.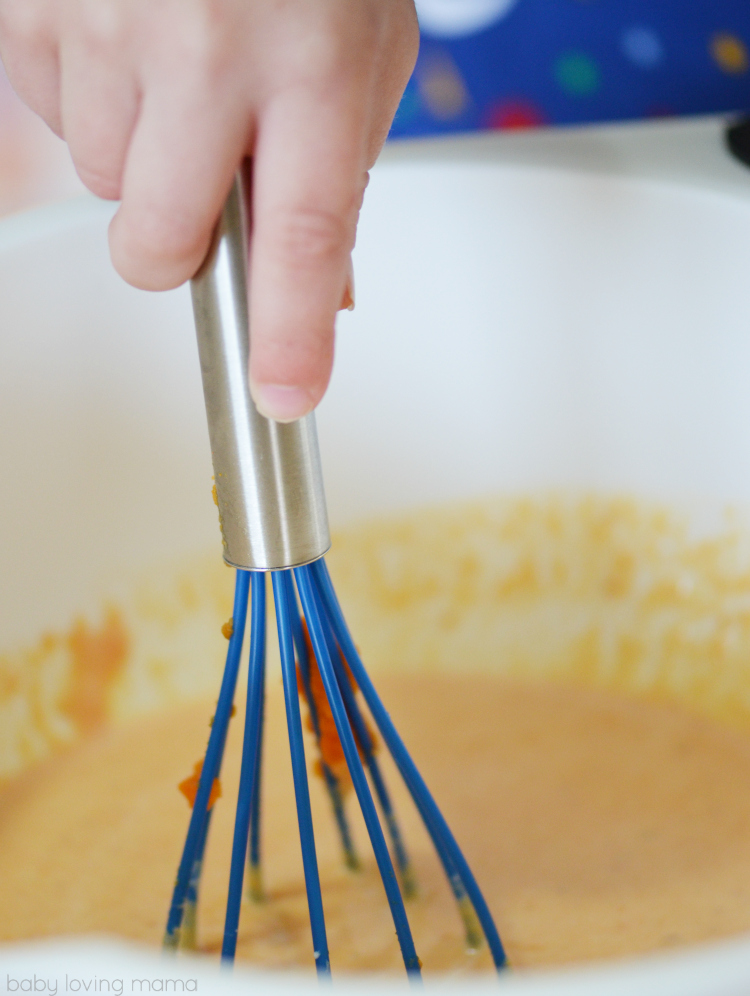 This bread pudding turned out absolutely amazing! II changed up the recipe based on personal preferences, experience and our overall results.
I happened to have some Kings Hawaiian rolls that weren't as fresh anymore. For any recipe that calls for bread pieces I like to use a firmer, thick bread such as french bread rather to avoid sogginess.  And because these rolls are on the sweeter side and there is a brown sugar sauce, I reduced the amount of sugar in the bread pudding by about half. It was still sweet so nothing was missed but the calories!
Easy Pumpkin Bread Pudding
Author:
Adapted from Handstand Kids
Ingredients
6 Kings Hawaiian Rolls (1/2 12 ct. package)
1 cup half and half
1 cup canned 100% pumpkin puree
2 eggs
1 teaspoon vanilla
⅓ cup sugar
½ cup brown sugar
1 teaspoon cinnamon
1 teaspoon pumpkin pie spice
Brown Sugar Sauce
½ cup + 2 tablespoons brown sugar
¼ cup (1/2 stick) unsalted butter
¼ cup heavy cream
Instructions
In large bowl, break apart rolls into larger bite sized pieces and set aside.
in medium bowl, whisk half and half, pumpkin, eggs and vanilla.
Add in ⅓ cup white and ½ cup brown sugar salt, cinnamon and pumpkin pie spice. Whisk until well combined.
Pour over bread pieces and gently fold in until bread is fully coated.
Refidgerate at least one hour.
Preheat oven to 350 degrees F.
Grease 8x8 inch square pan with butter, shortening or cooking spray.
Pour bread mixture into pan.
Bake uncovered for about 35 minutes.
In small saucepan, melt brown sugar and butter over medium heat.
Once butter is fully melted, stir in cream until mixture is smooth, about three minutes.
Remove from heat and cool for several minutes.
Drizzle sauce over top of bread pudding and serve warm with remaining sauce and ice cream or whipped cream (if desired)
The original recipe for the brown sugar sauce made a lot extra so I have also cut that in half in my recipe above.  Feel free to drizzle as much over the top before serving as you want and allow guests to add more if desired. While it is delicious, it is rather sweet. The brown sugar sauce is a nice variation to the traditional caramel sauce.
I really wish I had vanilla ice cream in the freezer at the time as that is my favorite, but whipped cream also tasted wonderful.  Wesley loved it!
Special Savings:

If you are interested in any items from Handstand Kids, you can get 25% off your order with code: mini.
When will you give this easy pumpkin bread pudding recipe a try with your own mini chef?
I am hosting Mini Chef Mondays along with 11 fabulous bloggers! Read how Mini Chef Mondays started and how to link up!
Be sure to check out each of their Mini Chef posts as well. We would love it if you would share your Mini Chef posts with us each week, too! Follow along socially and join in on the fun by using our hashtag #MiniChefMondays to share creations your mini chef created in the kitchen. Additionally, if you have a kid-friendly recipe that kids can easily recreate, link up! Don't have a blog? Share the URL of your instagram photo in our linky below.