Cream Cheese Bear Claws Inspired by Mother Bruce + Giveaway | Mini Chef Mondays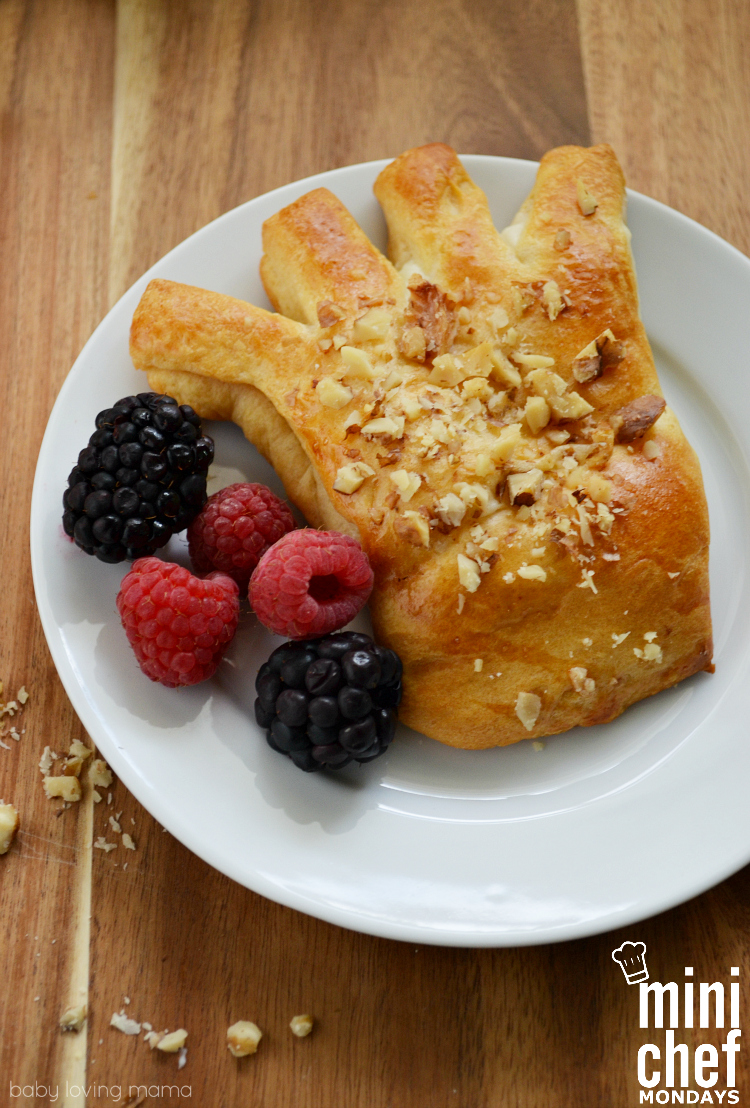 1 can (8 oz) refrigerated crescent dinner rolls
4 oz. (1/2 brick) cream cheese, softened
2 tablespoons sugar
½ teaspoon vanilla
¼ cup chopped walnuts or pecans
1 egg white, beaten
Heat oven to 375°F. Line cookie sheet with cooking parchment paper or a silicone baking sheet.
In medium bowl, beat cream cheese, vanilla and sugar. and lightly with wire whisk. rectangles
If using crescent rolls: On lightly floured work surface, unroll dough. Separate into two 6x8 inch rectangles, firmly pressing perforations to seal.
Spread cream cheese mixture into a two inch strip lengthwise down center of dough. Fold ⅓ of dough over filling. Fold filling-topped section over last ⅓ of dough so seam is on bottom of folded dough. Gently flatten 1-inch-wide strip of dough along one long side of folded dough with your hand. Cut folded dough crosswise into 3 (2-inch) pastries. Along flattened edge of each pastry, cut 1-inch-long cuts about ½ inch apart. Repeat with second section of dough.
Lightly brush beaten egg white mixture over each pastry. Sprinkle paw with chopped nuts.
Bake 14 to 18 minutes or until golden brown.
Remove to cooling rack and cool 5 minutes before serving.
Recipe by
Finding Zest
at https://www.findingzest.com/cream-cheese-bear-claws/