Easy Mini Pumpkin Pies with Crumb Topping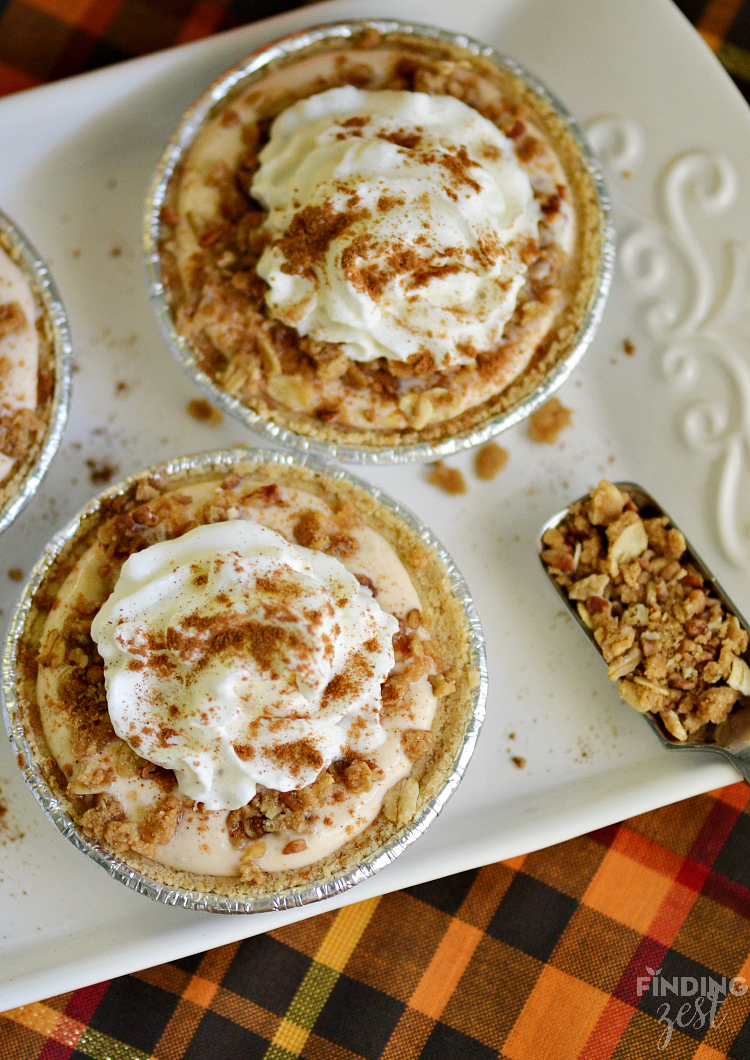 3 containers Dannon® Oikos® Pumpkin Pie Greek Yogurt®
1 package mini graham cracker pie crust (6-count)
1 tablespoon cold butter, cut into small chunks
3 tablespoons old fashioned or quick-cooking oats
1 tablespoon flour
1 tablespoon finely chopped pecans
2 tablespoons brown sugar
¼ teaspoon pumpkin pie spice
Reddi-wip® original whipped cream
pumpkin pie spice for garnish
For crumb topping, preheat oven to 350 degrees.
In small bowl, stir flour, oats, brown sugar and pumpkin pie spice. Cut in butter with fork to blend well. Stir in pecans.
Bake on ungreased cookie sheet for 5 minutes or until topping is a light gold brown.
Cool completely.
Right before serving, fill each mini pie crust with ½ container of yogurt. (Stir yogurt before filling.)
Top with approximately one tablespoon of crumb topping.
Add a dollop of Reddi-wip®. Sprinkle pumpkin pie spice over top for garnish, if desired.
Serve immediately.
Recipe by
Finding Zest
at https://www.findingzest.com/easy-mini-pumpkin-pies-with-crumb-topping/