Strawberry Poke Cake with Toasted Coconut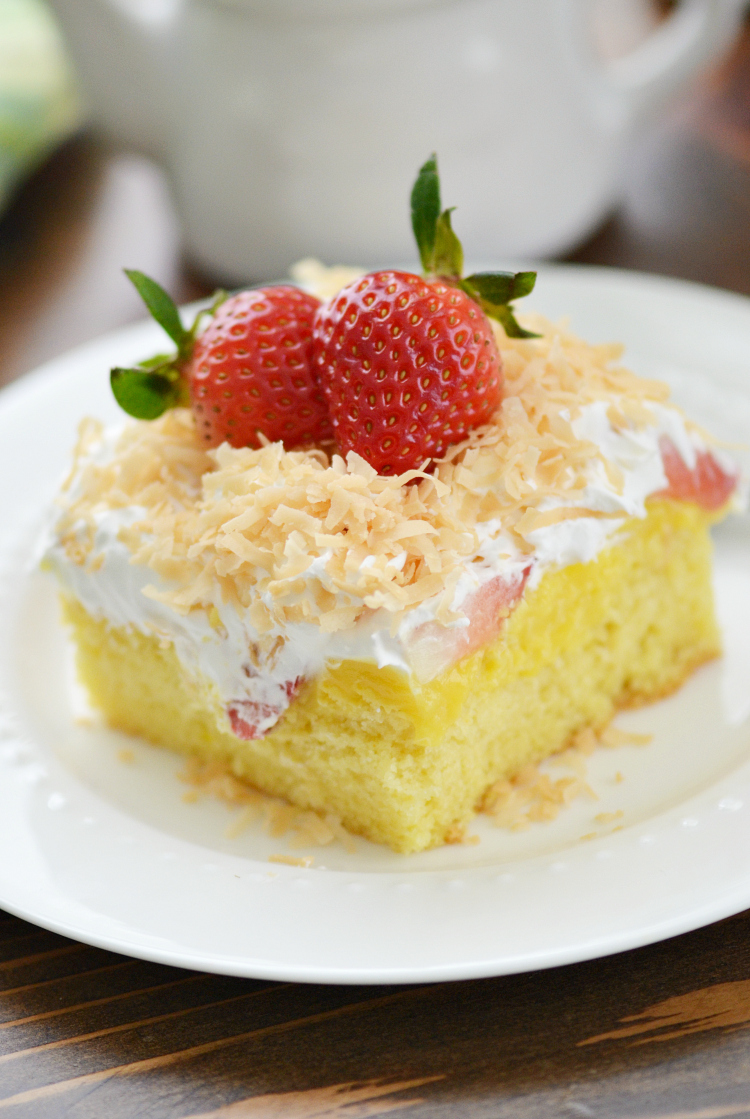 Author:
Emilie at FindingZest.com
1 box yellow cake mix
(Water, oil and eggs called for on cake mix)
2 boxes (4-serving size each) french vanilla instant pudding and pie filling mix
3 cups cold milk
1 quart (about 4 cups) fresh strawberries
1 container (8 oz) frozen whipped topping, thawed
1¼ cup toasted coconut
Heat oven to 350°F. Butter and flour a 13x9-inch baking pan.
Prepare cake and bake cake according to directions on the box for 13x9-inch pan.
Cool for 5 to 10 minutes in pan on wire rack.
With handle of wooden spoon (1/4 to ½ inch in diameter), poke holes every half inch. Go as far as you'd like your pudding to reach. (I went about halfway but you can go almost to the bottom if you prefer)
In medium bowl, whisk pudding and milk. Pour over cake immediately before it has a chance to set.
Spread pudding evenly and gently push down into the cake to push pudding into the cake. (Some pudding will remain.)
Refrigerate 1 to 2 hours.
Add sliced fresh strawberries to top of cake, covering entire top.
Spread whipped topping evenly over cake.
Before serving, top with toasted coconut.
Top each piece with strawberry sliced in half. (optional)
Store any leftovers in refrigerator. Best if consumed within 48 hours.
Recipe by
Finding Zest
at https://www.findingzest.com/strawberry-poke-cake/