*This is a sponsored post written by me on behalf of The Home Depot.*
If you have been following along on our outdoor gazebo makeover project, you have already seen my shopping trip at The Home Depot for the eco friendly Envirotiles from The Home Depot.
This past week my husband Joe has been busy putting this project together. When I brought them home last weekend he immediately set to work laying them out on the gazebo platform to get a feel for how they would look.
He used these easy to follow instructions on How to Install Envirotiles from The Home Depot. The steps you need to follow exactly will really vary on the space and surface you are working with.
To start, Joe measured to find the center of the platform with his measuring tape and then placed the tiles going out in a plus shape, to create quadrants.  Then he simply laid the rest of the tiles out in the quadrant.  As you can see he had some overhang along the edge. To take care of these, he could have used a jigsaw or utility knife to trim them. (He used some creativity to avoid that, which I'll explain later.)
Using the  Envirotile Connector Clips around the perimeter, you are able to content the tiles together by lining the tiles up and securing with the connectors facing up.
Some pounding with a rubber mallet and these tiles should be in place. Except they weren't. At least not for us.

We had several issues with the  Envirotiles which make them difficult to work with.
Irregular cut. This made it tough to clip the tiles together and to line them up nicely in squares. It was a bit of a jig-saw puzzle as Joe needed to find larger and smaller tiles to fit together to try to eliminate gaps. This made using the supplied clips almost impossible – even if he could get the clip to fit between the tiles, the clips he already installed wouldn't stay put.
He was afraid of cutting them square because he didn't want them to remain square. He did know that he might have to cut the tiles down as he needed to cover a 10′ x 10′ area and the 18 inch tiles would have a 6 inch overhang.
The recommendation to put clips only on the end tiles would work great if the tiles were square and of uniform size. But they weren't.
Since this was not the case, my husband experimented with a few different starting placements and solved his clip issues by modifying them. He simply broke off one of the tabs that stuck up and screwed the clip down into the patio. The clips put pressure on the tiles and that holds them in place. This worked perfectly. He filled in the gaps plus secured the outer edge similar to the instructions, but used the modified clips instead.
What about the overhang?
He was faced with the 6 inch overhang (3 inches on each side) and had to figure out what to do. Originally he was going to use Envirotiles edging and cut the tiles, but our local Home Depot didn't have them.
The Solution
He decided it was probably more desirable to make the patio bigger instead of trimming the tiles. Not only would Joe avoid having to cut them, but the gazebo frame always hung over in the past, and expanding the patio would solve that problem too.

It turns out that after placing the tiles, he had overhang of 2.5 inches. That happens to be the width of a 1×4 + a 2×4 stacked ( 3/4 inches + 1 and 3/4 inches).

He bought the lumber and put it in place. The tiles fit perfectly.

I was very excited to see this solution to our problem! Rather than do a lot of cutting, my husband modified our space to fit the tiles and also extend our space with about a $50 investment.

My husband also had some great help outside from our five year old son Warren. He was more than happy to try and clean up the space around the gazebo by raking old leaves. (We've only had our snow gone for about a week and still have a ton of cleanup on our yard.)


He was also a great helper with the tiles themselves. I love his can-do spirit!

And the Envirotiles are now installed! I love how they look and finish off the space.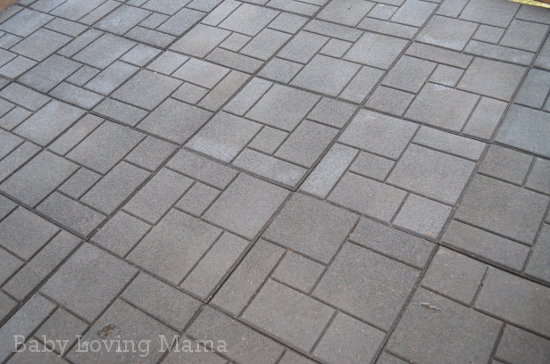 Watch for my post tomorrow with our final reveal and how our gazebo came together, perfect for relaxing and entertaining!

It's home improvement time, and The Home Depot has everything you need to #DigIn for Spring. No matter what projects you want to tackle, they have great values on all you need. They're ready to help you with renovation ideas and expert advice, too.
Get over $300 in email exclusive savings each year, sneak peeks on new products, monthly lawn & garden ideas for your region and access to The Home Depot's gardening experts. Click here to join the world's largest garden community today! Or go to http://gardenclub.homedepot.com/ to see some of the many benefits of membership.
__________________________________________________________________________________
Disclosure: I am thrilled to have this opportunity to work with The Home Depot and receive product to enhance our backyard. All thoughts and opinions are my own.