After spending a few whirlwind days at Walt Disney World a couple of weeks ago, I can say that our vacation was truly magical. We went directly after our Disney Cruise, and it worked out beautifully. My husband and I decided early on that we wanted to have a more laid back approach to our vacation. We planned several things, including our fastpasses and a special meal each day. But we were very flexible and made changes as we went. (The My Disney Experience mobile app is perfect for making changes as you go!)
Having only been to Epcot, I didn't know exactly what we wanted to do. Our options were limited since I was trying to make reservations only 30 days in advance. Many of our first choices were taken. One show that did catch my eye was Fantasmic at Disney's Hollywood Studios. (Keep in mind this show is only offered on certain nights and is subject to cancellation for adverse weather conditions.)  I saw they offered a Fantasmic! Dinner Package with three restaurants and picked the Hollywood & Vine location for our meal.
Was it worth it?
Our dinner at Hollywood & Vine was buffet style. The location is conveniently located near the front entrance which was perfect for us. The food itself was a typical Disney buffet. It was good, but nothing spectacular. We used our meal plan, but with the price of our meal for four (around $125), I was a bit disappointed after eating. It certainly wasn't as fun as a character meal or as tasty as Ohana's.  It wasn't until we saw the show that my feelings changed.
The show itself is absolutely amazing and open to everyone in the park.
What is the Benefit of the Dinner Package?
Fantastic seats and the ability to arrive closer to the start of the show.
The entire center area was sectioned off as VIP for dinner package guests. We chose to go a few rows back but there was still bleacher space near us, even once the show started. Everyone else had only a side view and those spots filled up quickly.
The show itself is absolutly amazing. It features an easy to follow story of Mickey Mouse as the Sorcerer's Apprentice and his dreams. He brings out many beloved Disney characters in an amazing display of dancing water, and laser lights. Keep in mind that if you are in the first several rows, you may get a bit wet. It was hot so we were thankful. It was nothing more than a few sprinkles. You won't get soaked.
Several Disney characters arrive via boat, sharing their love story through song  in a brief moment as they float along the water.
This included Beauty and the Beast, Ariel and Eric from The Little Mermaid, and Snow White and Prince Charming.
We had a great view of all these characters from our seats.
But the Evil Queen from Snow White and the Seven Dwarfs doesn't like Mickey's dream and gathers several villains to turn Mickey's dream into a nightmare including Ursula, Cruella de Vil, Scar and Maleficent.
With some awesome pyrotechnics that we could actually feel the heat with our close seats, Mickey of course proves victorious.
I'm not going to ruin the show by telling you everything, but rather give you a sneak peak at what you can expect. That includes a wonderful light show.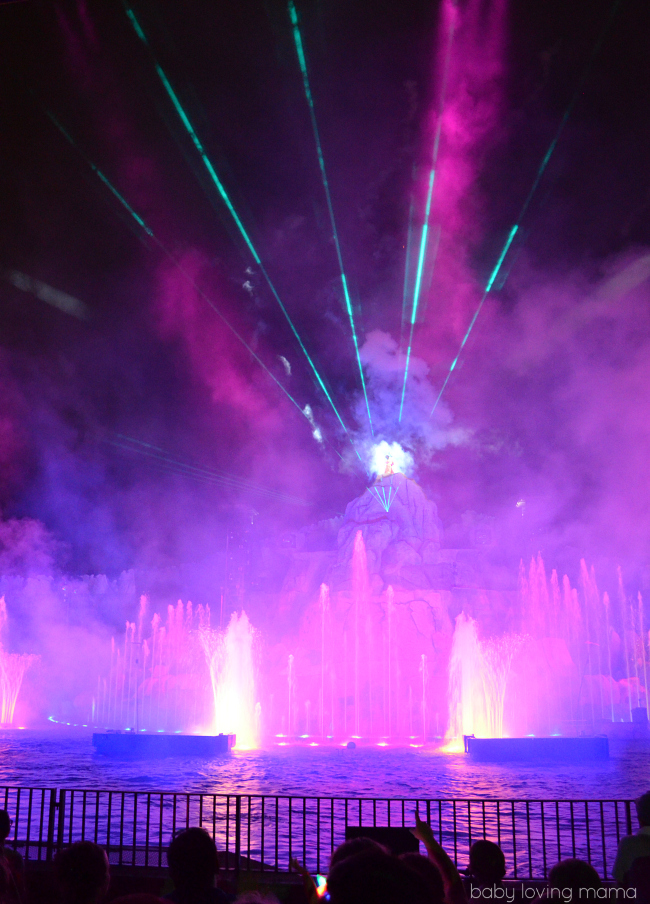 And an amazing finish which features a huge ensemble cast on a steam boat.
It is a great way to see many characters all at once as they rotate around the boat.
Is the Dinner Package Worth It?
I think it is.
As I stated already, the food is just ok. But the show itself is really amazing and the VIP was awesome. Keep in mind that seating starts 90 minutes before the show begins. If you want to get a decent seat without a dinner package, you will need to arrive very early. The time saved and center seating was worth it for us.
You will find some entertainment for the crowd starting about a half hour before the show starts. Three performers offered a little improv comedy and really got the crowd involved. Even with the dinner package, I would suggest you come at least a half hour ahead of time.