After losing my beautiful triplets I was introduced to a caring community of loss parents who have found ways to give back to other hurting hearts. I looked for an opportunity to do that myself and started working on a variety of graphic prints and cards. I've always dreamed of creating designs like these and hope they give opportunity to brighten the room of your home or send a message to someone with a grieving heart.
You can order prints, canvases or cards of any of my designs on my Redbubble site. Interested in other designs on the site? Great! Keep shopping and fill your cart with a variety of work from artists around the world. I highly suggest checking out CarlyMarie and Franchesca Cox who are beautiful loss moms who give so much of their heart.
I love the idea of these nursery rhymes and children's song lyrics for a child's room. I could see these in a little boy's room. These background textures include denim, wood, and chalkboard. (Frames shown not included however framed works are available on Redbubble.)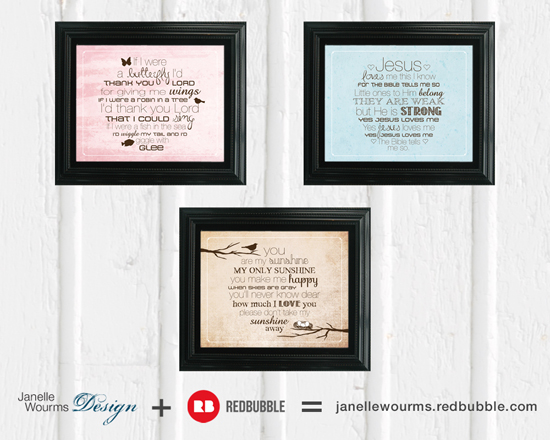 Wouldn't these be sweet in a little girl's room or nursery? These background textures include textured pink, blue and tan. All of these circle designs are available with any of these backgrounds. They're also available in a variety of sizes! Maybe you'd like a square print 8″x8″ or a traditional 8″x10″.
Children's songs and nursery rhymes include:
These photos were taken along the shore of Lake Superior. I had an amazing afternoon getting up close and personal with these beautiful butterflies and damselflies. After losing my babies they often remind me of them. The beauty of God's little details all around us reminding me of life after death. These inspirational cards and prints remind us of hope.
Do you know someone hurting after loss? My dandelion cards and prints offer hope and a reminder of the beauty in life even after loss. Some of the simplest gifts after my loss were beautiful cards reminding me that people were still praying for us. Grief might change or fade but never truly leaves me and I still appreciate reminders that my children are not forgotten.
This new adventure all started with this design. I grew up with the song You Are My Sunshine. I sing it to my daughter every night as she goes to sleep. It was the one song I was able to sing to my babies while they were alive in my arms. I will forever remember them through these words. I created this design in their memory. Maybe this song has special meaning to you as well. If so, consider buying this design as a chalkboard print, card or canvas while they're on sale for 20% OFF!
This offer is available for a limited time only. Redbubble offers quantity discounts if you decide to purchase several. Orders of 8 – 15 cards receive an additional 20% discount and orders of 16+ receive a 30% discount. It's a great time to stock up on some beautiful cards so you have one on hand when a special person comes to mind.