The Grinch party favors are the perfect way to spread some holiday cheer this season! Try one of these three Christmas party favor ideas featuring the beloved Christmas character from Dr. Seuss. Using some fun green candy,  you can make The Grinch ornaments or go the more traditional route using party bags and cups. Either way, everyone will love to receive one of these three The Grinch gifts.
I've always loved How the Grinch Stole Christmas from Dr. Seuss and The Grinch movies.  It is why last year I featured fun The Grinch cookies with fur frosting! There is just something magical about watching the transformation of this beloved character which is why it has become a holiday classic. Sometimes we all need a reminder about the true spirit of Christmas. Now you can share in the joy of the season with this fun candy gift idea that is super easy to make.
Grinch Party Favor Supplies
The supplies necessary for this Christmas party favor are flexible which is why I've included three different ways to implement the idea.  You are combining several shades of green candy with a red heart sticker to represent The Grinch. Any green candy will work, but I really appreciated having green sour belts leftover from this Christmas Rice Krispie Treats project. I think it really adds some dimension with the other candies being round. You can also experiment with different containers or bags.  Small glass jars would work well!
Supplies for each party favor idea:
Additional Supplies:
I got my red paper cups a while ago at my local Dollar Tree. If you can't find them these red paper cups are very similar or you could pick up some colorful holiday paper cups locally.
How to Make a Grinch Ornament
The Grinch ornament featured in this post is super easy. I picked up a plastic jar ornament from my local dollar store and filled it with green candy. I do recommend washing the inside first if you plan to eat the candy. 
I then replaced the silver cord with classic red ribbon in which to hang it. This really makes this Christmas ornament look more deluxe and fits in so well with the red and green theme. I added a glitter heart sticker to represent the heart of The Grinch.  I love how any fallen sugar from the sour candy belts makes the inside of this diy ornament sparkle!
How to Make The Grinch Party Favors in a Cup
This Grinch gift idea is also super simple. I used a red snack cup and filled it with assorted green candy including sour belts, gumballs and mint green M&Ms. I then placed the snack cup in a plastic treat bag to keep everything together.
To tie the snack bag, I used a combination of simple red satin ribbon and some white wire ribbon which looks a lot like fur since I had both on hand. I finished off this party favor with a red glitter heart sticker.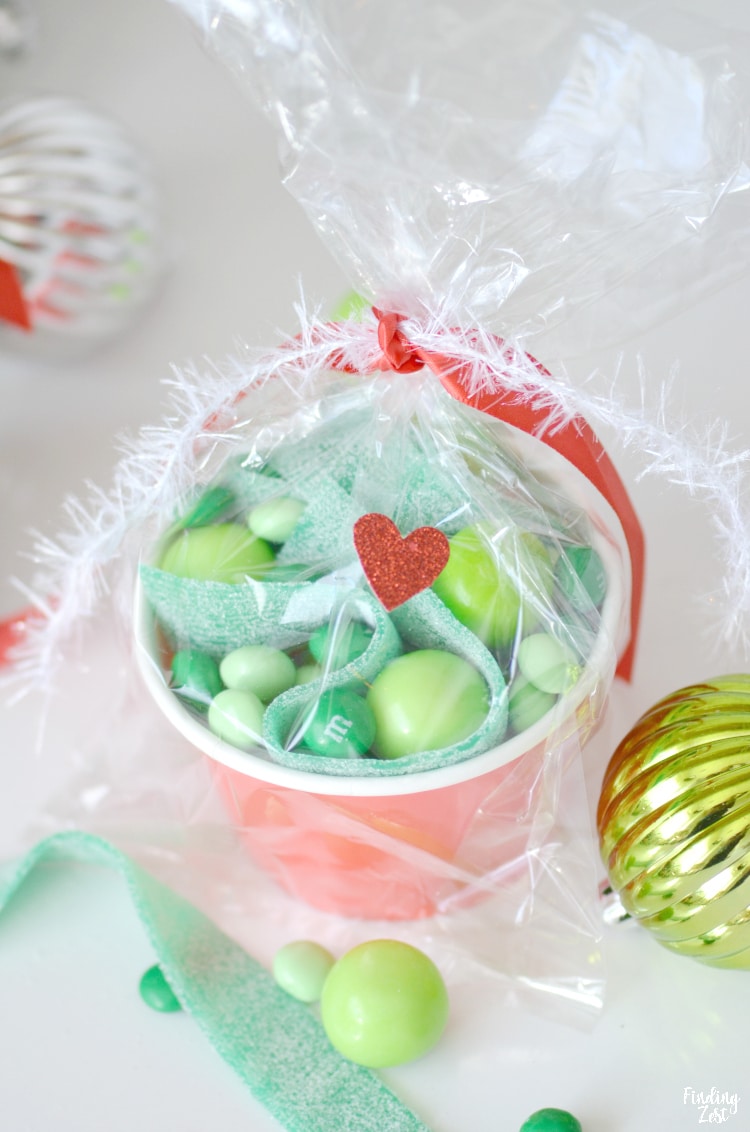 How to Make The Grinch Favor Bag
The last party favor idea is this ridiculously easy The Grinch party favor bag. Simply fill a small treat bag with your favorite green candies, tie with a red ribbon and add a red heart sticker. Voila! –  an instant The Grinch gift.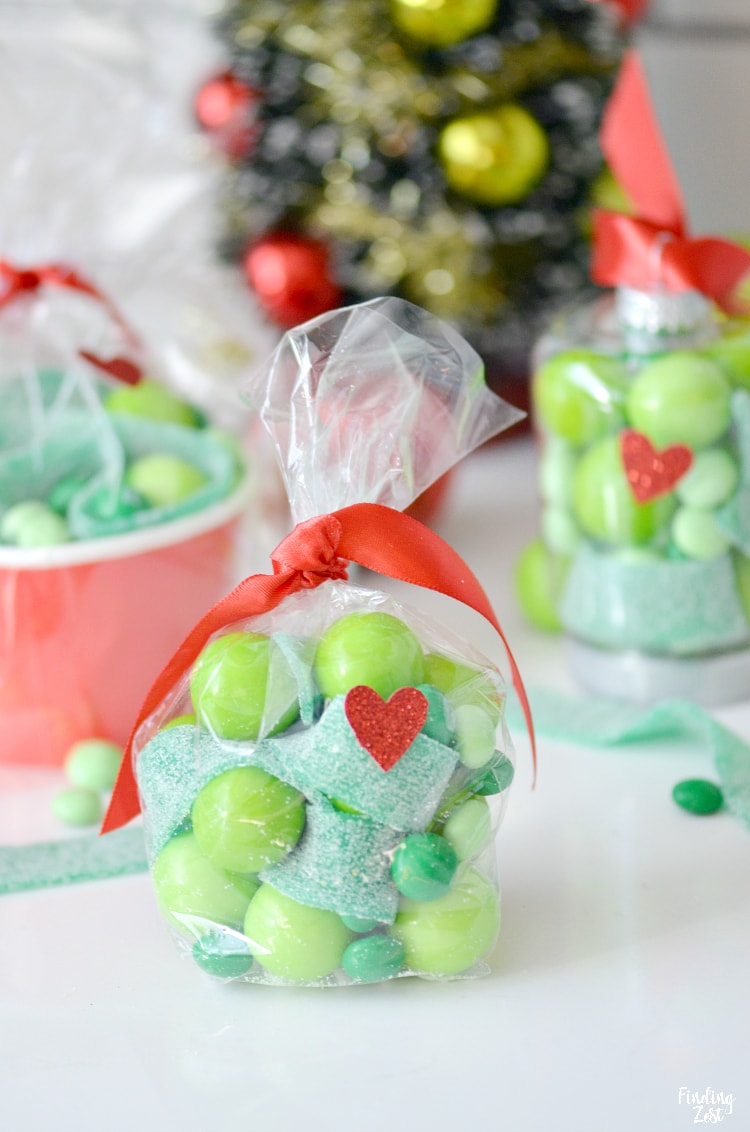 The Grinch Party Favors
The Grinch themed Christmas party favors come to life with these three easy ideas! Make your own The Grinch ornaments using candy or keep it extra simple with some party bags or snack cups and finish them off with a red heart sticker. Either way, they are sure to be a hit with all ages!

Ingredients
1 bag

9.6 ounce

Mint M&Ms candy

(green, not holiday)

50

gumballs

green shades

15

sour belt candy

green apple
Instructions
Divide gumballs, sour belt candy and green M&Ms into small snack cups, treat bags or small jar plastic ornaments.



Tie with red ribbon and add a red heart sticker. 
Recipe Notes
Exact number of ingredients necessary will depend upon size of treat cup, bag or ornament. 
Which of these Christmas party favor ideas is your absolute favorite?? Whether you hand out candy-filled Grinch ornaments or go a more traditional route using the party bags and cups, everyone will love to receive one of these three candy gifts!