Shopping for toys can be tricky but HABA makes it that much easier for us all with their new new consumer ecommerce and information site. There you will find plenty of information to help you make a knowledgeable decision such as product videos, reviews, safety information and more!
Besides appreciating a well designed website, when shopping for games and toys for my kids I look for qualities like:  wooden, colorful, and those that encourage learning.  I love that HABA combines all of these qualities in their new Monster Bake game and Rainbow House Pegging Game.
Danica and Kurtis had a great time playing their new Monster Bake game or as the box says Monster Torte as it is made in Germany ($26.09).
Get cookin'! Both kids and adults will love Monster Bake, the monstrously fast game of skill from HABA! In the monster kitchen, everything is topsy-turvy: it all has to be stirred and kneaded, then weighed and tested. Oh well, plop the glass with the colorful sugar balls in the middle of the mixing bowl… Who can help the Monster bakers decorate the cakes properly?
Game is played by one player drawing a card showing a piece of cake with colored sugar balls on it.  The players must all scoop the colored sugar balls up with their wooden spoons to match the colored sugar balls on the card shown.  The first to scoop the matching colors into their bowl wins the card.  The first player to win 5 cards wins the game.
I found this game to be a great practice of hand eye coordination and for my 3 year old a test of colors.  The game is recommended for ages 5 and up and I thought that was appropriate as it was a little hard for Kurtis to scoop up the balls.  Danica loves the game and keeps asking me to play with her.
This is definitely a skill based game and the one with the most coordination (often the oldest) is going to win which can be a little frustrating for the younger players.  (Danica is a very good sport and lets Kurtis win sometimes).  The other slightly frustrating thing was that unless you have a card showing both orange and yellow, the kids sometimes had a hard time telling which one was shown as the orange on the card is very light.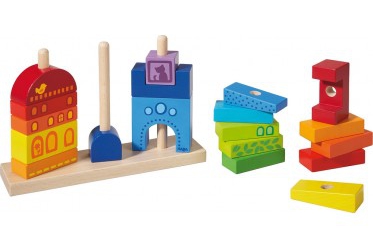 Keegan got his own fun toy/game with the new HABA Rainbow House Pegging Game ($35.99).
Discover the possibilities! Your little one will love the Rainbow House Pegging Game from HABA! This brightly colored pegging game comes with 19 interchangeable pieces for endless playing configurations. Made from beech wood and colored with water-based, non-toxic stains. Perfect for ages 2-6.
This is such a perfect toy for little hands to learn.  Keegan quickly figured out how to put the colorful blocks on and off the pegs.  He also very quickly figured out that the blocks are just as fun to stack without the pegs.
I love a good set of blocks and they were definitely one of my favorites as a child.  Danica saw this as a puzzle and she wanted to stack the blocks every time exactly as shown in the picture on the box.  All three of my kids have already had hours of enjoyment from this game.
I love that HABA prides itself in making toys that are colorful and encourage learning.  It is also great that they use beech and maple wood as their favorite materials as they are more regenerative.
BUY IT:
HABA USA's products are available at specialty retailers and online at HABAusa.com.
WIN IT:
One lucky reader will win the Rainbow House Pegging Game worth $35.99!
a Rafflecopter giveaway
Disclosure: I received samples for the purpose of this post however all thoughts remain 100% my own.