Looking for Halloween coloring pages? This free printable features two coloring sheets that kids can color then cut out to create their own 3-D haunted house! This simple design is ideal for younger kids and is a fun Halloween paper craft activity. Take your haunted house to the next level by adding a LED tealight candle to make it a luminary!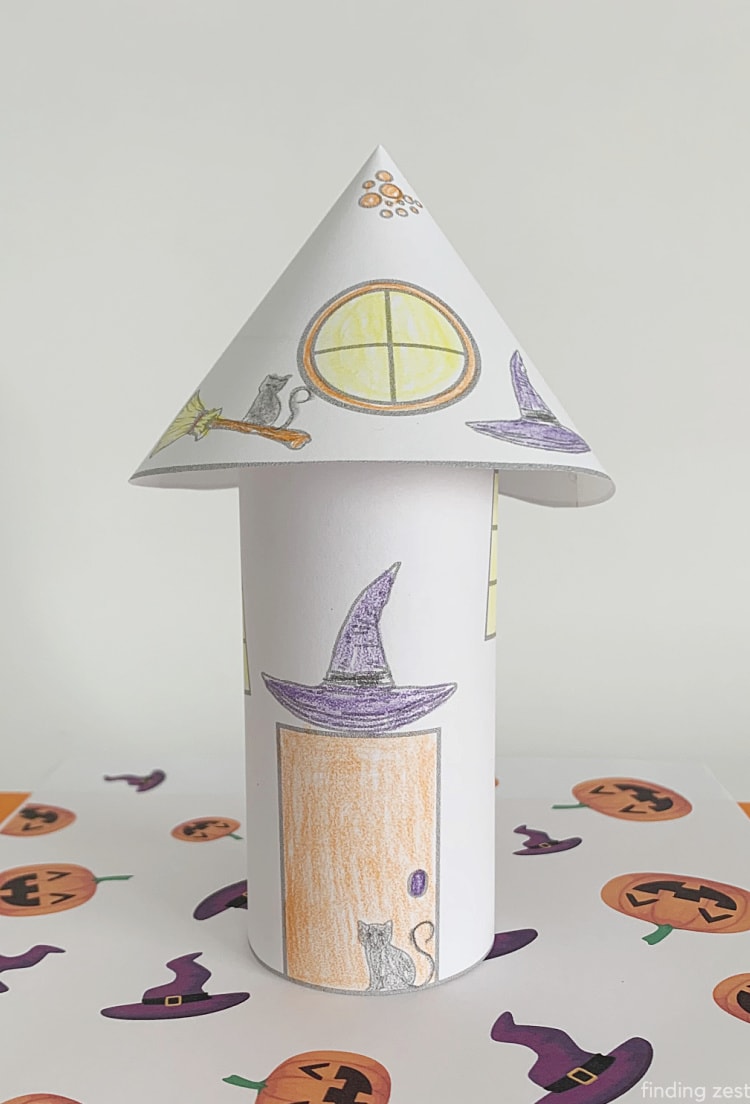 We love simple holiday activities like this Halloween haunted house from Nadia at Teach Me Mommy! We love coloring pages here! Paper crafts are inexpensive and this one uses items you probably already have around your house. Whether you decide to make this a luminary or not, it will add some spooky fun to your Halloween decor. Featuring black cats, witch hats, and broomsticks, this simple paper 3-D haunted house is a great craft for kids!
Haunted House Paper Craft Materials Needed:
Exact materials needed will depend upon whether you are trying to make a luminary out of your haunted house or not and what type of paper you use. You can also use other materials to decorate such as small stickers or even glitter if you want a sparkling haunted house!
How to Make this Halloween Coloring Page Craft
To make this paper haunted house for Halloween, start by printing the two coloring page sheets which make up the house, both the walls and the roof. Sturdy cardstock can be used or normal paper. To make the house more stable, a cardboard roll can be used inside the tube. You can use either a toilet paper roll or a paper towel roll, cut to fit. Color or paint the walls and the roof. Add more decorative touches if you wish, the possibilities are endless!
If you plan to make this a luminary, use an extra small paper punch (such as 1/8 inch) to add holes to the top of the roof, or use scissors to create very small holes. Next, cut out the wall and roof- follow the cutting prompt. Roll the rectangle to form a tube and secure with clear sticky tape. Fold the circle to form a cone following the prompts. Again, secure with clear sticky tape. The folded piece on the inside of the cone can be secured flat with tape or cut off completely.
You'll want to then dab a few drops of liquid glue on the top part of the tube (walls) and place the cone (roof) on top. Keep it there for a few second to make sure it stays in place. Leave to dry completely before moving.
If you are going to be making this a luminary , add a battery operated LED tealight candle (flameless) inside the tube to make the house glow up at night.
Click here to download free printable for this project >>>>
*This this free printable for you to use for personal use only. Do not upload anywhere else for sale or distribution. When linking, please link to this blog post for instructions, not directly to the pdf file. Thank you!
I hope you have fun with this Halloween coloring page. Crafts for kids don't get much easier than this simple free printable! Check out other printables for more fun ideas. If you are looking for more Halloween decor ideas, I highly recommend this painted sugar skull craft!