Growing up, Halloween was never one of my mom's favorite holidays. We dressed up of course, but she typically saved homemade treats for Christmas. Now that I have my own kids, I've found Halloween is one of my favorite holidays to make fun snacks with my kids. There are so many silly and spooky possibilities like these Halloween Monster Marshmallows I created with Wesley last week.  With just a few simple ingredients, you can make something that is sure to put a smile on any kids face.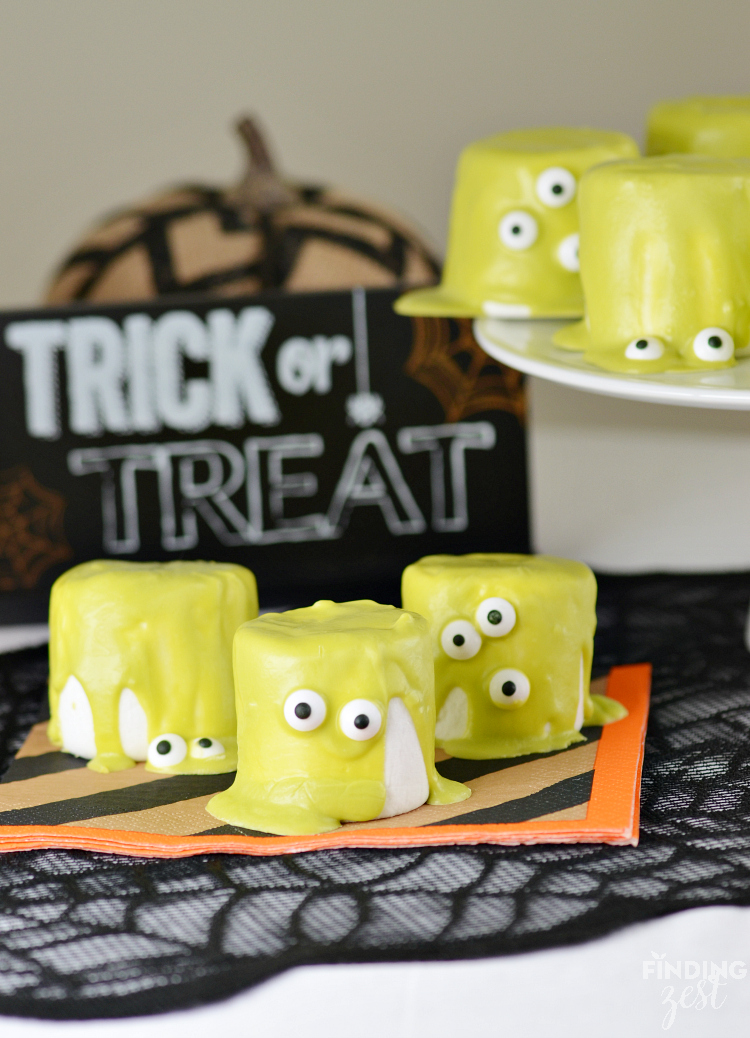 This project is a great one for kids of all ages because the imperfections really make the marshmallows look even more like monsters. For this project you'll need Wilton Candy eyes and Candy Melts. You can find these at any virtually any craft store or major retailers like Amazon, Walmart and Target. You can choose Wilton Candy Melts in your favorite color. I went with vibrant green.
Halloween Monster Marshmallows Supplies
Wilton 1911-421 Candy Melts, 12-Ounce, Vibrant Green
Wilton Candy Eyeballs,0.88 oz,Count of 50
Artisan Silicone Baking Mat for Half-Size Cookie Sheet with Red Border, 16.5 x
I wanted the appearance of these marshmallows to look like they were a very slimy monster, so I let Wes simply pour some of the melted chocolate over the top and using a circular motion with a spoon, let it drizzle down.
I loved the look of the pooled chocolate at the bottom because it gave them a unique shape.
You'll want to give the chocolate the chance to harden a bit before adding in the eyes if you want them to stay exactly where you put them. When we added the candy eyes too soon the eyes started to fall. It looked so cool, we left them like that!
Halloween Monster Marshmallows
Recipe Type:
Dessert/Snack
Ingredients
1 cup Wilton candy melts (i chose vibrant green)
1 tablespoon oil
8 jumbo marshmallows
candy eyeballs
Instructions
Melt chocolate in microwave. Cook in 30 second intervals and stir in between, just until melted.
Stir in oil.
Place marshmallows on a silicone, foil or parchment paper lined baking sheet.
Pour melted chocolate over the top of each marshmallow, starting with a tablespoon. Use the back of a spoon and move in a circular motion so chocolate runs down the side. Add more chocolate as necessary.
Place candy eyes wherever you like. For the sunken eye look, add the eyes before the chocolate sets. To have eyes that stay where you place them, let the chocolate harden most of the way. (You can always add melted chocolate to the back of the eyes for them to stick if necessary.)
Let chocolate harden at room temperature.
Store at room temperature in an airtight container.
Because these monsters remind me of Slimer so much, they would be great for a Ghostbusters party!
It isn't healthy unfortunately, but Halloween is a special time of year. Everything in moderation, right?
What have you been up to with your mini chefs?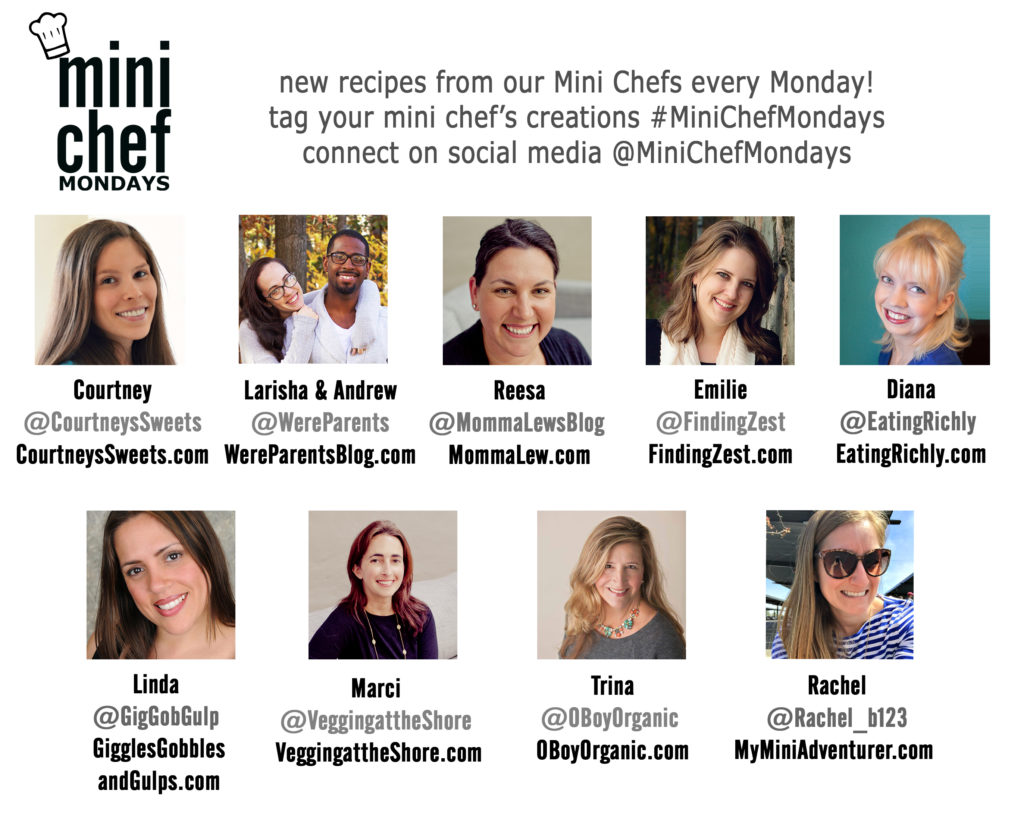 I am hosting Mini Chef Mondays along with 8 fabulous bloggers, find out more about the Mini Chef Mondays Team!
Join our facebook group to find even more recipes and share recipes too!
Join the Mini Chef Mondays newsletter to get the latest recipes delivered to your email each week! Don't worry, we will only use your email for Mini Chef Mondays recipes, pinky promise!
Get featured and follow us too!
Be sure to check out each of their Mini Chef posts as well!