Mother's Day is here! Who remembered a card for mom? Don't worry. I have you covered. Download this free Happy Mom's Day coloring page free printable. Whether you're 6 or 60 your mom is sure to appreciate a beautiful greeting colored with love.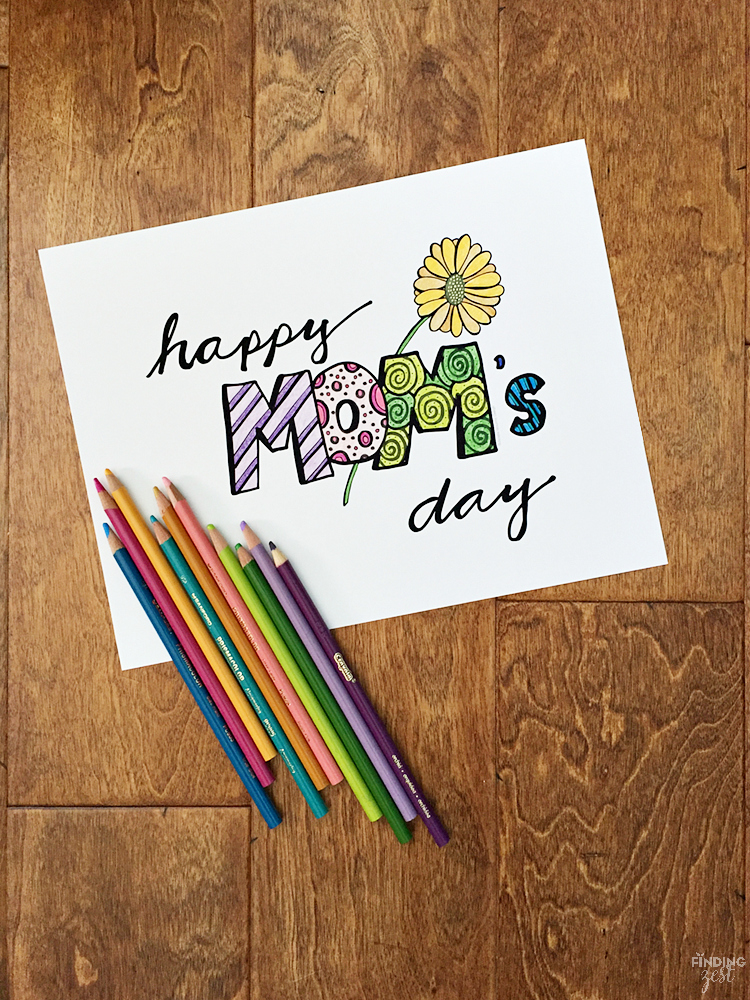 My youngest just turned 2 and is starting to enjoy the art of coloring. I love the Prang large triangular colored pencils. They're easy for little hands to hold and as a bonus, they don't roll off the table!
Every mom has those first keepsakes of sweet scribbles on the page. She was excited to guess which color she was using. "Look mom! BLUE!"
Of course I can't pass up the opportunity for some shared art time with my girl so I sat down and colored as well. I brought out my Prismacolor soft core colored pencils. If you've never used a professional quality colored pencil and enjoy adult coloring pages/books, I highly suggest you give them a try. Amazon usually has some great deals (this Prismacolor 72 ct set is typically $113.89 and is on sale for $36!!!).
The soft core pencils blend together beautifully and spread easily on the page with saturated color. Of course when I brought these out my daughter had no interest in her toddler pencils.
I drew this Mother's Day coloring page printable in hopes of spreading some joy and encouraging artistic time as a family. I hope you enjoy!
Download Here
Download the Happy Mom's Day Coloring Page in pdf format.
Please respect my design copyright (©Janelle Wourms Design) for this coloring page, as well as the original link to Finding Zest where I'm sharing this printable.  I am offering it for free but do not take the file and upload it anywhere for sale or distribution. If you share this design please give me credit and link to the original post. Thank you!
Be sure to subscribe so you don't miss out on any free printables!