The summer collection of Gwen Stefani's Harajuku Mini for Target line, available exclusively at Target and Target.com is now available. The new collection features Gwen's first-ever swimwear designs along with cute summer accessories including sunglasses, beach bags and bright beach towels.  Prices range from $12 – $20 and give you a taste of of Gwen's eclectic, tribal-themed and safari-inspired styles at budget friendly prices. You can read more about the line, including a Q&A session with Gwen at abullseyeview.com.
How does Gwen manage to do it all? She says, "Being a mom is the hardest thing that I do. It's tough trying to balance it all, but I'm so lucky to have lots of support and amazing teams that I work with on everything, which is the only way I can do it. I love my boys so if there's a decision to make, they come first."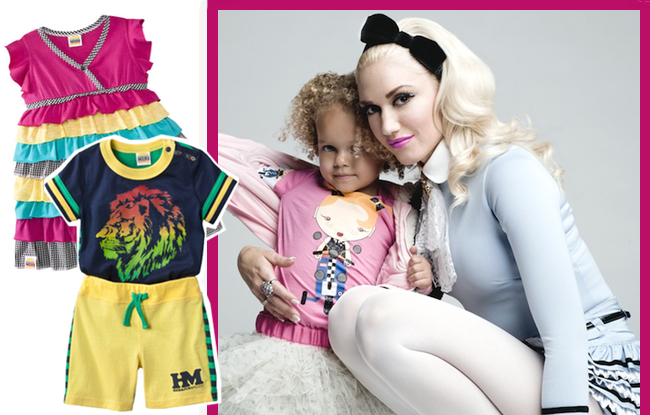 I had the chance to see some fabulous boys pieces from the spring line to see the quality and style firsthand. I love the retro feel of the clothes. From the bright colors to the unique styling, the Harajuku Mini line is full of personality.
I absolutely adore this Burger One Piece Romper ($18). Isn't the mustard splatter in the back adorable? The material is a 60% cotton/ 40% polyester blend and feels as though it would keep a child nice and cool in the summer but isn't so thin that you can see through it.
The Bruiser Screen Print Romper ($18) is also adorable featuring paint splatters and a fun pocket in the back. Both of these rompers also have a unique overhang of cloth between the legs that looks ultra modern and super fun. They are still available at Target.com!
While the summer collection has just arrived, be sure to look for these styles and more from the Harajuku Mini spring line at your local Target!
Disclosure: I received samples for the purpose of this post, however no monetary compensation has been received. All thoughts remain 100% my own.