We all know with certain holidays comes the over abundance of candy.  Easter (along with Halloween) is one of the most notorious for causing a whole lot of sugar overload for kids.  And yet how could we possibly fill an Easter basket with goodies and not include traditional Easter candy?
Here are just a few great options that are actually healthy and can limit the sugar shock.
Annie's Homegrown
has a huge selection of organic and natural foods and snacks, most of which feature their adorable bunny. The bonus is they contain no additives, preservatives or nasty high fructose corn syrup. I just discovered them last week at my local Target on a price cut. You can find them in the snack sections very low (almost hidden) on the shelf. I got the Bunny Graham Friends and Bunny Graham Honey for only $2 for a 7oz box. My family loves them!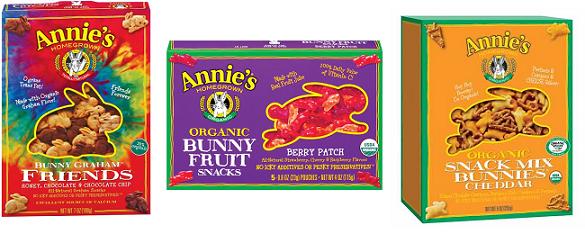 Leave them in their cute box or add them to a poly bag with ribbon and you've got an adorable Easter basket snack. Healthy and yet your kids won't know the difference!
Buy it: You can purchase these at Target, Costco, Amazon
or use their store locator to find a location near you!
I know I mentioned this on a giveaway post recently but it certainly worth mentioning again. Peter Rabbit Organics fruit pouches would look absolutely adorable in an Easter basket and my boys consider it a rare treat and more exciting than candy. (Seriously!)
Peter Rabbit Organics 100% Pure Fruit Snacks contain a full serving of organic fruit with no added sugar or artificial ingredients. This a healthy and delicious snack perfect for babies and children and would be a great alternative to candy in an Easter basket.
Buy it: These fruit pouches can currently be purchased for around $15 for a case of 10 from Amazon
or check their store locator to find the nearest location near you.
Being a huge fan and very regular shopper of Target, it is no surprise that we are familiar with the Archer Farms brand. Two of our favorite products are the organic real fruit strips and real fruit bars. My boys love them so always have them on hand as a quick snack on the go.  Since they come in many great flavors and are individually packaged, you can easily divide them up among multiple baskets to give each child a variety!
Buy it: Archer Farms fruit strips and fruit bars can be purchased for $2.99 (regular price) at Target. The fruit strips come in a 10 count box and the fruit bars in a 6 count box.
Disclosure: This is not a paid post. I received samples for the purpose of the original review last year for Peter Rabbit Organics only and this did not influence me or persuade me to write this post. I only wanted to provide you with some healthy snack options that I have personally tried. The opinions and experiences I've shared with these products are my own and yours may differ.