We've been surviving bitter cold days here in Minnesota for far too many days. I can't even count the number of "snow days" we've had (which have been used for cold days more than snow as of late). I know I'm not the only one with a child going bonkers at home. Let's be honest – she's not the only one going bonkers. With that in mind I knew we needed a fun craft to fill the day.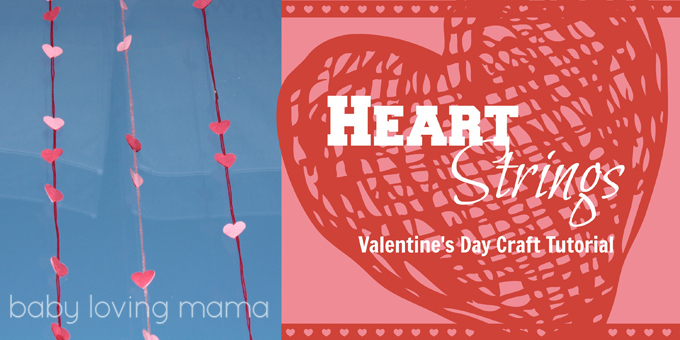 I had all of these supplies around the house. The only thing that would be a bit of a specialty item is the heart punch but you can find those at most craft supply stores. If not, you can cut several layers of paper by hand to make quick work of it or simply use squares or circles in variations of red and pink paper for a similar festive effect. On that note – you could easily make these for a birthday or any party/holiday decoration by switching out the shape and colors of the paper and string!
Supplies
• A variety of red, pink or white craft paper
• String (white will do but I used red and pink here)
• Craft glue
• Heart punch
• Scissor
Instructions
Measure the height of your window or wall using the string and double up the amount of string leaving a loop at the top. The double layered string adds more weight to the strands and provides a loop to hang from. Punch several hearts from your colored paper. Apply glue to one heart and place string over the heart/glue keeping it centered. Place  a second heart over the glued heart and string and press firmly. The string will now be sandwiched between two paper hearts. Continue placing hearts on your string (keeping the string pulled tight as you glue to avoid snags or separation of the two strands). Add as many or as few hearts as you'd like. I placed one at the bottom of my strings to cover the lose ends for a clean finishing touch. Let your hearts dry and hang on your desired wall or window. I simply taped the top of mine to our kitchen window.
This craft was a lesson in the beauty of being "random" for my daughter. She loves everything about patterns right now and her first desire is to place only matching colored hearts together and keeping them spaced perfectly on the string (I'm not sure where she gets that from). It truly is a beautiful effect when the colors and spacing are randomly placed along the string and your eye bounces from heart to heart as you look at the full effect.