I wasn't planning on sharing another drink this week, but I couldn't help myself.  Last week Wes and I visited the Target cafe while shopping to get his usual mango smoothie. Unfortunately it is no longer there.  Minute Maid has replaced Jamba Juice so Wes chose a frozen lemonade instead. It was pretty good but very tart and turned to just ice faster than we would have liked. We decided we should make our own frozen lemonade at home. Since I had almost an entire bag of fresh lemons to use up anyway, the timing was perfect. This Homemade Frozen Lemonade turned out amazing!
How to Make Frozen Lemonade
A full cup of lemon juice is necessary for this recipe. If you like a tart lemonade you'll want to add more lemon juice or reduce the amount of simple syrup.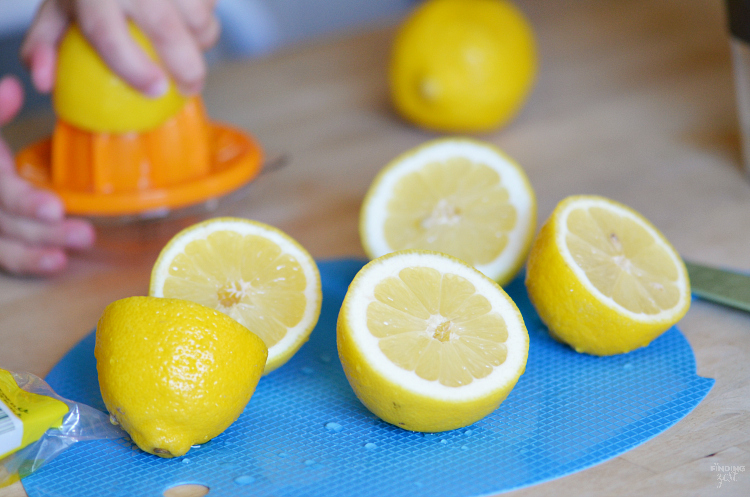 We got our awesome citrus juicer and Wes got to work.
Lemon Peel Uses Kitchen Tip:
When making homemade lemonade, don't waste all that lemon peel!
Lemon Zest: Did you know you can freeze lemon zest? I zested all our lemon peels and froze it for later use in recipes.
Garbage Disposal: Nothing works better than citrus fruit peel to freshen up a garbage disposal. I popped two halves into our garbage disposal and froze the rest to take out whenever it is needed.
Instead of making simple syrup, you can buy it in the store. If you go that route, you'll need 1 1/2 cups of simple syrup for this recipe.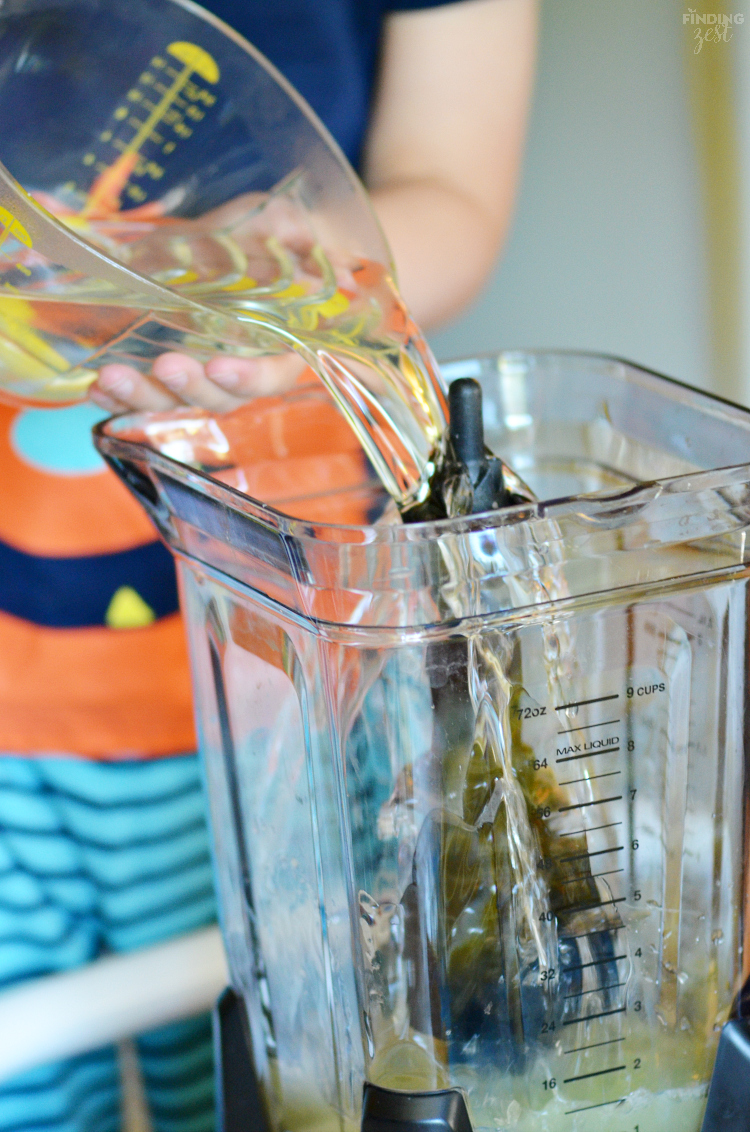 You'll definitely need a quality blender to make this homemade frozen lemonade. We love our Ninja! You can add 1/2 of the ice at a time if your blender struggles with crushing ice.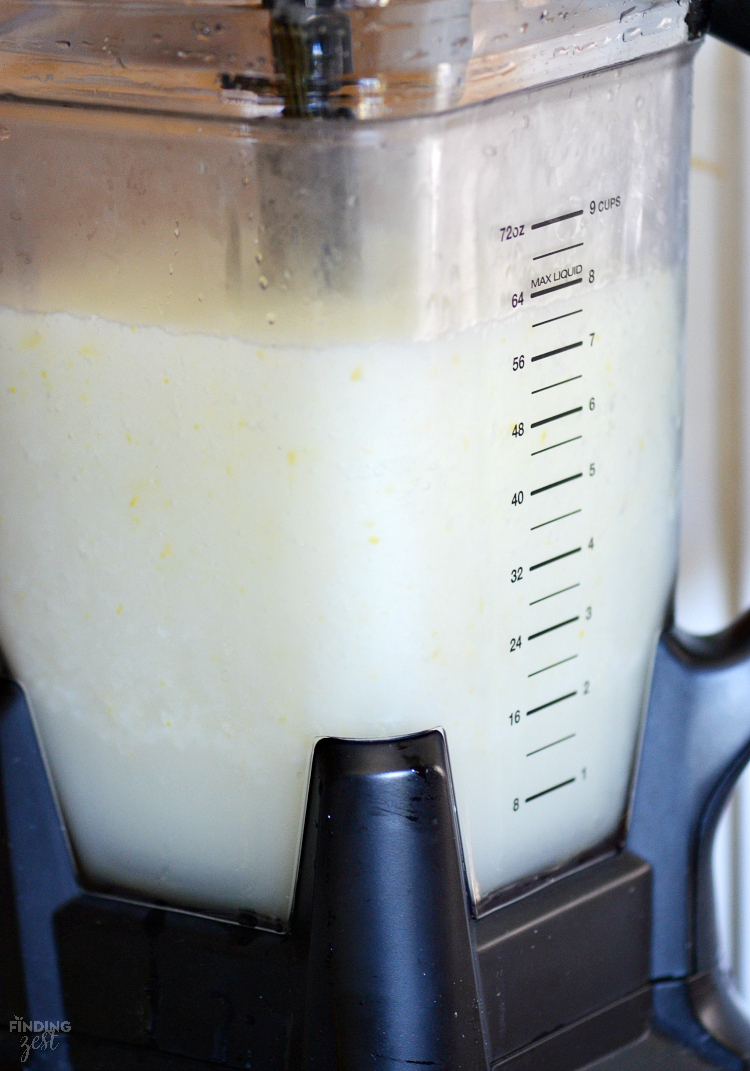 We added some lemon zest to our frozen lemonade but this is optional. I zested it pretty small and the blender broke it down even more. But there are a little bits of zest in there. It adds some color, but like pulp in orange juice, may not be for everyone.
The consistency of this frozen lemonade means it is very drinkable through a straw. This is not a full slushie texture but rather a really frothy lemonade. (This was what we were going for.)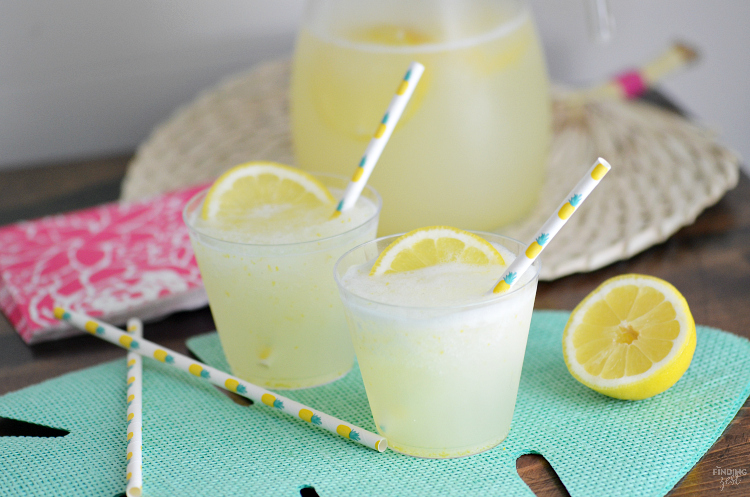 Homemade Frozen Lemonade
Author:
Emilie at FindingZest.com
Ingredients
3 cups water (divided)
1 cup sugar
1 cup fresh lemon juice (about 5 to 6 lemons)
1 tablespoon lemon zest (optional)
5 cups ice
1 lemon, sliced (garnish)
maraschino cherries (garnish)
Instructions
Make simple syrup by heating 1 cup water and 1 cup sugar in medium saucepan. Bring to a boil.
Cook until sugar is completely dissolved. Cool completely.
Blend 2 cups water, simple syrup, lemon juice, lemon zest (if desired) and ice in quality blender.
Garnish with lemon slices and a cherry, if desired.
Serve immediately.
For an extra pop of color we added some maraschino cherries to the top.
Wesley loves cherries and wasted no time picking his out and eating it. We loved this homemade frozen lemonade! It still tasted great later, even once all the ice melted.
What have you been up to with your mini chefs this week?
Be sure to check out each of their Mini Chef posts as well!