*This post is brought to you in partnership with Finish Power & Free.*
Sometimes when I look at my dinner plate, I'm not happy with what I see. I want to eat food that is healthy, organic and tastes amazing.  Good for me doesn't have to be boring. In fact, it can be downright delicious. My husband would like to eat this way too. He loves high protein, low carb meals with lots of  veggies.
Bring on the good food like this. I want to dig in.
(This meal was absolutely amazing by the way. Thank you for serving it General Mills.)
I wish my kids felt the same way. They scoff at many vegetables and hate food that has too much flavor or is what they consider "spicy". (Which really means if it has any spices at all.) They aren't adventurous in their food choices like their parents, but I expose them to good things anyway. I hope one day they will catch on.
But the one area we don't ever struggle with, are healthy choices for snacks. My kids get just as excited for some super ripe pear or cantaloupe cut up for snack as they do for candy.
All of my boys will scarf down  yogurt and homemade granola because it is just that good.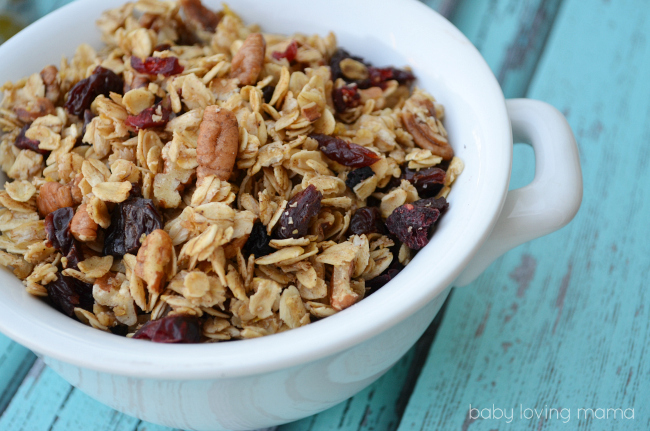 And seriously, if you have not tried homemade granola, you have to try my recipe. I could sit and eat it by itself…ALL DAY.

Berry Pecan Granola
Ingredients
3 cups old-fashioned oats
½ cup chopped raw pecans
1 tablespoon lemon zest
½ teaspoon cinnamon
¼ teaspoon kosher salt
¼ cup coconut oil, melted (canola oil or melted butter can be substituted)
3 tablespoons real honey
3 tablespoons real maple syrup
1 teaspoon pure vanilla extract
½ cup chopped dried berry fruit mix (dried cranberries, cherries, blueberries and raspberries)
Instructions
Preheat oven to 325 degrees F, making sure your racks are in the center of your oven.
In a large bowl mix oats, pecans, lemon zest, cinnamon and salt together. Set aside.
In medium bowl whisk coconut oil, honey, maple syrup and vanilla until combined.
Place the granola on a sheet tray with sides lined with parchment paper, silicone baking mat or sprayed with cooking spray Spread out evenly.
Bake for 15 minutes, stopping halfway through to stir granola and flatten again for even cooking. Once removed from oven, immediately place granola in a bowl.
Toss in chopped dried berries. Cool before serving.
Store in airtight container for up to 2 weeks.
In the summer, I love to bring my kids to the farmer's market.  I wish our harsh Minnesota weather allowed for a longer growing season. There is just something magical about picking out fresh produce from our local farmers. Everything is extra fresh and I like to shop local.
I love buying these products because they make me feel good.  I like having peace of mind in my purchases. And it isn't limited to only food, but any product which can affect my family, including cleaning supplies.
Finish® Quantum® dishwasher detergent and Finish® Jet-Dry® as part of the Finish Power & Free line provide residue protection versus detergent alone so that nothing is left behind.
And even better, it is less harsh so it can be used with baby products like Nuk, but still offers superior cleaning power.

Every day we are faced with choices, big and small for our families.  And as a mom, I just want the best for my family. We all do.

Request a Free Sample:
Fill out the sample request form to try it out yourself! Be sure to like Finish on Facebook to keep up on all the latest product news and offers.
Do you have a go-to healthy snack for your family?
Disclosure: I am a member of the Finish Power & Free Alliance of Moms, which is a sponsored. All thoughts remain my own.