My little guy started walking last month. Wes is 14 months old and is always on the move. It can be exhausting keeping up with him all day, especially when trying to keep him still long enough for a diaper change. For the past several months at at least 2 out of 3 of our diaper sessions you will find me offering him random objects, singing silly songs, making funny faces, tickling….everything under the sun to get him to sit still. Even when I think I'm being very entertaining, he still tries to flip over so he can dig into the basket on our changing station.
With this struggle, I was really curious to see how new Huggies Little Movers Slip-On Diapers would work. I was happy to receive  sample to try them out firsthand.
How do these diapers compare to disposable training pants?
My first question was, why not just call these Pull-ups? How are they different than training pants?
These slip-on diapers really are diapers. While they arrive in one piece like training pants, they have these tabs on the side which make it super easy to remove for changes, just like a regular diaper. They also can re-stick so if they get yanked a part you can easily put them back on. (You can also do the customary dirty diaper fold and secure them closed before throwing away.)
How was his first fit?
Wes loved being able to get a diaper on in a standing position! While I still needed to lay him down to properly wipe him, he was then able to stand up right away which made the process much faster.  It can get a bit tricky because he hasn't learned to lift his leg. I don't enjoy having his diaper cream on my clothing so I can't just let him sit down in my lap. But after a couple of tries we were able to find a way that works for us standing and he is certainly happy about them!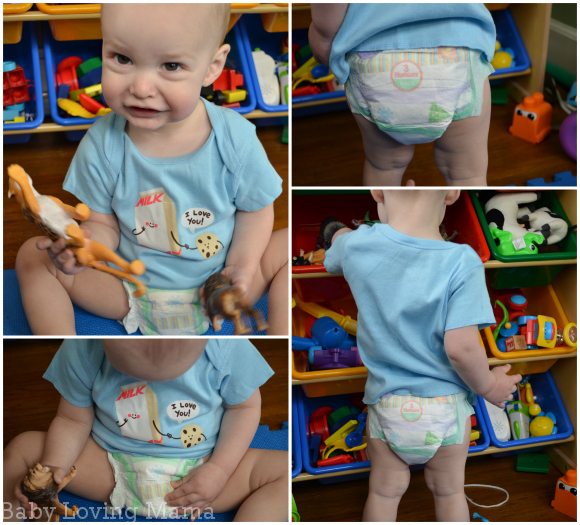 So far we haven't had any problems with leaks or fit at all. Wes can really move around in them and we are very happy with how they function!
For coupons and to learn more about your baby's first fitting, visit the Huggies Fitting Room http://www.huggies.com/en-us/products/diapers/littlemoversslipons
This is a sponsored conversation written by me on behalf of Huggies. The opinions and text are all mine.