Whether throwing a mad scientist birthday party or hosting a spooky Halloween bash, you are going to want this green party punch at your celebration. Bright neon green in color, this lime sherbet punch creates a fun foaming action that kids will love! Serve it in a big punch bowl like I did with this strawberry sherbet punch, or in individual glasses like I did in this post. Either way it will look and taste amazing. Read below on how I turned this Mad Scientist Green Punch recipe into a fun science experiment for kids.
Mad Scientist Green Punch Experiment Supplies
To serve this punch you can go the easy route and serve it in a large punch bowl. However, if you'd like to turn this punch into an experiment for kids, you can do so with some fun products. I picked up a Libbey Chemistry Bar Set from TJ Maxx last year and finally had the chance to use it! Unfortunately I do not see that exact item for sale anymore but there are plenty of alternatives. Be sure to get multiple sizes for pouring.
Glass Beakers, 100ml Pack of 12
Libbey 4 Piece Beaker Set, Clear
Libbey 6 Piece Chemistry Bar Mixologist Set, Clear
Eisco Labs Beaker – 150mL, Borosilicate Glass, 125mL graduation Low form – Pack of 12
Moaterboaters – 50 Pack Jello Shot Syringes (1.5 Ounce) – Perfect Shooters for a College Party, Drinking Games and Large Events
Eisco Labs Beaker – 25mL, Borosilicate Glass, 5mL graduation Low form – Pack of 12
UST 12 Hollow Plastic Eyeball Balls
I also used some food safe syringes, small beakers and plastic eyeballs that I also had on hand.
How to Make Mad Scientist Green Punch
To make this punch work for a science experiment, there are a couple of steps involved. First you'll want to prepare your green punch base with only half of your ginger ale. The result is a very bright yellow green. You can skip the ginger ale at this step if you like but I wanted my sherbet to still fizz a bit when adding the punch.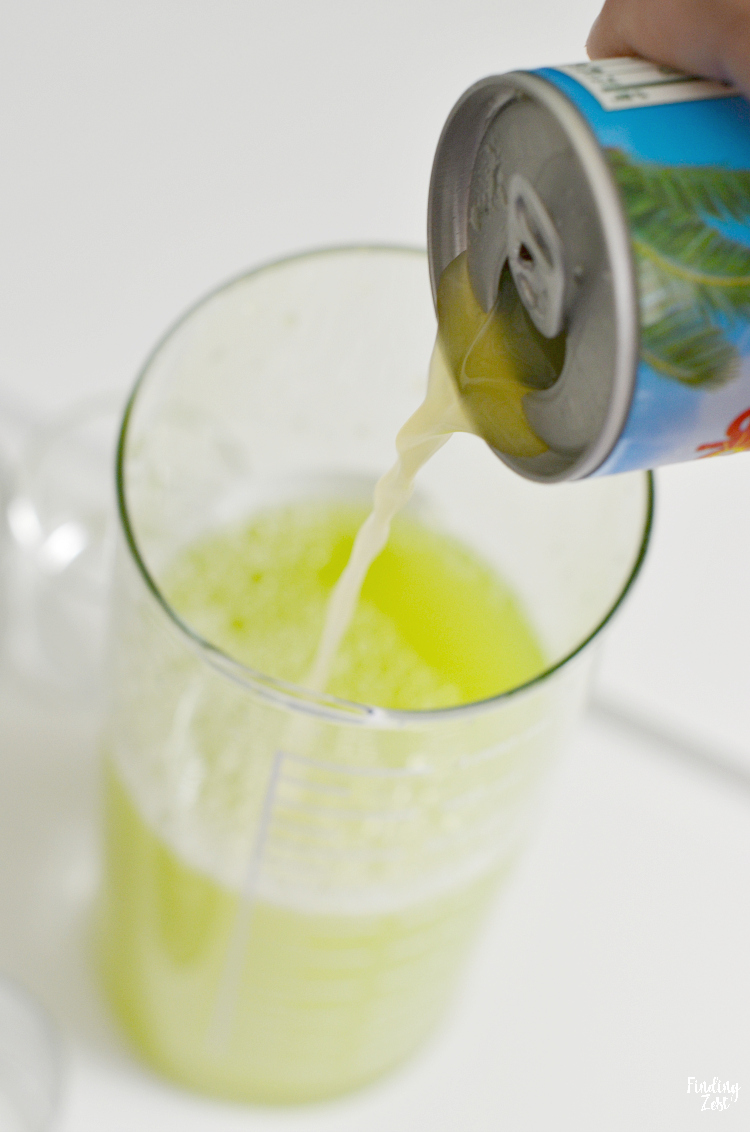 My chemistry set bar glasses ended up being so much smaller than I realized (3.3 oz.) so I decided to use that to my advantage and let my kids have fun making their own mini drinks. The size allowed them to do this process more than once.
I added a small scoop of lime sherbet to my glasses using a mini ice cream scoop. The key to making this punch foam is to pour ginger ale over the sherbet to create a chemical reaction.
I filled up our food safe syringes with the mixed punch. I'm not sure why but the syringes leaked a lot with the ginger ale so I used our smaller beakers for the ginger ale step. My son had a blast with the syringe however, so I recommend letting kids fill them right as they mix their drink. Otherwise, be sure to store them upright or at an angle to avoid leaking. (The punch didn't leak much in the syringe.)
The carbon dioxide in the ginger ale creates a foaming reaction when it comes in contact with the lime sherbet. Since there is some ginger ale in the punch, it does bubble a bit with the punch but when you add the ginger ale, that is when the magic happens.
You'll want to test first for the right amount of ginger ale to be added to your drink based on your cup size. Too little and it won't do anything all that exciting. Too much and you make a huge mess. When I gave my son the opportunity to try it, he poured very fast which caused the ginger ale to foam over the cup.
Because of this, some of the ginger ale never made it into the glass and landed all around the cup. A faster but steady pour would have still foamed but kept it all in the glass. Kids can have fun playing around with liquid amounts and speed to see what happens! Just be sure to prepare your space for the mess.
If you make this punch ahead of time or simply let your drinks sit, your lime sherbet will melt and create a two layer effect. The color also shifts from yellow green to a neon green. My kids thought this was so cool!
Lime Sherbet Punch Tip:
Do not use sparkling water for a sherbet punch recipe. I know with all the sugar it is super tempting but I've tried this in the past and the punch does not foam. The sherbet won't break down the same way so obviously that sugar in your soda is necessary for this punch to work properly.

Mad Scientist Green Punch Recipe
Author:
Emilie at FindingZest.com
Ingredients
4 cups Hawaiian Punch Green Berry Rush
3 cups pineapple juice
4 cups ginger ale
lime sherbet
Instructions
In large punch bowl, pour in Hawaiian punch and pineapple juice.
Drop 8 scoops (or more) of lime sherbet over top.
Pour ginger ale over top of sherbet.
SCIENCE EXPERIMENT VARIATION:
Mix together together Hawaiian punch, pineapple juice and half of ginger ale.
Add scoop of lime sherbet to individual clear cups.
Pour punch mixture over top of sherbet using food safe syringe.
Using a small beaker or measuring cup, add additional ginger ale over top to watch sherbet foam up. The faster you pour the ginger ale, the bigger the reaction.
My son also discovered if he pumped air into the green punch using the syringe over and over again, he could create foam at the top!
This makes such a cool green Halloween punch but works equally well for a science themed birthday party.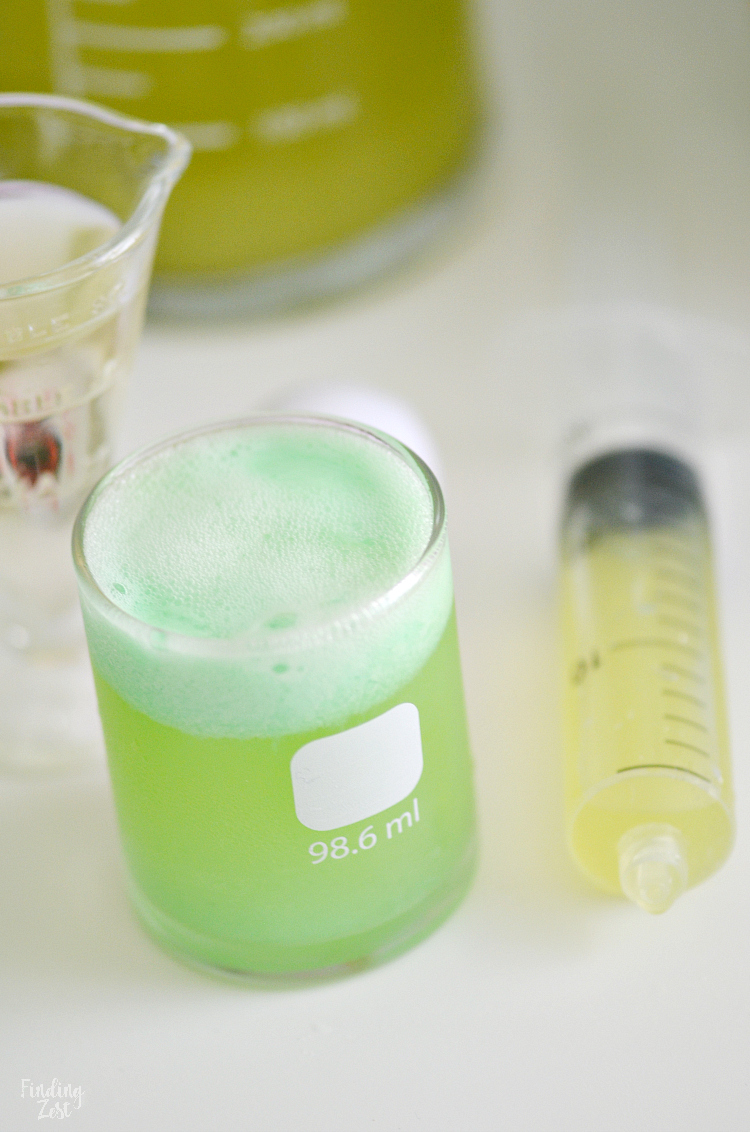 More Great Halloween Punch and Science Party Ideas
For more great Halloween drink ideas for kids, be sure to check out these eye scream floats,  my black party punch recipe or my healthy Halloween drink which also uses a syringe. If you are having a mad scientist party, check out this fun mad scientist slime and this science party! I also recommend these cool kitchen science activities: baking soda art and dry ice experiment with bubbles.
Have fun experimenting!