Meadow Kids Toys Offers Fun Educational Toys + Giveaway
This post may contain affiliate links. Please read my Disclosure and Privacy Policy.
This past month we celebrated my son Keegan's third birthday.  It is always hard to buy for his birthday because it falls so shortly after Christmas.  This is in fact the case with all 4 of my children.  Their birthdays all fall within about a month before and after Christmas.  This leaves me a challenge as I decide what to get them, or what to tell family members to buy them that will be unique and special.  It is great when I am able to learn about new companies and products that my little ones love and I know they won't receive the exact same thing from another loved one.  For Keegan's birthday I was able to give him some great toys I received from Meadow Kids Toys.
The Meadow Kids Way: Learn and Play
All of our creations are designed to enhance family interaction and stimulate cognitive development. All products are designed in the UK.  Meadow Kids is committed through our products to contribute positively to the lives of our end customers, the child and their family. Our products are designed to be played whilst interacting and communicating at home. We believe some of the best education can be had whilst playing and this is our core value: 'Learn and Play'!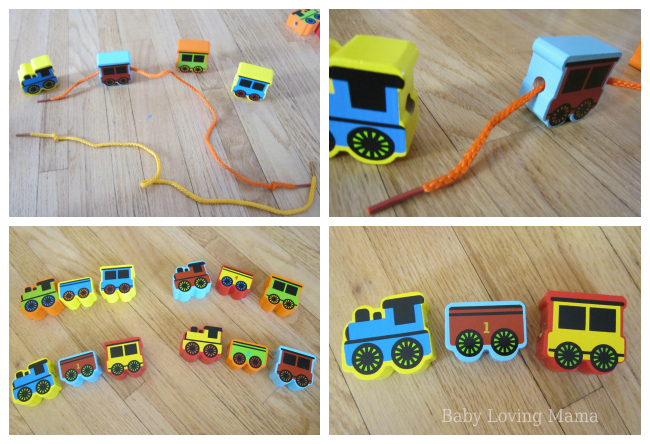 The Wooden Threading Beads ($29.99) comes with 12 wooden train beads and 2 strings to thread them on.  The beads are vibrantly colored and 4 of them are numbered 1-4 which I thought was fabulous to encourage counting and learning to recognize numbers for Keegan.  Threading beads is something all of my children enjoy but it is often hard for the little fingers to thread beads on a string.  I thought these would be a perfect solution as the holes in the beads are quite large and the strings are bound on either end making them slip easily into the beads.  We did have a problem with some of the beads being a little rough on the inside of the beads causing the strings to get stuck.
Keegan really didn't care much about the strings because he just LOVES the trains and wants to line them up, stack them, and play with them and really didn't even care about stringing them.  Kurtis did string them a little and created a train crown for himself.
The second item we received, the Dinosaurs Mini Stamp Set (MSRP $24.99) was a HUGE hit with all 3 of my older kids.  They love stamps, but we previously only had a couple in the house and they are Christmas items, leaving little to the imagination.  This set comes with:
8 Rubber Stamps
5 Felt Pens
1 Black ink pad
1 Design Booklet
6 Designed Cards & Envelopes
These stamps are great!  All 3 kids immediately grabbed some of the designed cards and went to work.  Danica and Kurtis loved that they came with envelopes and decided they wanted to mail their creations to Grandma.  I thought this was great as we then took the opportunity to learn about addressing envelopes.  (Anything for a learning moment right?)  Grandma was thrilled to get the surprise mail and my kids were thrilled to give it!
I will say that after the first couple minutes the black ink was everywhere on the tops of the stamps etc, but washed easily off of hands and everything.
I really love that the box that the stamps come in has 2 pull out drawers making for easy storage and use.
Meadow Kids was founded in 2008 in the UK and is sold in many other countries and now are coming to the United States!  I am so excited because they have many fun educational and crafty toys.  Their toys are meant to benefit in 12 different areas that they have identified for learning such as Communication, Physical Development, Writing etc.  Each toy/craft is identified on the website as to which areas it benefits.
I will say that I think their website is slightly misleading in that they have their items split into categories such as toys, crafts, bath, books and retail and I found it difficult because I may have categorized them differently.  There are several excellent looking learning tools listed under toys.  I think that many people looking for educational items might not look under the Toys category even if they are great fun learning items.

Meadow Kids products are developed with the greatest care. We comply with all the safety requirements of current EU and US regulations.
BUY IT:
You can purchase all the featured toys from Meadow Kids Toys from Amazon. Follow Meadow Kids on their social media channels including Facebook and Twitter to stay up to date on the latest product news!
WIN IT:
One lucky reader will win a set of Alphabet Bath Time Stickers and Dress Up Bath Time Stickers from Meadow Kids!
a Rafflecopter giveaway

Disclosure:  I received samples for purpose of this review however all thoughts remain my own.