Kurtis is absolutely in love with any kind of construction vehicles.  When we drive down the road he will point out every excavator, dump truck, roller, crane, etc he sees.  He gets this from his Dad of course, who points them all out too.
Because of this obsession, Kurtis was so excited to play with the new Dylan Dump Truck from Mega Bloks.
Make a friend with Dylan Dump Truck from Mega Bloks! This little truck comes ready to tackle any delivery job with a smile. Whether your child is hauling blocks through the living room or a special gift to Dad in the kitchen, Dylan Dump Truck is the perfect partner for your little driver. Navigate imaginary roads with the easy-to-grab truck bed. Combine with Sonny School Bus for a pair of funny Mega Blokspals. Put your hardhats on and get to work with your friend Dylan Dump Truck by Mega Bloks.
Part of the new Mega Bloks First Builders line of preschool construction toys, Dylan Dump Truck is the perfect size for Kurt's little hands.  He absolutely could not get enough of loading the back of the dump truck with blocks, and promptly lifting and dumping them back out all over the floor.  He also thought it was great fun to use the blocks that came with Dylan Dump Truck and build a small tower on the back of the truck.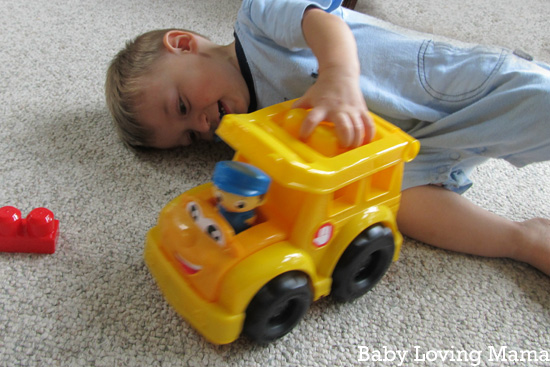 Keegan on the other hand, has not specifically gravitated to any certain kind of vehicles yet, but LOVES his new Sonny School Bus.
Get your backpack – it's time for school! Sonny School Bus by Mega Bloks and his friendly driver are ready to teach your child all about the ride to school. Laugh and learn as you and your child wheel this bright yellow bus back and forth. Use the included First Builders blocks to build on and around the bus, creating a different and exciting toy every time. With Sonny School Bus by Mega Bloks, you and your little one will have loads of fun!
The top of the bus opens and closes so Keegan could put the blocks into the vehicle and close the lid.  This is his favorite thing to do lately, open and close everything (that and turn off lights since he can now reach them).  I actually struggled to get pictures of Keegan with Sonny School Bus because he was moving so fast filling the back of the bus and rolling it across the floor.
Both Dylan Dump Truck and Sonny School Bus come with 6 blocks which include a removable driver.  I love that they include a driver as Kurt won't play with most vehicles that don't have a driver.  Both the vehicles and drivers have bright happy faces encouraging play.
Recommended for ages 1-4, Dylan Dump Truck and Sonny School Bus are a wonderful addition to our Mega Bloks collection.
BUY IT:
Dylan Dump Truck
 and Sonny School Bus have a very affordable retail price of $9.99 each and can be found at retailers nationwide, including our affiliate Amazon
.
WIN IT:
Two readers will receive their own Dylan Dump Truck and Sonny School Bus from Mega Bloks.

a Rafflecopter giveaway

Disclosure: I received samples for the purpose of this post however all thoughts remain 100% my own. Prizing provided by Mega Bloks.