Whether you are throwing a party, enjoying a cookout with friends or simply want to offer your kids a healthy snack, this Under the Sea Mermaid Honey Lime Fruit Salad is perfect! If you are trying to plan an ocean or mermaid birthday party, you know how difficult it can be to find more nutritious food to serve guests. But this fruit salad will be a hit with all ages and makes a great side dish, appetizer or addition to your dessert table!
To make this ocean themed fruit salad, you'll need some metal cookie cutters for the cool watermelon shapes.
Mermaid Honey Lime Fruit Salad Cutters
Mermaid and Whale Tail Cookie and Fondant Cutter – Ann Clark – 4.4
R & M International Best Selling Set of 7 Classic Sea Themed Cookie
Ann Clark Starfish Cookie Cutter – 4 Inches – Tin Plated Steel
I bought the whale or mermaid tail cutter and the sea themed cookie cutter set featured above and had them shipped directly to me from Amazon in a couple of days using prime shipping! (Definitely beats hunting around local stores for the right sets.) The starfish would have looked beautiful as well and I've already added it to my cart for my next order.

Besides watermelon, I also included cantaloupe balls, green grapes and blueberries. These fruits remind me of fish eggs and seaweed, plus they add some beautiful colors to this fruit salad. You can serve your fruit plain or you can add a honey lime drizzle.
I thought the lime zest also resembled ocean plant life and would fit the theme well while offering some delicious flavor.
Depending upon how ripe and juicy your watermelon is, it will start to break down a bit with the honey so be sure to add the drizzle shortly before serving. If you need something that can hold up better, you could always skip the watermelon and call it a fish egg fruit salad instead.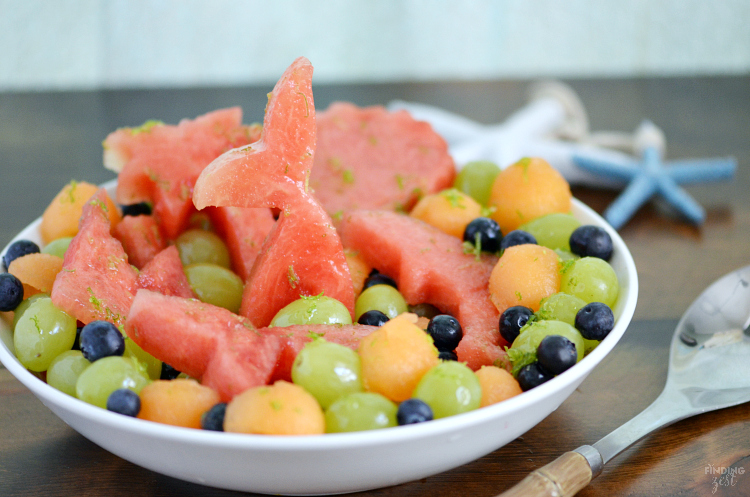 I served up this honey lime fruit salad to my family for a weekend brunch. The kids really had fun picking out which watermelon shapes they wanted and they loved the honey lime dressing.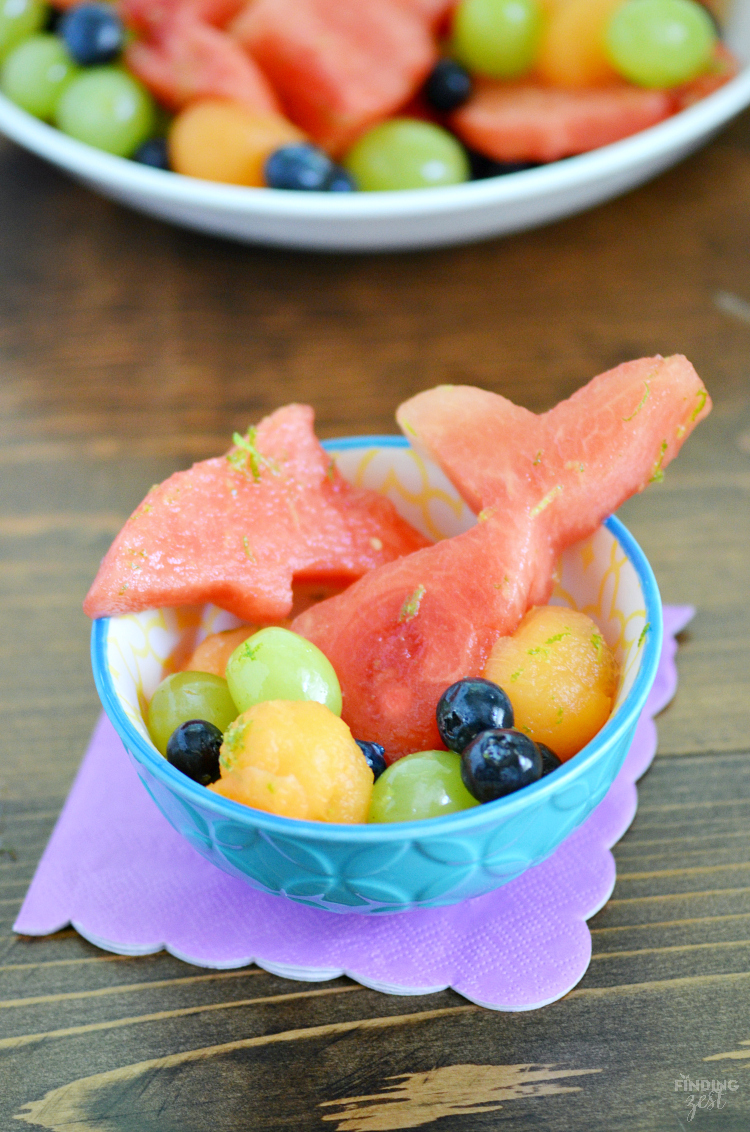 Under the Sea Mermaid Honey Lime Fruit Salad
Author:
Emilie at FindingZest.com
Ingredients
½ seedless watermelon
½ cantaloupe
2 cups green grapes
1 cup fresh blueberries
1 medium lime for 1 tablespoon lime juice and zest
3 tablespoons honey
Instructions
Slice watermelon into large round sections.
Cut out mermaid and sea shapes with cookie cutters.
Create cantaloupe balls using melon baller.
Add watermelon shapes, cantaloupe, grapes and blueberries to medium bowl.
Whisk together honey, 1 tablespoon lime juice and zest of lime.
Drizzle over fruit salad right before serving.
Looking for more mermaid party ideas? Check out my
Mermaid Candy Bark
.
Also learn how to make these edible mermaid tails out of chocolate!