This week we are continuing with our mermaid party theme and my kids couldn't be more thrilled. We loaded this milkshake up with an extra helping of sprinkles. Why limit yourself to the top of the milkshake when you can also hit the rim? This Mermaid Ice Cream Dream Shake is really something special, perfect for your themed mermaid birthday party or just because you want to make a splash with dessert!
To start we made these sparkling chocolate mermaid tails in various colors. You can skip this step but we think it really brings these mermaid shakes to life!
To make the rim of the glass stand out, we melted half turquoise and half white Wilton candy melts to create a beautiful aqua color. Blue, lavender, turquoise or vibrant green would also be beautiful!
We prepared our sprinkles in small dishes ahead of time so we didn't have to worry about spilling or using too much. I found these shimmering jimmies, stars and rock sprinkles from Chocomaker at my local Michaels. Love them!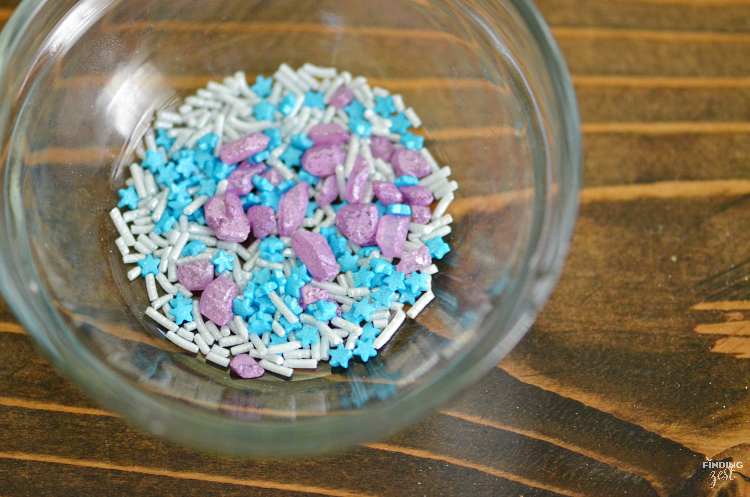 Besides adding whipped cream, a vanilla wafer and sprinkles, I couldn't resist including some blue cotton candy to resemble waves.
While we did add a couple of blue drops of dye to our vanilla ice cream, you really can skip that or pick a colorful ice cream like strawberry.
Our second shake we opted for no dyes at all and a vibrant green chocolate mermaid tail that stood out a bit more.
Playing around with different sprinkles and colors is half the fun!  You can pick up a lot of these supplies from Amazon and have them shipped directly to you! Unfortunately the same can not be said for all the fun sprinkles I used. I've include a few alternatives.
Mermaid Ice Cream Dream Shake Supplies:
Wilton 1911-9424 Turquoise Candy Melts Candy
Wilton Candy Melts, White, 12 oz.
Parade Cotton Candy, 2 Ounce, 8 Count
Amish Farms Cotton Candy, 2.5 oz. (Set of 2)
Wilton 710-1260 Gold Pearlized Sprinkles Mix
CK Products 3.2 Ounce Jimmies/Sprinkles Bottle, Lavendar
Wilton 710-039 Sparkling 5.25 oz Sugar Food Decorative- Blue
Wilton Color Right Performance Color System, 601-6200
Mermaid Ice Cream Dream Shake
Author:
Emilie at FindingZest.com
Ingredients
3 scoops vanilla ice cream
splash of milk
2 drops blue dye (optional)
8 Wilton Candy Melts
sprinkles
whipped cream
cotton candy
vanilla wafers
Instructions
Melt candy melts and apply around the top outer edge of milkshake glass.
Add sprinkles and let set for 10 minutes to harden.
Meanwhile add ice cream, milk and blue dye (optional) to blender.
Pour into milkshake glass.
Top with whipped cream, sprinkles, vanilla wafer, chocolate mermaid tail and cotton candy.
Serve immediately.
If you love mermaids, be sure to check out our Mermaid Bark from last week!
You can also learn how to make the fun tail featured here in our chocolate mermaid tail tutorial post!
What have you been up to with your mini chefs this week?
Be sure to check out each of their Mini Chef posts as well!