Coming up with new mermaid birthday party ideas like these Mermaid Smoothie Shots has really been the highlight of our summer. My boys have loved helping me make these fun party treats. Who says shot glasses are just for adults? We used these mini chocolate cups to fill with a fruit smoothie, perfect for kids! Surprise party guests with these colorful and tasty smoothie shots!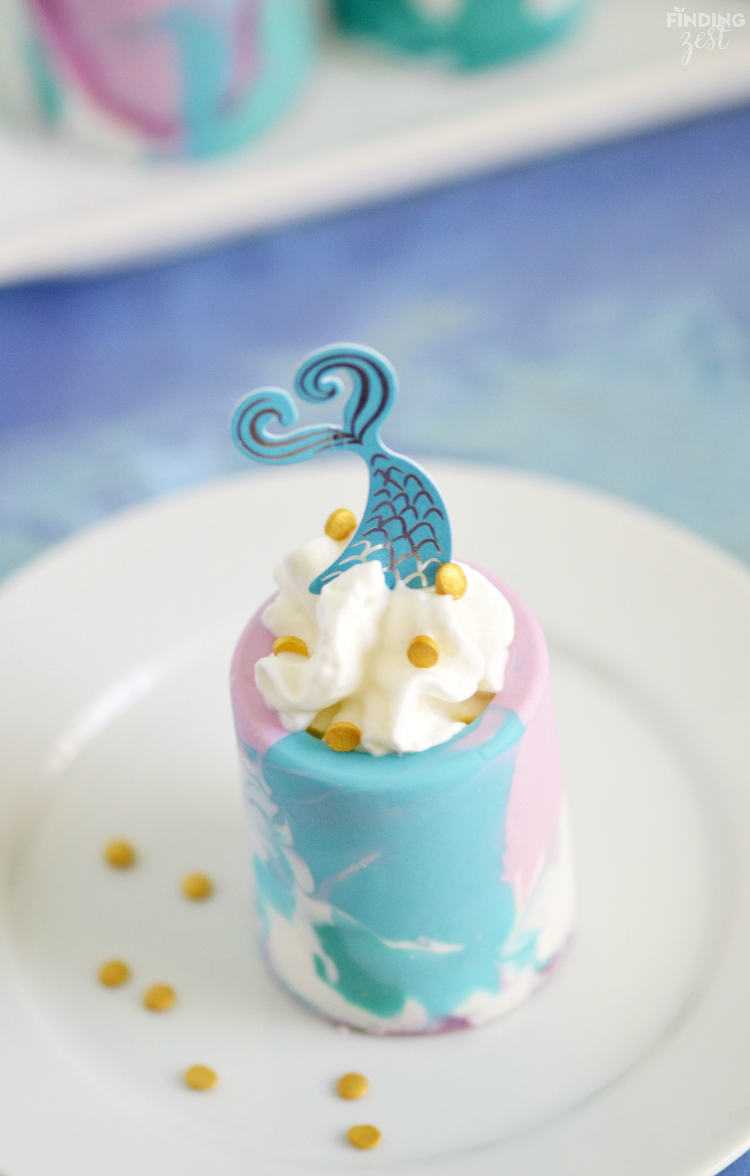 To make these mermaid smoothie shots, you'll need a few supplies, including a silicone shot mold and various of candy melts.
Mermaid Smoothie Shots Supplies:
Wilton 570-0118 8 Cavity Round Silicone Shot Mold, Green
Wilton 1911-1358 Lavender Candy Melts, 12-Ounce
Wilton 16911-1352 Blue Candy Melts, 12-Ounce
Wilton Candy Melts, White, 12 oz.
Wilton 1911-9424 Turquoise Candy Melts Candy
Wilton 710-1260 Gold Pearlized Sprinkles Mix
Wilton 710-0018 Sprinkle Set Food Decorative, Pastel Blue
Mermaid Cupcake Topper, Food Picks Girls Birthday Party Decor Cupcake Party Picks, 29
To create more colors, don't be afraid to mix colors. I mixed half bright white candy melts with turquoise candy melts to create aqua and half bright white and half lavender to create the lighter purple.
Since you will be marbling the chocolate, this is a really fun project for kids. There is no perfect way to fill the shot glasses and kids can have fun with it. Simple drop the melted chocolate in spoonfuls into the shot glasses at random intervals.
Once your chocolate is completely melted you'll need to work fairly fast to get them into the silicone mold. Since we had several colors being melted in the microwave, our earlier colors were already starting to thicken. I recommend heating your candy melts only 3/4 of the way through and then popping them all back into the microwave so they finish about the same time.
Mini Chef Monday Tip:
If your chocolate starts to harden before you've had a chance to marble it, place your silicone mold on a baking sheet in a very low degree oven (200 degrees or less) until your chocolate is fully melted again. (To soften ours it took less than a minute.)
You can use a toothpick to swirl and marble your chocolate. We used a long coffee stir stick so we could easily get to the bottom. Alternatively, you could marble it with a toothpick once when your mold is half full and again when it is full.
To create a perfect shot glass bottom, you'll want to fill your molds up all the way to the top, farther than shown here. You'll then want to scrap off the excess chocolate with something flat like a metal scraper.
Even though I didn't quite get to the top of the mold, I still had pretty flat shot glass bottoms.
(I originally followed a recipe from Wilton which says 3 cups of candy melts but I found it needed 4 cups and I had to quickly reheat more.)
Getting the chocolate shot glasses out of the mold was really easy when they were cold. I used a slight twisting motion to remove the inner part of the mold and it worked great.
While these Mermaid Smoothie Shots are made of colorful chocolate, the shot glasses themselves do not have to be consumed to still be fun. We filled our "shots" with a delicious mango fruit smoothie, making this a healthy option if you skip actually eating the shot glass.
You can use your own favorite homemade smoothie. Anything tropical like this Pineapple Lemonade or this Orange Pineapple Smoothie would be a good choice. I wanted to keep things simple and used some Bolthouse Farms Amazing Mango we already had on hand. You can get it in a huge container at Sam's Club!
Fill your glasses only 3/4 of the way full. I did overfill a couple of the glasses and some did go out over the top once I added a bit of whipped cream. If your room is hot, I recommend taking these out of the refrigerator right before serving. If you want to leave them out a bit longer, you'll want a whipped topping instead of Reddi-whip which does melt pretty fast.
I topped our shot glasses with these adorable mermaid tail cupcake picks and gold confetti sprinkles for just $1 from Michaels. Wilton offers a ton of really cute sprinkles like these gold star sprinkles but in story only.
These mermaid drinks hold up well and can be refilled over and over. The chocolate will begin to soften if you hold them a lot. I recommend keeping them on a small plate in between drinks or shots instead.
Mermaid Smoothie Shots
Recipe Type:
Drink/Dessert
Ingredients
1½ cups Wilton Bright White Candy Melts
1 cup Wilton Turquoise Candy Melts
½ cup Wilton Blue Candy Melts
1 cup Wilton Lavender Candy Melts
8 teaspoons canola or vegetable oil
tropical flavored smoothie
whipped cream
sprinkles
Instructions
Melt candy melts in four separate microwave save containers with 2 teaspoons oil per cup of candy melts, just until full melted.
Mix ½ of the turquoise melted chocolate and ⅓ of the bright white melted chocolate to create aqua in separate dish. Repeat with lavender and bright white to create a pastel purple.
Drop melted chocolate in spoonfuls in random colors and intervals into silicone shot glass mold until filled to the top.
Create a smooth bottom by scraping off any excess chocolate.
Gently tap mold on counter to remove air bubbles.
Place on small baking sheet and refrigerate on level surface until hardened, at least 30 minutes.
Remove shot glasses from mold and store covered in refrigerator.
Fill shot glasses with fruit smoothie, whipped cream and sprinkles before serving.
If you love mermaids, be sure to check out our
Under the Sea Fruit Salad
 we made last week!
What have you been up to with your mini chefs this week?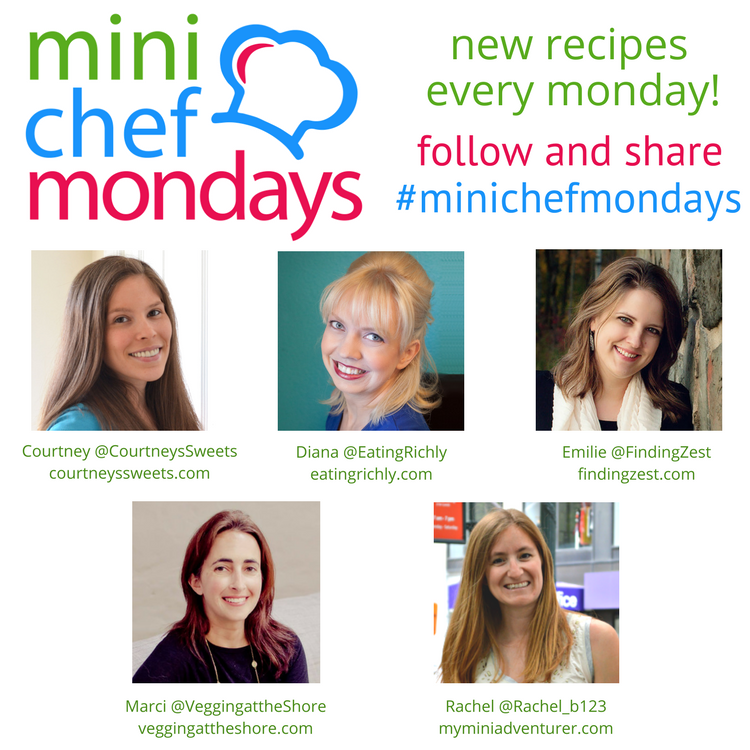 I am hosting Mini Chef Mondays along with 4 fabulous bloggers, find out more about the Mini Chef Mondays Team!
Join our facebook group to find even more recipes and share your own recipes!
Get featured and follow us too!
Be sure to check out each of their Mini Chef posts as well!