This post is brought to you in partnership with Caribou Coffee. All thoughts are my own.
Coffee is the highlight of my morning. As I'm going through the motions of getting my kids off to school, I remind myself I don't have to wait long.  Once they walk out that door, I can finally have my cup of hot coffee. I've learned the hard way many times that any earlier and a bunch of tiny interruptions leaves me with more than a half a cup of cold coffee.  And I can't have that. There is just something magical about coffee that makes me feel warm and cozy and dare I say, awake. And while I enjoy my morning cup of joe, a stop at my local Caribou Coffee takes magic to a whole new level.
Topped By You
Did you know that this holiday season, Caribou is going over the top, literally? They are offering a variety of toppings and flavored whips to make more than 500 holiday drink combinations. Pretty magical, right?
Caribou is also challenging coffee lovers (like me) to put their own drink creation talents to the test so create their ultimate coffee drink and share it on social media with #TopBou. So I recently headed out to my local Caribou Coffee.
Holiday drinks and toppings include:
Chip: Candy cane, Brownie bites, Snicker doodle, Dark chocolate chips, Milk chocolate chips, White chocolate chips
Whip: Mint, Vanilla, Raspberry, Chocolate
Sip: Dark chocolate raspberry mocha, Milk chocolate hazelnut mocha, White chocolate caramel mocha, Fa La Latte, Ho Ho Mint Mocha
I love a good peppermint mocha so I opted for the Ho Ho Mint Mocha and topped it with a vanilla whip. I added some peppermint chocolate pieces, mini milk chocolate chips and even went all out with some brownie pieces. It was absolutely delicious so I named this drink my Merry Mint Mocha! It made me happy after all.
I also grabbed a fun holiday mug stating "Let's Get Cozy".  I couldn't resist. I knew it would be perfect for a gift basket that I picked up at Target.
If you have any coffee lovers on your holiday wish list or just a hard to buy for person, consider picking up some bagged Caribou Coffee at your local shop or a major retailer. I have a delicious dark roast Reindeer Blend and the more traditional medium roast, Caribou Blend. With a couple of Caribou Coffee mugs filled with holiday candies, gloves and coffee, this basket has got everything I need to brighten someone's holiday!
While I wish I could always enjoy a specialty drink from my local Caribou Coffee shop, I know I can still get amazing coffee at home with their bagged and k-cup options. For those times, I decide it would be fun to create my own mocha at home using minimal ingredients and steps.
And while it isn't the same, it is certainly delicious and gives me that chocolate and peppermint flavor combination I love any time I want it!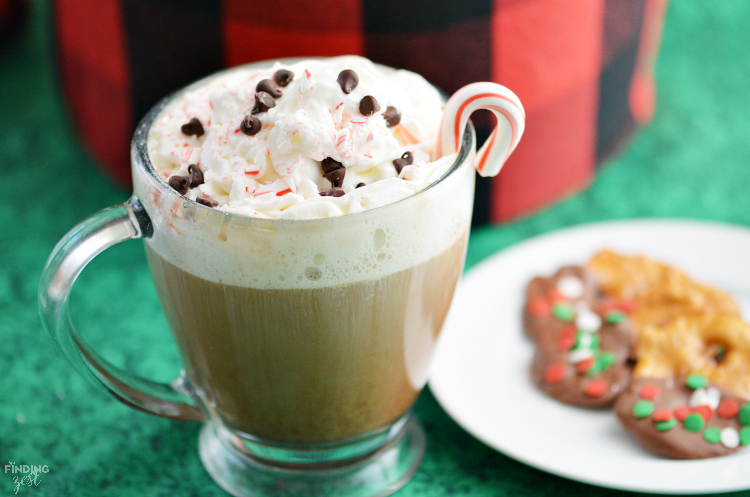 I name this one my Merry Peppermint Mocha. (It couldn't be the same after all.)
Merry Peppermint Mocha
Ingredients
1 cup strongly brewed Caribou Blend Coffee
1 tablespoon chocolate syrup
2 tablespoons half-and-half
⅛ teaspoon peppermint extract
whipped cream
crushed candy cane
mini chocolate chips
Instructions
Whisk together first four ingredients until well blended.
Top with whipped cream, crushed candy cane and mini chocolate chips, if desired.
Drink immediately.
It is simple, but so very good!
Topped By You Tuesday Special Promotion
Be sure to try out all the fun flavor combinations at Caribou Coffee this holiday season. If you stop off for their Topped by You Tuesday promo today, you can get 2 medium holiday drinks for $6 or large sizes for $1 more.
You can visit Caribou Coffee to see if there is a location near you!